In an era where travel and hospitality are perpetually evolving, the glamping industry stands out as a sector that has witnessed remarkable growth and transformation. The Glamping Americas 2023 State of the Industry Report, presented at the recent Glamping Show Americas, has shed light on the current dynamics of the industry, but what does the future hold for glamping, especially as we approach 2024?
Surge of New Entrants: Sign of a Flourishing Industry
The industry report highlighted that 28% of glamping operators are in their first year of operation, indicating a substantial influx of new businesses into the sector.
This burgeoning interest in providing luxury outdoor experiences is not just a testament to the industry's current vitality but also signals a trajectory that is set to ascend even further as we move into 2024.
Quaint Glamping, an emerging glamping site to be nestled in the cozy area of Twin Mountain, New Hampshire, is set to craft a unique narrative in the realm of outdoor luxury experiences.
Spearheaded by Ansh and Bela Singh, the venture was born out of a personal quest for winter camping spots, as Ansh, highlighting the demand for such a venture, said in an earlier report, "There's actually [a] need for getaways during winter. There aren't a whole lot."
The site plans to host 15 dome-like structures in each of the three-phased projects in development, each self-contained with amenities like full bathrooms, kitchenettes, and queen beds.
Additionally, Quaint Glamping will feature a hexadome base camp for communal activities, a swimming pool and cabana, a pond, event spaces, a brewery/restaurant, and more.
Activities like wine tasting, morning yoga, cookouts, mixology classes, snowshoeing, and backpacking classes are also on the agenda, ensuring guests have a rich and varied experience.
With a commitment to providing a year-round glamping experience, Quaint Glamping holds the possibility to redefine winter travel and cater to the growing number of winter campers, ensuring the spirit of adventure thrives in all seasons.
Meanwhile, Michigan residents Michael and Melissa Crowe are in the process of bringing their vision, Mitten Getaways Glamping Co., to life, with plans to launch in 2024. Despite being newcomers to the glamping world, the couple is navigating through the multifaceted challenges of starting a glamping business from scratch.
The Crowes have not only been strategic but also innovative in their approach to overcoming hurdles, such as building relationships with land sellers and township officials and creating a loyalty program to raise funds for development.
Their future glamping site, which aims to offer a serene environment coupled with diverse accommodation options like domes, safari tents, and more, is designed to operate year-round, providing activities like hiking and snowshoeing and classes on topics like gardening and nutrition.
Strategic Location to Enhance Guest Experiences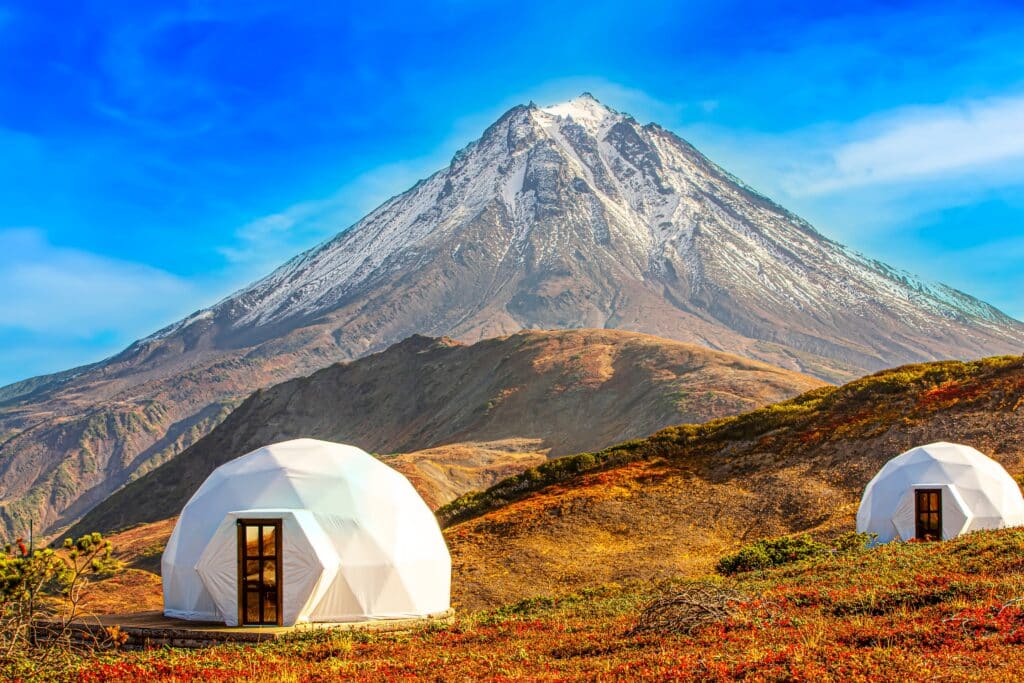 The strategic positioning of glamping sites, especially those near state parks and natural attractions, has emerged as a pivotal factor in enhancing the guest experience, underscoring a notable emphasis on natural features and experiences.
According to Glamping Americas 2023 State of the Industry Report, a significant 51% of campgrounds and glamping sites are located near state parks, indicating a substantial intersection of campgrounds and state park explorations for travelers.
National parks also emerge as notable neighbors to camping sites, with 33% of properties in proximity, offering guests a gateway to explore these national treasures.
For instance, Starlight Haven has unveiled its expanded resort in the scenic locale of Hot Springs, Arkansas, promising an enthralling blend of luxury and adventure across its sprawling 27-acre property.
The resort, which seamlessly marries opulence with the raw beauty of nature, offers a variety of unique accommodations, including safari-inspired tents, geodesic domes, and treehouses, each meticulously designed to provide a lavish yet intimately connected nature experience.
In addition to its distinctive accommodations and a wealth of on-site and nearby activities, including proximity to Hot Springs National Park, Starlight Haven is also making strides in sustainability, minimizing its ecological footprint to preserve the natural splendor of the area.
This trend is likely to amplify, with operators potentially exploring untouched and secluded natural locales to offer exclusive and immersive experiences to their guests in the coming years.
Sustainability and Technological Integration: The Future Pillars
As we gaze into 2024, sustainability and technological integration are poised to become the linchpins of the glamping industry. The adoption of eco-friendly practices and the incorporation of technology, from seamless booking systems to personalized on-site services, will not only elevate the guest experience but also streamline operational efficiencies.
In a session titled "Behind The Scenes of Building a Brand" at Glamping Show Americas 2023, Jenny McCullough, the senior director of marketing and operations of Terramor Outdoor Resort, unveiled pivotal insights into the rise and change in the outdoor hospitality industry.
Digital solutions and sustainability have emerged as linchpins in ensuring the evolution and sustainability of the hospitality sector. McCullough shared that a substantial 65% of glampers prefer digital check-ins, while 70% believe that text notifications enhance their experience, underscoring the importance of a digital approach.
Meanwhile, addressing the needs of modern travelers, particularly those who work remotely, has also become paramount. McCullough noted that 53% of glampers are "consistently working remotely," staying at locations that are part of the outdoors away from cities and towns, as well as adjacent to natural features.
She underscored the critical role of integrating connectivity with immersive outdoor experiences, particularly when 81% of travelers consider Wi-Fi to be of paramount importance, affirmatively addressing the rhetorical question, "So, is Wi-Fi important?"
Beyond Wi-Fi, McCullough accentuated additional emerging features that may become indispensable for campgrounds as they cater to newer audiences. These include EV charging stations for electric vehicles and RVs, as well as the incorporation of solar panels and other sustainable energy sources to champion environmental sustainability.
Financial Insights: A Look at Investments and Revenues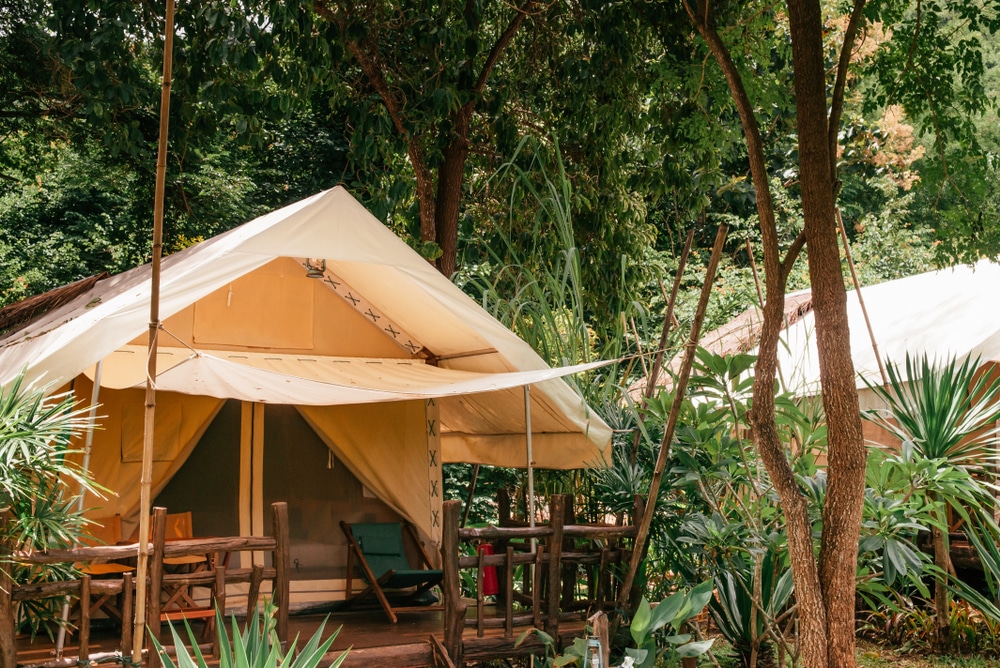 With an average initial investment of $650,000 and a notable 93% of operators being self-funded, the financial dynamics of the glamping industry reveal a trend of smaller operators launching without external financing.
This self-reliance and substantial initial investment underscore the confidence within the industry and hint at a future where we may see further financial innovations and investment strategies being deployed.
The inaugural Glamping Americas State of the Industry Report illuminated several key aspects of the industry, including a notable influx of new operators, with 28% being in their first year of operation.This statistic underscores the industry's potential for growth and the increasing interest in providing unique, luxurious outdoor experiences.
Meanwhile, according to Glamping Global Market Report 2023 by Research and Markets, the global glamping market grew from $2.54 billion in 2022 to $2.89 billion in 2023 at a compound annual growth rate (CAGR) of 13.6%, indicating a burgeoning interest and investment in the glamping sector.
Diversification and Global Expansion: The Next Frontier
The diversification of offerings, global expansion, and a commitment to safety and wellness amidst prevailing health concerns are likely to become pivotal themes shaping the future of the glamping industry.
With varied growth rates across different regions, operators are set to explore new markets, ensuring not just a luxurious, but also a conscientious and immersive travel experience for guests.
Amplifying the data, McCullough underscored the pivotal role of utilizing digital platforms to uphold safety and cleanliness, particularly in an era where 92% of glampers deem sanitizing stations to be crucial. The emphasis on digital solutions not only aligns with the contemporary, tech-savvy traveler but also ensures a streamlined, contactless experience that prioritizes the health and well-being of guests.
In the context of ongoing global health considerations, the integration of digital platforms to communicate, manage, and facilitate health and safety protocols, such as the availability and location of sanitizing stations, becomes not merely a value-add but an imperative.
This approach not only reassures guests of the commitment to maintaining a safe environment but also enhances the overall guest experience by seamlessly integrating safety measures into the overall hospitality offering.
As we step into 2024, the glamping industry is set to navigate through a landscape rich with opportunities, innovations, and challenges. The emphasis on enhanced guest experiences, sustainability, technological integration, and strategic global expansion will play a pivotal role in shaping the industry's future, ensuring it continues to offer a unique, luxurious, and immersive travel experience for the global citizen.