In the Glamping Americas 2023's session titled "Behind The Scenes of Building a Brand," Jenny McCullough, senior director of marketing and operations of Terramor Outdoor Resort, shed light on the evolving landscape of outdoor hospitality, particularly emphasizing sustainability and digital integration to help campground owners build their brand.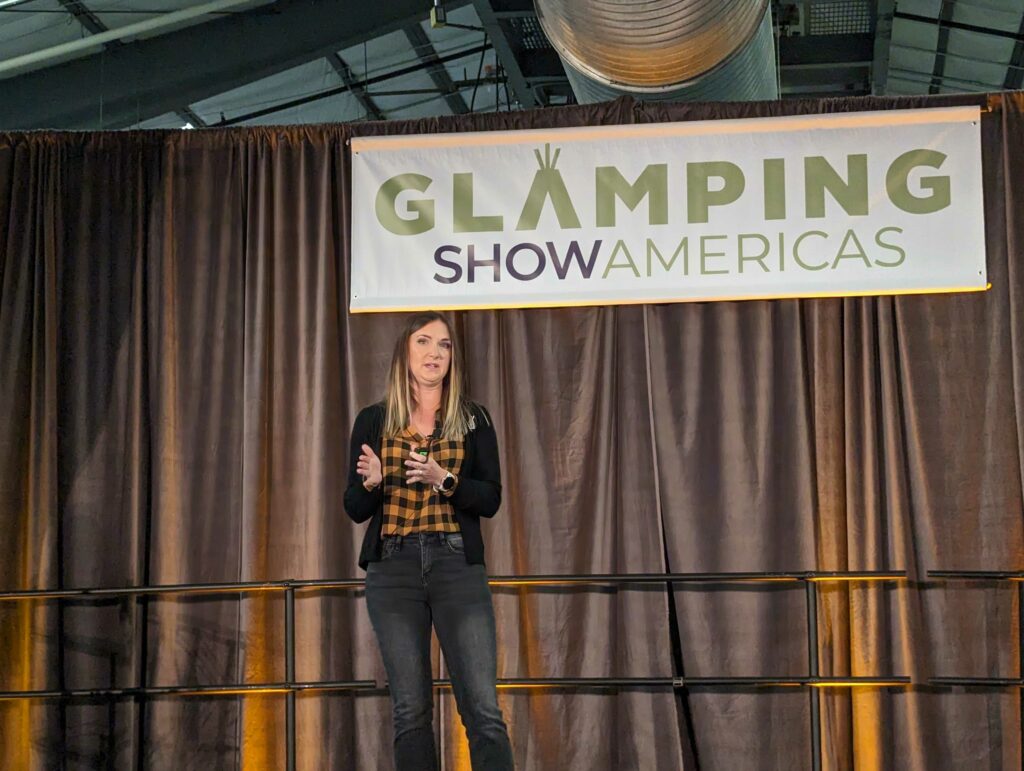 The Rise and Change in the Outdoor Hospitality Industry
During the session, McCullough emphasized that the rise of outdoor hospitality has been notably significant, with 32% of leisure travelers engaging in camping and glamping in 2022, and an additional 45% trying it out between 2020 and 2022, data pointing to the rise in camping interest during the pandemic.
She highlighted the importance of adapting and identifying "what kind of experience" campers are going to have in campgrounds and glamping sites. This is especially pertinent considering that 14% of travelers tried camping for the first time in 2023, indicating a shift towards more immersive and community-oriented travel experiences.
Digital solutions have become integral in ensuring sustainable practices within the hospitality sector. McCullough said a staggering 65% of glampers prefer digital check-ins, while 70% believe that text notifications enhance their experience.
Adding to the data, she emphasized the importance of leveraging digital platforms to ensure safety and cleanliness, especially when 92% of glampers find sanitizing stations crucial.
Addressing the needs of modern travelers, particularly those who work remotely, has also become paramount. She said 53% of glampers are "consistently working remotely," staying at locations that are part of the outdoors away from cities and towns, as well as adjacent to natural features.
She said this underscores the importance of blending connectivity with immersive outdoor experiences, especially when 81% of travelers deem Wi-Fi very important, answering the rhetorical query, "So, is Wi-Fi important?"
Other than Wi-Fi, she emphasized other growing features that may become a necessity for campgrounds as they accommodate newer audiences, such as EV charging stations for elecric vehicles or electric RVs, as well as solar panels and other green energy sources that promote sustainability.
Social Responsibility and Emotional Touch
Corporate Social Responsibility (CSR) and sustainability have become pivotal in attracting new travelers. During the session, McCullough expressed some data, showing 63% of new KOA campers significantly value CSR, while 37% are among experienced KOA campers.
Furthermore, sustainable practices are a core value for 81% of new KOA campers and 65% of experienced ones. She said "it's so important to build out that community relationship," highlighting the necessity of intertwining sustainability and community engagement in hospitality.
Locality and Guest Experience
KOA is considered a role model in ensuring consistency in guest experience across locations. This reliability in guest experience, even during long travels, has been a key factor in the brand's success in the outdoor hospitality sector.
So if they're going on a long cross-country trek, they know that there's going to be a KOA campground with a guest experience that they can expect along their way to that trek," McCullough said.
The strategy of learning from competitors was also underscored. She shared advice that owners should also study other campgrounds when it comes to guest experience for them to know how to become better. This approach ensures that KOA continually evolves its offerings to enhance guest experiences, maintaining a competitive edge in the market.
Local and community engagement has also been pivotal in building relationships and ensuring experiences are authentic and localized. McCullough said "bringing that locality in campgrounds" shows campers that site's relationship with people and other hospitality offerings of the place.
The insights shared by Jenny McCullough have illuminated the intricate balance required in modern outdoor hospitality.
Her session that highlighted the necessity of intertwining sustainability, digital integration, and community engagement in building a successful brand was part of the day 2 sessions at the Glamping Americas 2023 held at the Arapahoe County Fairgrounds in Colorado.