The Glamping Show Americas recently unveiled its inaugural Glamping Americas 2023 State of the Industry Report at the Arapahoe County Fairgrounds in Colorado. This groundbreaking research, conducted by Cairn Consulting Group, offers a detailed look into the burgeoning glamping sector of outdoor hospitality.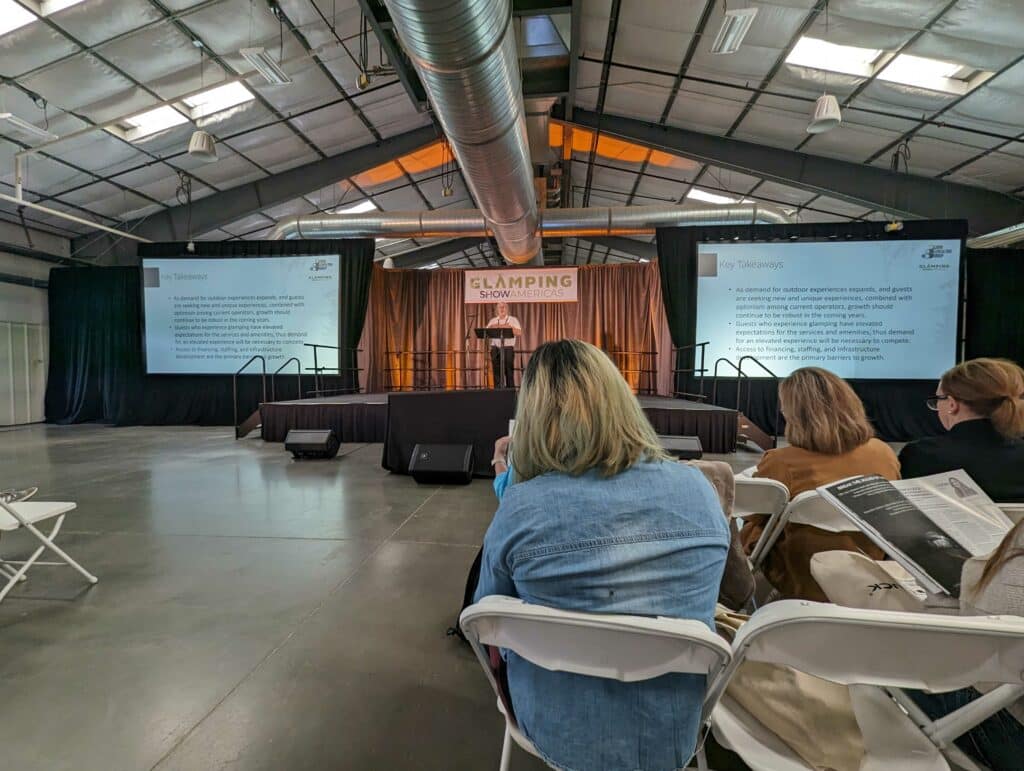 Scott Bahr, president of Cairn Consulting Group, presented the report's key findings, emphasizing the importance of guest-centric decision-making. "Always keep the guests in mind," Bahr advised, urging operators to consider guest perceptions and past experiences when shaping their offerings.
"This is from the perspective of operators, but always keep the guests in mind. A lot of times that's what we focus on a lot. And as you think of what you provide, as you think about, the results and how it applies to you, always think about how that guest perceives what you do, how they perceive overall, and how their experiences impact what they expect when they come to stay at a glamping location."
The survey paints a vivid picture of the glamping landscape. A notable finding is that 28% of operators are in their first year, signaling a significant influx of newcomers and highlighting the industry's growth potential. Bahr remarked on this trend, stating, "If you look in hospitality, you're not going to have a lot of first year folks. That's a pretty large chunk.That isn't everyone, but I think it's indicative that there are a lot of new entrants into this and, you know, that, that's, that's part of that growth, that's what's building this."
Location emerged as a paramount factor in guest preferences, with many glamping sites strategically positioned near state parks. These sites offer a unique blend of upscale accommodations and proximity to natural attractions, catering to guests seeking a luxurious outdoor experience.
Most glamping sites start with an average of 11 structures. The average initial investment for startup glamping businesses is $650,000. A staggering 93% of operators are self-funded, indicating a trend of smaller operators launching without external financing.
Moreover, approximately 38% of operators currently provide premium amenities such as swimming pools, hot tubs, and saunas.
Bahr also discussed the importance of operators familiarizing themselves with local permitting processes to avoid potential regulatory setbacks.
Data also revealed that 8 out of 10 of the operators in the South are open all year, signaling a trend towards year-round operation.
"There's a real desire for off-season glamping. For the shoulder season, to get there at different times of year. Winter camping is spiking in the cold areas, these aren't snowbirds. So, I think it's something important to consider. And, again, as you're developing and you're looking ahead, don't sleep on these, what used to be the off season."
Glamping sites report an average annual revenue of $364,000. The Average Daily Rate (ADR) stands at around $200, with variations based on location and operational months.
The report's findings underscore the industry's shift towards prioritizing experiences over accommodations. "People are looking for experiences first, accommodations second," Bahr observed.
"Make sure you offer something. You can't just have a structure for people to stay at. You have to offer something beyond that," Bahr emphasized.
For glamping business owners, this report serves as a valuable tool, offering insights into industry benchmarks, growth metrics, and guest preferences. By understanding these dynamics, operators can make informed decisions, ensuring their ventures are both profitable and aligned with guest expectations.
The Glamping Americas State of the Industry Report provides a comprehensive overview of the current state and future prospects of the glamping industry in the Americas. As the sector continues to evolve, this research will undoubtedly play a pivotal role in shaping its trajectory.
Featured image from Modern Campground.