Campground owners and industry experts gathered in Orlando, Florida from November 14 through 17 for four days of learning and networking at the 2022 KOA Convention & Expo. During the week, Kampgrounds of America (KOA) prepared over 30 educational sessions for attendees as well as endless networking opportunities and entertainment.
Prior to the opening of the registration booth on November 14th, the KOA hot air balloon soared high above the parking lot of the Orange County Convention Center in Orlando. That morning, Modern Campground spoke with Chief Pilot Rob Nutting who is also a business development consultant at KOA.
During the conversation, Nutting said that the KOA balloon has made its rounds around festivals in the United States throughout the year with plans to make appearances in multiple festivals in the country and into Canada in 2023.
"We have a pretty good schedule lined up for 2023—that will be all over the United States and into Canada," he told MC.
The balloon is part of the company's efforts to elevate its exposure and increase awareness for Care Camps.
KOA's event also saw a series of meetings on the first day, followed by a first-timer's event before the legendary kickoff reception at Universal Studios.
On Monday night, convention first-timers were welcomed with an event at the Coconut Club where they were treated to an evening of games and laughter. Modern Campground spoke with newbies to KOA's biggest event, one of which was Brian Schaper, who said the gathering was a "great way to kick off" the convention.
"I'm a deer in headlights. It's very exciting. A lot of interesting things, a lot of interesting people," the owner of Gas City KOA told Modern Campground.
Soon after, first-timers headed to CityWalk to join other convention attendees at the kickoff reception where they mingled and formed lifelong connections.
KOA closed down the Universal CityWalk area for the evening event from 6:00 p.m. to 8:00 p.m. Four restaurants and bars around the area also remained open for conference attendees. Until 10:00 p.m., the group enjoyed exclusive after-hours park access as they roamed around Marvel Super Hero Island.
The next day, the company's leaders spoke at the opening general session where KOA President & CEO Toby O'Rourke encouraged attendees to harness the startup mentality to advance their own parks.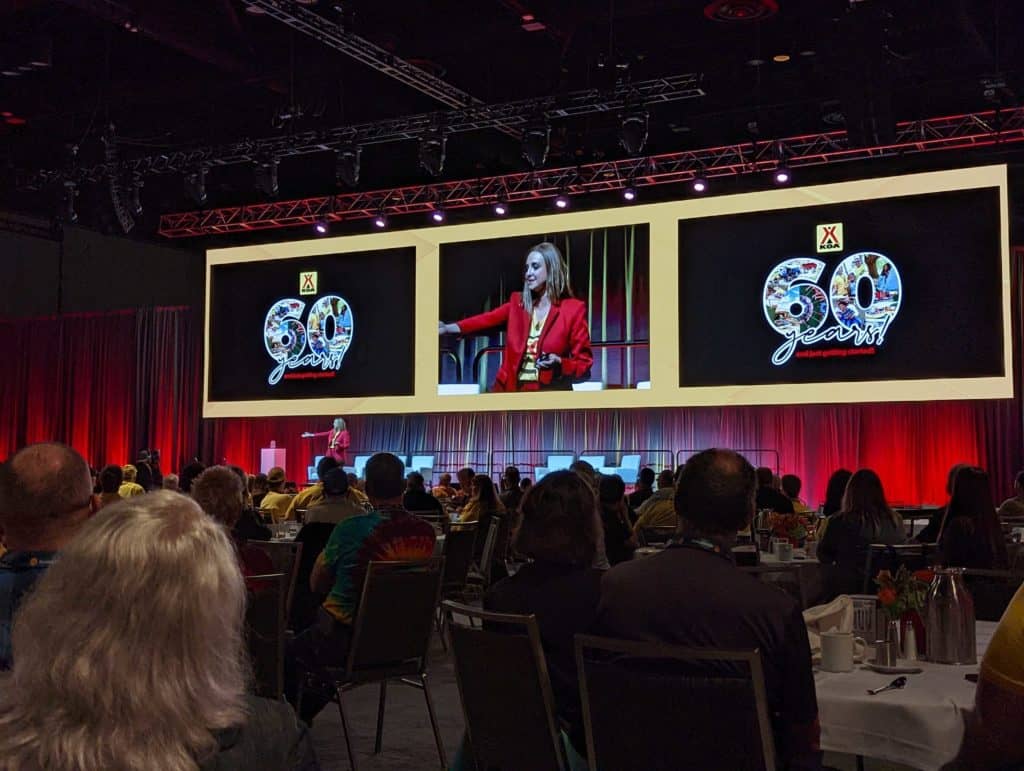 "[W]e have to make sure we're not disrupted and we don't start to go down," O'Rourke said during the session.
"…So to continue our upward trajectory, I am proposing to you, we need to apply a startup mentality […] and we need to tap into that mindset to continue to advance our business," she added.
Whitney Scott, the chief marketing officer of KOA, also spoke at the session where she emphasized the importance of the growth mindset approach. KOA's Chief Financial Officer (CFO) Chris Scheer followed after Scott and discussed how the campground industry remains resilient even throughout the economic downturn.
"Keep that rate going. Keep up with inflation. Worry about rate management and revenue management. Set those rates early. Watch your occupancy [rise] as the new year goes on," Scheer said.
Throughout the week, stakeholders enriched their knowledge of improving their business by attending almost 30 sessions organized by KOA.
Awards were another part of the event, with over 430 KOA campgrounds—including Canadian KOAs—recognized as recipients of the President's and Founder's Awards.
On November 16, the company also held an awards luncheon where it named winners for various awards such as Campground of the Year, Rising Star Award, Darrell Booth Lifetime Achievement Award, and more.
The week was not only full of entertainment and education but also networking. The KOA Expo was another avenue where attendees connected with vendors for products and services that can improve their parks.
Registered vendors include a dog washing company, campground entertainment companies, outdoor furniture companies, and more.
All in all, the KOA Convention & Expo was a chance for campground owners to network with other business owners and learn from industry experts. For Kampgrounds of America, it was a chance to celebrate accomplishments and host an event that left attendees excited for the future of outdoor hospitality.
KOA also released this exciting wrap-up video below: