If the campground industry is thriving as more people are seeking a camping experience, is there still a benefit to using online travel agencies (OTAs)? The answer is yes, according to experts from Campspot, BookOutdoors, Spot2Nite, and The Dyrt as they spoke in front of the crowd at a convention in Florida.
There continues to be a wave of people looking to go camping, and campgrounds, no matter how long they've existed, have traditionally been difficult to find online.
Enter companies such as BookOutdoors, Campspot, Spot2Nite, and The Dyrt, making information accessible for campers while increasing the visibility of campgrounds.
As the industry continues to grow, BookOutdoors Co-Founder and CEO Brian Nolan said that there are still gaps to fill in the outdoor hospitality industry when it comes to making information about campgrounds available.
"Still very fragmented in this space. It's still very hard to find […] and be able to see all the campgrounds that are available, and see all the inventory, and do the filtering, and everything," he said.
BookOutdoors' efforts in addressing the shortcomings mean offering features that both consumers and campground owners will benefit from.
For consumers, the company offers ease of booking and features like weather protection, while campground operators can benefit from integrations that will allow their parks to be more visible online.
"We like to work with everybody […] but it's also about being […] a distribution channel for you guys to be able to sell unsold site nights before they expire, before they pass," Nolan said. "We work alongside your existing booking platform, so we're not looking to replace anything from that," he added.
Casey Cochran, the vice president of business development of Campspot, also shared the same thoughts earlier in the session. The panel discussion was held at the Rosen Centre Hotel in Orlando as part of the Outdoor Hospitality Conference and Expo 2022 (OHCE2022).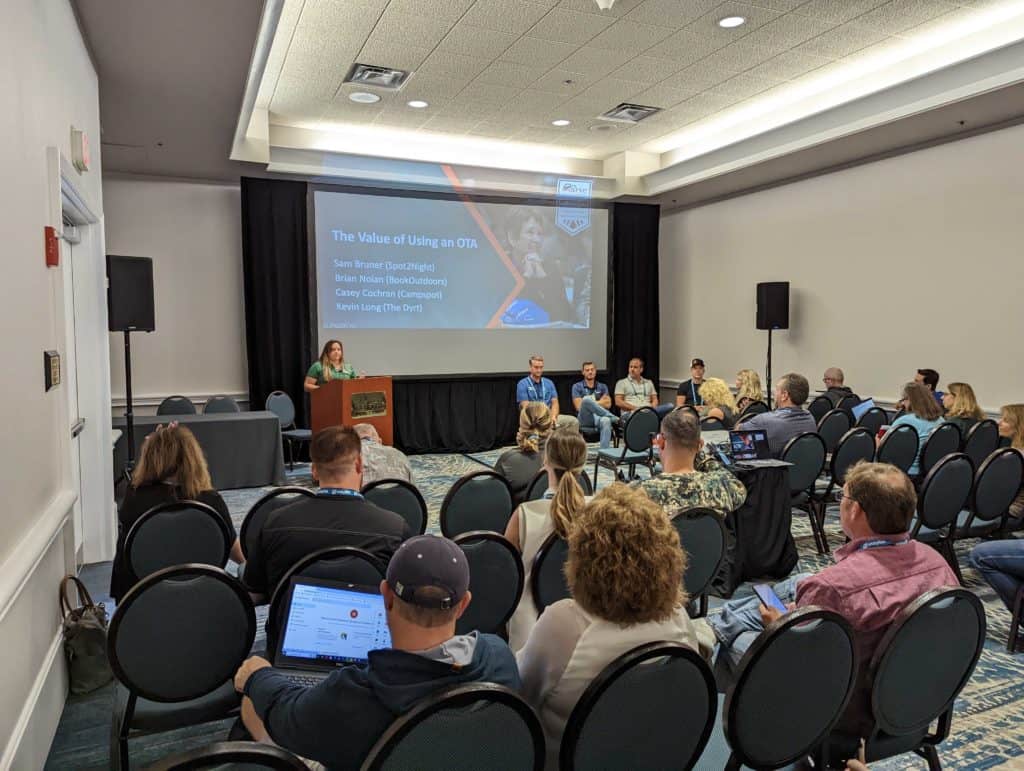 A successful OTA for the outdoor hospitality industry, he said, must embody the essence of a campground to be able to translate well and appeal to campers.
He shared the things Campspot considered before establishing a marketplace to bridge the gap between campers in need of information and campgrounds in need of guests.
According to Cochran, campgrounds are more unique compared to hotels. Dimensions, bed sizes, campground rules, terms and conditions, dynamic pricing, site type descriptions, images, tokenized cards, and more must all be taken into consideration.
"So our goal is to not take a guest and have them book every time with our marketplace. Our goal is to take a guest, bridge the gap between that guest and that park, and then share that data 100% with the park," Cochran stated.
Spot2Nite COO Sam Bruner agrees.
"[O]ur number one objective is to bring new campers and RVers right to your campground," he said.
The COO also mentioned a distribution model in collaboration with Camping World where every bus sold through Camping World will have the opportunity to have a "book now" function.
"We'll be able to serve up that individual customer directly to your campground. So not only do we have a marketplace, right? What's interesting about a true OTA is the distribution model that we are building out," Bruner said.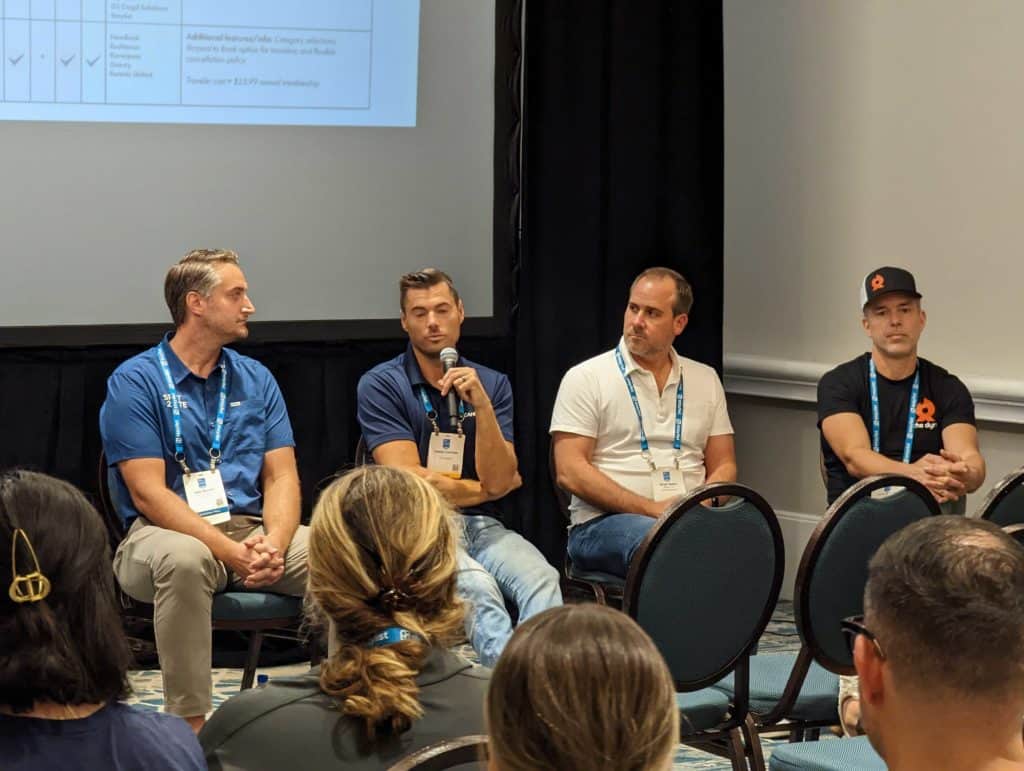 Visibility is one of the secret keys for parks to put themselves out there.
"I mean, ultimately it's, above awareness and exposure, right? I mean, you want as many people aware that your park exists," Cochran said.
For The Dyrt President John Hayden, meanwhile, awareness of a park's existence is still good exposure whether the people who visit the platform book a site or not.
The Dyrt has over 30 million visits a year, mostly by campers looking for their next destination. What used to be an avenue for the camping community to share ideas and photos of their favorite campgrounds is now also part of the OTA space.
"So now our goal is, you know, to increase the number of bookable properties so that those campers can have […] that full experience," he said. There are currently 45,000 listings on The Dyrt and the company is striving to make most listings bookable.
Most listings on The Dyrt are generated by campers. If a guest were to stay at a site, they can upload the property and post photos then leave a review.
Other reasons why campgrounds should use OTAs, per the executives, include: bringing new campers to campgrounds, ensuring the system works for their business, and providing a great booking experience.
Campgrounds can have the upper hand when it comes to providing a good booking experience compared to traditional hotels.
When campground guests book, most want to know the specific location and they want to be guaranteed the site, said Cochran. This is where camp maps play a role in booking, allowing campers to handpick a site and request it.
Moreover, versus hotels where one cannot pick a specific room, campers are willing to pay more to secure their campsite, thereby providing additional revenue through site lock fees.
Embracing new demand in camping may also mean introducing new facilities, increasing prices, or offering gear and tents which can all help bump the price point up for operators.
"I guess it's a nice thing for a property owner now because there's so much demand and there's not enough supply," The Dyrt's president said, adding that more demand calls for getting more attention, and one way to do that is by increasing exposure.
"And so as you move up that, you're gonna need more distribution, you're gonna need more eyeballs on it," he said.