In a pioneering move, the Sheridan/Big Horn Mountains KOA Journey has become the first Kampgrounds of America Inc. (KOA) franchisee to implement artificial intelligence (AI) chatbot technology.
The chatbot, known as "KOA Concierge", was launched on September 12 and aims to revolutionize the camping experience for both campers and campground operators.
According to a press release, the KOA Concierge is designed to provide 24/7 customer service. Created by Insider Perks, a leading provider of marketing solutions for the outdoor hospitality industry, the chatbot is programmed to answer a wide range of questions. These include inquiries about the types of accommodations available, local outdoor activities, amenities, and the KOA Rewards loyalty program.
Nate Thompson, the owner of the Sheridan/Big Horn Mountains KOA Journey, expressed enthusiasm about the new technology. "We are incredibly excited to be the first KOA to adopt this innovative technology," Thompson said. "KOA Concierge elevates the guest experience and signifies our commitment to introducing technology that advances the outdoor hospitality industry.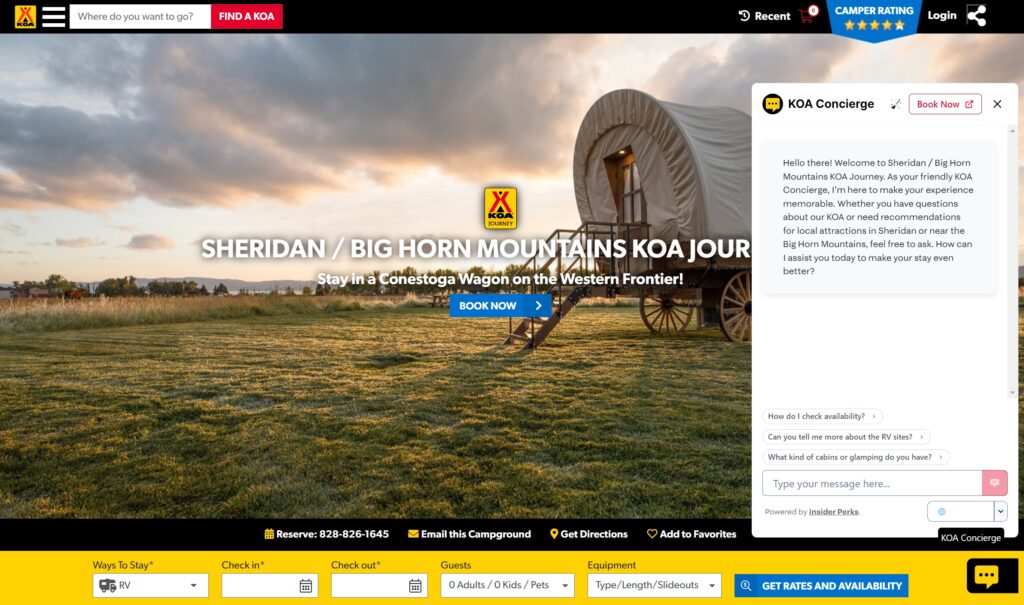 The Rise of AI in Camping
Recent research by Kampgrounds of America indicates that campers are adopting AI technology for trip planning more rapidly than other leisure travelers. The study found that 53% of AI-inclined campers use the technology for trip research, 48% for itinerary building, and 32% for gathering resources about a specific destination.
Brian Searl, the founder and CEO of Insider Perks, also weighed in on the collaboration. "Working with forward-thinking partners like KOA allows us to drive innovation in the outdoor hospitality sector," he said. "Implementing the KOA Concierge at Sheridan/Big Horn Mountains KOA Journey is a testament to our shared vision of providing unparalleled service to campers while setting new industry standards."
The introduction of KOA Concierge marks a significant step toward digital transformation in the outdoor hospitality industry. It ensures that guests have access to important information and services at their fingertips, thereby improving the overall camping experience.
The technology not only benefits campers but also provides campground owners and operators with a streamlined approach to customer service. It underscores the commitment of both KOA and Insider Perks to bring innovative solutions that benefit the entire industry.
The Sheridan/Big Horn Mountains KOA Journey is located at 63 Decker Road in Sheridan, Wyoming. For more information about the accommodations, amenities, or to try out the KOA Concierge, interested parties can visit their website or call 307-674-8766.
About Insider Perks
Located in Cleveland, Ohio, Insider Perks is a pioneer in providing top-tier marketing services tailored for the outdoor hospitality industry. The company focuses on innovation and customer-centric solutions, aiming to help campgrounds and RV parks unlock their full potential.
About KCN Campgrounds
KCN Campgrounds is an esteemed outdoor hospitality organization dedicated to building a world-class portfolio of outdoor hospitality properties, including multiple KOAs. With a mission to grow a portfolio that aligns with strict investment criteria, KCN Campgrounds is committed to providing delightful experiences for campers while ensuring high returns for investors. Their strategic approach to campground management, combined with a passion for innovation, positions them as a leader in the industry.
About Kampgrounds of America
Kampgrounds of America, Inc. has been a leader in outdoor hospitality for over 60 years. The company consists of two unique brands: KOA and Terramor Outdoor Resorts. KOA is the world's largest system of privately-owned, open-to-the-public campgrounds, with more than 500 franchised and owned locations.