According to the RV Industry Association's February 2023 survey of manufacturers, total RV shipments for the month ended with only 24,903 units, which marks a decrease of 53.7% compared to the record-breaking 53,773 units shipped in February 2022.
To date, RV shipments are down 57.7% with 45,308 units as compared to this point last year.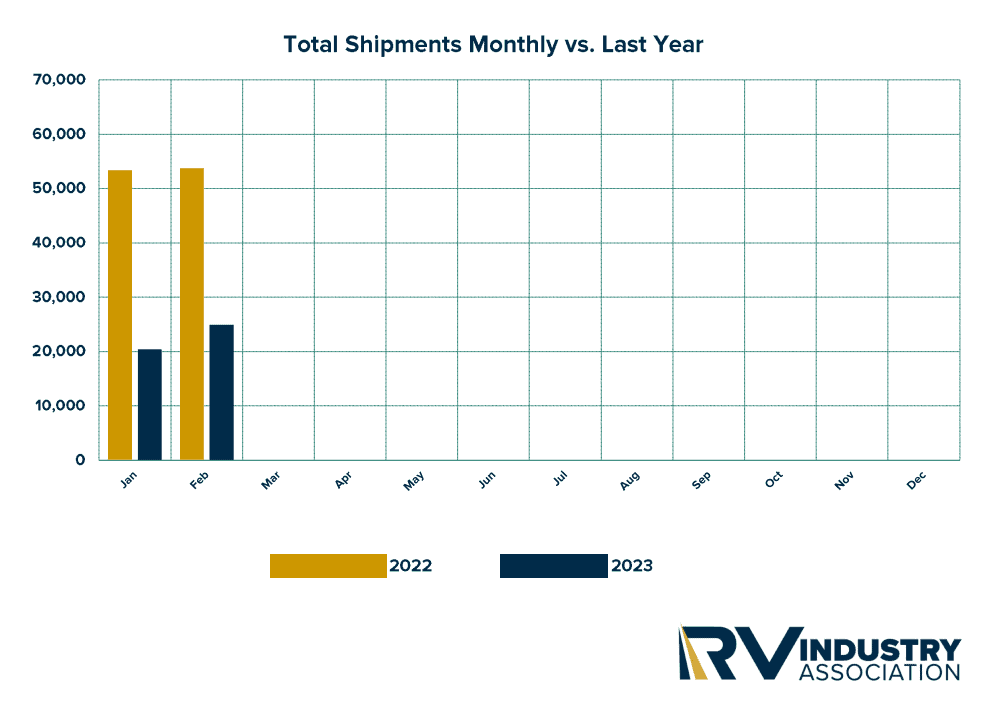 The decrease in RV shipments was not unexpected, as the industry saw record high production through the first half of 2022.
However, RV Industry Association President & CEO Craig Kirby remains optimistic about the future of the industry, stating that "the future is very bright considering the hundreds of thousands of younger and more diverse RVers who joined the lifestyle over the past few years."
Motorhomes finished the month down 15.9% compared to the same month last year with 4,639 units, while towable RVs, led by conventional travel trailers, ended the month down 58.0% against last February with 20,264 shipments. Park Model RVs, on the other hand, saw an increase of 62.1% in wholesale shipments with 501 units.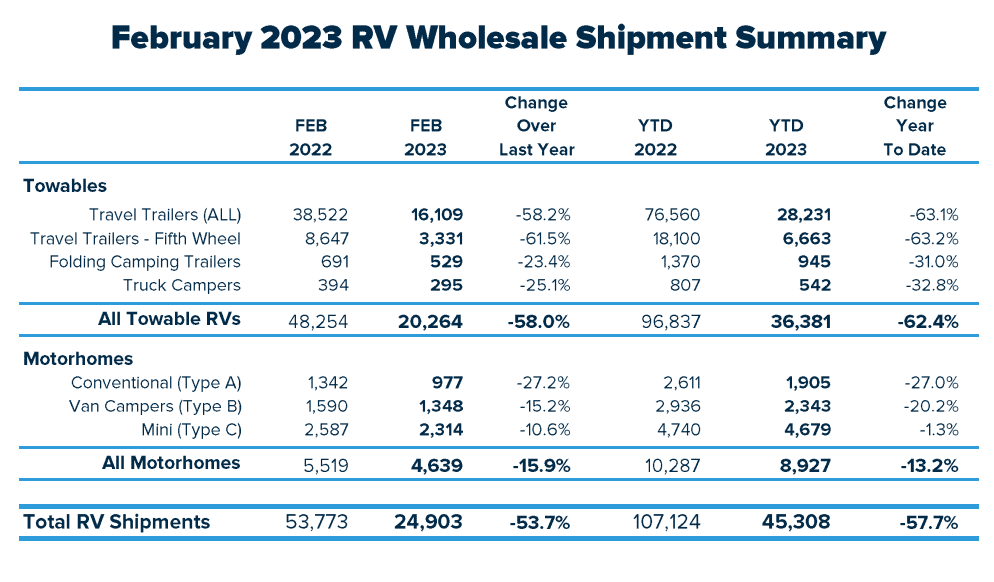 The data from the survey is based on wholesale shipments, and while it doesn't necessarily reflect the total number of RVs sold to consumers, it is still an important indicator of the health of the industry.
As the camping season approaches, it will be interesting to see how the industry continues to evolve and adapt to changing consumer demands.
This decrease in shipments is particularly noteworthy given that the industry saw record-high production levels in the first half of 2022, indicating a potential shift in consumer demand.
The RV industry has been one of the fastest-growing segments of the outdoor recreation industry in recent years, with many younger and more diverse consumers embracing the RV lifestyle.
As such, any changes in consumer demand or overall industry health can have significant implications for manufacturers, dealerships, and other businesses within the RV industry.
Despite the decrease in shipments, the RV Industry Association remains optimistic about the future of the industry, citing the continued popularity of RV shows and the growing number of younger and more diverse RVers.
The industry will likely need to continue to adapt and evolve to meet the changing needs and preferences of these consumers in order to remain competitive and thrive in the years to come.