An article published on Thursday by CEO Magazine features Toby O'Rourke, the president and CEO of Kampgrounds of America (KOA), and how she continues to shape the company as it is today.
In the report, it was mentioned that O'Rourke joined the company as its digital marketing director years ago. Today, she leads the company that has grown to become the world's biggest collection of privately-owned campgrounds.
With her extensive experience and knowledge of marketing and sales, she spotted an opportunity to rethink its entire marketing strategy and created a Digital Marketing department right from scratch.
"We were doing traditional marketing at the time, nothing in terms of digital advertising, digital strategy, or social media," she shares. "Now we have a very robust website with 36 million sessions to our website. We're actually tracking way ahead of that this year."
As KOA is preparing to celebrate its 60th anniversary in 2022, Toby has his sights set on maintaining the brand's image and pursuing technological advancement, digitalization, and growth initiatives. While some may see camping as a traditional or outdated activity, KOA is firmly set on establishing a new, modern vision through its brand new offerings of glamping, luxury, and rustic segments.
I put a lot of my effort into the modernization of camping," Toby shares. "We have a mobile app now that is a part of us bringing a lot of camping into the modern age."
With 525 parks spread across both the US and Canada, there is an opportunity to create distinct brand segments that cater to a wide range of appetites."As the world's largest network of campgrounds, we felt we needed to say that we're serious about the experience for our guests.
Terramor Outdoor Resort is KOA's new glamping-facing brand and its main property located in Bar Harbor, Maine, is among the most interesting projects Toby is currently working on.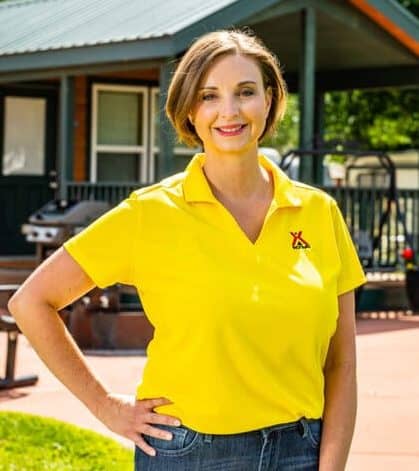 "I'm very passionate about the intersection between luxury and rustic camping, and where we can go with that as a company," she says. "We just opened last year and we're continuing to expand this concept to more locations. Right now, we're in the midst of a big growth phase, and I think that's the biggest thing I tapped into shortly after becoming CEO."
Driving forward is a central element of the strategy Toby has developed for KOA. This ambitious growth strategy hopes to double KOA's bottom line by 2030. It also has the goal of expanding its parks and adding more franchises that contribute to the goal.
When Toby became CEO, she wanted to present her vision of leadership to employees in an easy and understandable manner. Part of her first step was to incorporate a kaleidoscope image into the KOA logo.
"The kaleidoscope is very multifaceted; there are lots of little pieces working together," she says. "I'm a really big believer in cross-functional collaboration, which can help connect dots between teams, gather input, and find solutions."
She believes that when working in a cross-functional manner, employees will not only feel more empowered but also be able to get rid of their barriers and perform better. Collaboration across teams and across the levels of the company is vital for an improved product, as per Toby. "The other thing with the kaleidoscope is it's bright and colorful, and the light shines through to create transparency. For me, transparent, open communication is vital."
"When you turn the kaleidoscope, the picture changes into something new and beautiful. We're not stagnant, we are constantly looking to improve."