Campspot's first-ever platform-wide promotion resulted in a record-breaking reservation week, with over 60,000 bookings made for the spring and summer seasons.
As a camping software provider and online consumer marketplace, Campspot aimed to harness the potential of its platform to offer unprecedented discounts at nearly 300 participating campgrounds across the country.
The promotion, which ran from March 14-19, utilized a single discount code to provide customers with booking bonuses and incentives. This marked the first time that such a promotion had been organized within the online camping travel agency sector.
The promotion proved successful, as participating Campspot campgrounds experienced substantial growth during this period.
According to a press release, the company observed almost 50% week-over-week growth at participating campgrounds. She noted that a quarter of the bookings made during the promotion were completed using the designated promo code.
"With shoppers especially price sensitive this year, Campspot wanted to leverage the power of our platform to garner camper excitement and help our campgrounds drive demand in a customizable way," said Erin Stender, Campspot CMO.
"We expected there to be interest, but we were blown away that the promotion resulted in the biggest booking week across our platform."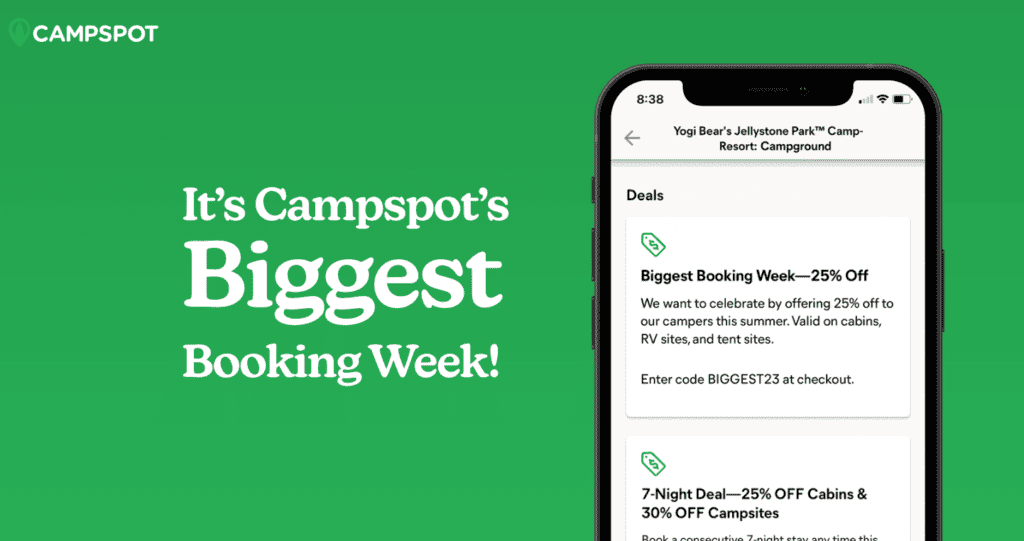 The average value of bookings made with a promo code during this period was over $300, or 33% higher than those made without a code.
Interestingly, the promotion's impact extended beyond the participating campgrounds. Campspot reported that even parks that did not join the promotion witnessed a 20% week-over-week growth and averaged the best performance of the year to date. This demonstrates the far-reaching effects of the platform-wide promotion on the entire campground ecosystem.
Stender highlighted that the promotion particularly attracted new campers, with over 90% of bookings made by first-time customers. This influx of new campers is beneficial for both Campspot and its campground partners, as it fosters an expanded customer base and creates more opportunities for outdoor adventures.
"For us, that means we not only helped our campground partners reach new guests, but we also made more adventures possible for more families, which is always our goal," she said.
Campspot estimates that its "Biggest Booking Week" promotion will result in campers spending more than 2.3 million hours outdoors this year.
As concerns about inflation and rising prices dominate consumer behavior, campground owners and operators are increasingly searching for efficient methods to maximize demand. Campspot's promotion has demonstrated one potential avenue to achieving this goal.
With the success of the "Biggest Booking Week" promotion, Stender stated that the company plans to leverage its learnings and replicate its achievements with future promotions throughout the year.
The positive results of this campaign signal a promising development for Campspot, campground owners, and campers alike, as they navigate the evolving landscape of outdoor travel and recreation.