A recent report by Insuranks unveiled that 33% of Americans are now more inclined to camp at private campgrounds, surpassing national parks which trailed at 29%.
This trend not only underscores the increasing significance of private campgrounds in the US, but also points to how campground owners and operators are pivoting to meet the demands of a burgeoning industry.
For many campground owners and operators, camping is more than just a hobby. It is part of their lives, a passion, and a life-dedication.
In this series, we spoke with campground managers of a number of the KOAs owned and operated by KCN Campgrounds to learn more about the outdoor hospitality industry and how they overcame challenges and obstacles in their campground management journeys. Today, we're highlighting a campground in Richfield Utah.
In an exclusive interview, we talked to Dave and Jenny Wenner, campground managers of Richfield KOA Holiday.
Richfield KOA, located in Richfield, Utah offers both relaxation and adventure. This secluded spot is perfect for nature lovers, with attractions like Fremont Indian State Park, Fishlake National Forest, Paiute ATV trail and Cove Fort Museum nearby.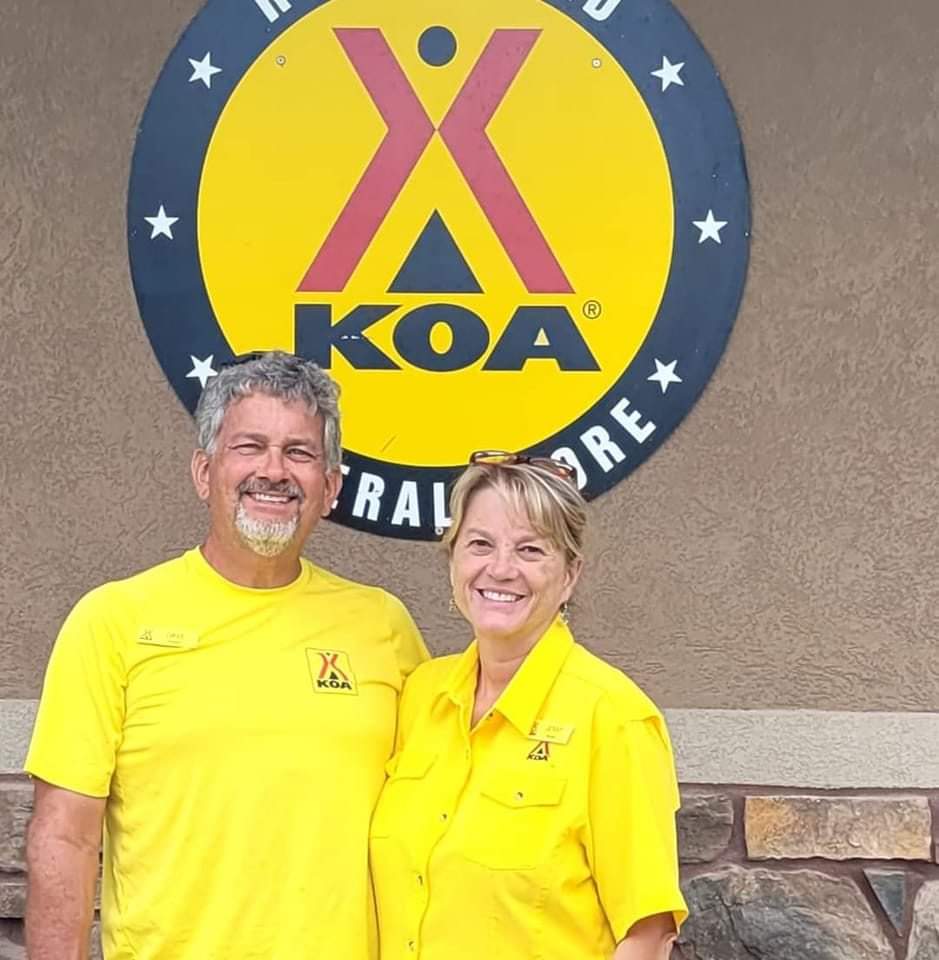 The Journey
For the last 17-18 years, Jenny and Dave Wenner embraced life on the road, living full-time in their camper.
When retirement came knocking in 2017, they opted to become Work Campers—a decision that eventually led them to manage the Richfield KOA in Utah.
Upon their arrival at the Richfield KOA Jenny and Dave hit the ground running. One of the first major undertakings was a 32-site expansion at the campground, an ambitious project that involved meticulous planning and execution.
"Well, during our first season here, we expanded the campground and added 32 new RV sites. There was a lot of work to do shared between us, the design and construction team and the KCN owners."
"We were trying to figure out what our style was as managers, finding workers that we could depend on," Jenny told Modern Campground. "We have a great crew now and things are going really well. But it's been up and down, you know, for the three years to get to this good place" she added.
Their journey hasn't been without challenges. From unpredictable water shutoffs due to city works to managing a dedicated crew during construction chaos, Jenny and Dave have navigated the unpredictable waters of campground management with grace and adaptability.
Richfield KOA stands out for its lush, shady sites—a must when in Utah. "Our park was built in 1968, they planted trees then. So we have a lot of tall, very large trees," Jenny shared.
This dedication to preserving the campground's natural beauty is central to the Wenners' and KCN Campgrounds' management style.
In an industry where trends are ever-changing, the Wenners have skillfully adapted. With many campers traveling with pets, Richfield KOA has introduced "paw pen" sites—special areas with upgraded furniture and fenced spaces for dogs.
"We find that a lot of campers bring their pets, bring their dogs with them. So, we do have four paw pen sites. On those sites, they have a fenced-in area for their pets. It's also an upgraded site that has a gas grill and updated or upgraded furniture. We find that those sites rent all the time. People love having that pen outside for their pets," Jenny added.
When asked how they decide which amenities to introduce or improve for a better camping experience, Jenny emphasized the crucial role of "paying attention." She explained that understanding the needs of their diverse customer base is key to making informed decisions.
"I think a lot of it has to do with just paying attention to what kinds of people are staying at our park," Jenny stated. She cited the example of the park's paw pen sites, which were introduced in response to the high percentage of campers who bring their pets along. "How can we make that a better experience for them?" she pondered.
Jenny believes that by closely observing their clientele, they can tailor the amenities to better meet the needs and expectations of their guests.
'HEART'
For Richfield KOA, community isn't just a buzzword—it's a living practice. The Wenners have adopted a mission statement for their team that values honesty, enthusiasm, attention to detail, respect, and teamwork (HEART).
"Our mission statement is to provide a safe comfortable and welcoming place to stay. So everything that we do and all our trainings and everything kind of center around that, our team values. We say every day that we do everything with heart," Jenny highlighted.
Dave also emphasized the vital role that staff engagement plays in enhancing the guest experience and extending their stays. He advocates for a personal touch, encouraging the team to take the time to interact with guests.
"I always emphasize for our team to take a little bit of time, stop by the campsites where people are sitting out and make conversation with them," Dave said. He believes that this simple act of engagement can have a significant impact on the guests' overall experience and also provide insight on campers' preferences.
According to Dave, this approach has led to tangible results. "We have a lot of people that come in for just one night and because of the atmosphere here, they'll extend for another one or two or three nights, or sometimes even upwards of a week," he added.
Dave contends that it's the "relaxing, quiet atmosphere" coupled with staff engagement that often convinces guests to extend their stays, transforming a one-night visit into a longer, more enjoyable experience.
"So many people say, this is what camping should be. And that's what we try to provide for everybody," Dave continued.
The Wenners and KCN continue to innovate with a focus on enhancing the guest experience. They've introduced a dog wash station that has proven popular among pet owners, and movie nights in the summer have become a tradition.
"One of the things that we've done in the last couple years that I think help us to stand out is that we put in a dog wash which I know sounds kind of funny, but we did it because we know we have all these guests who travel with pets. We've had really big success with that because people who are camping don't have anywhere to wash their dog. They're in a camper and because we're on ATV trails, it's dusty and can be muddy, so that's been very popular," Jenny noted.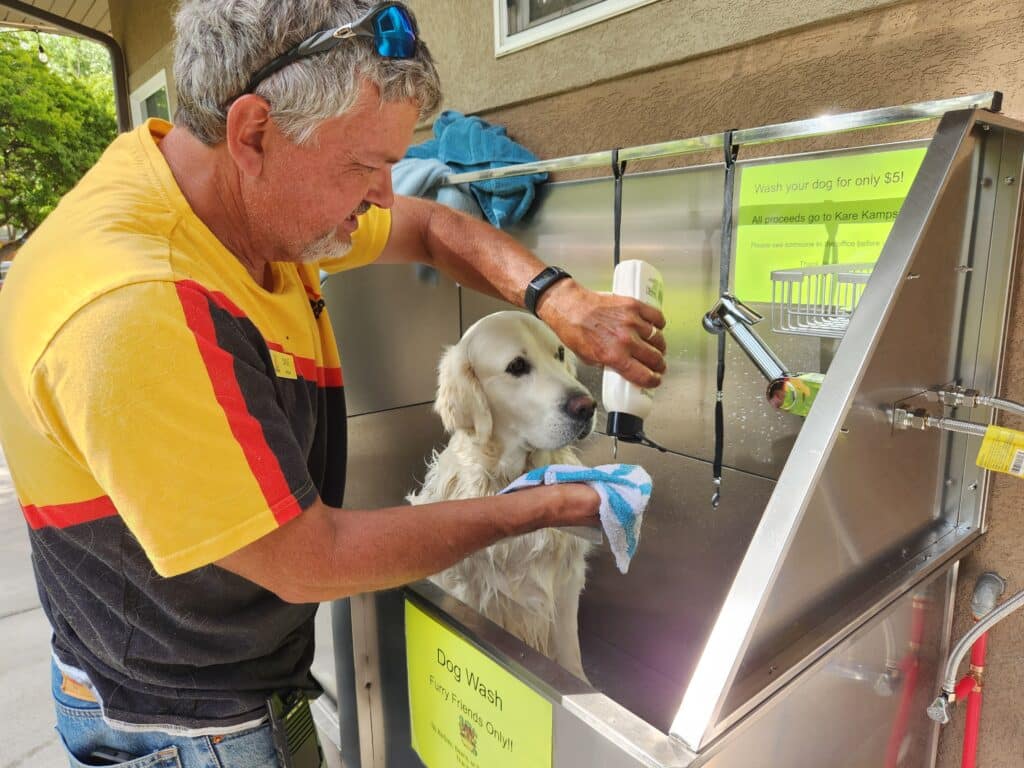 With years of experience, Jenny and Dave offer golden advice for those aspiring to join the industry.
For Jenny, a reliable and excellent staff is invaluable, as no two people can run the whole show alone.
"Personally, I would say surround yourself with a great team because that makes all the difference. Dave and I do this together but we can't do it all by ourselves. We have a lot of skills between the two of us; Dave's really good at dealing with all the stuff outside, all the maintenance involved in running a campground.. And I'm really good at being organized and working with guests at the front desk, but you've got to have that good team to pull it all together."
"Also, one of the big things that we talk about, and this was something that KCN owner Kevin Thueson shared when he first hired us, is that this job should be about having fun because basically, we're working at a vacation destination or vacation area."
"It should be about having fun, getting to know people and enjoying the guests that are here. And at the end of the day, he said, we're all still just camping. We're all here camping," Jenny added.
Dave also emphasized the importance of maintaining a quiet, peaceful environment and viewing the campground from the perspective of a guest.
"The big thing is we try to look at everything that we do from the perspective of the camper, who is sitting on our site, paying to be here and wants to have a fun, relaxing time."
In an industry where customer satisfaction is the currency, Jenny and Dave Wenner are rich in more ways than one.
The Wenners showed that they aren't just running a campground; they're nurturing a community, preserving nature, and creating a sanctuary where guests don't just stay—they belong; the HEART of Richfield KOA.
Featured image from Richfield KOA.