The GMC Hummer EV EarthCruiser, a new overlanding version of the GMC Hummer EV, was recently unveiled at the Overland Expo Mountain West in Colorado. 
This innovative expedition vehicle was developed by GM in collaboration with EarthCruiser Overland Vehicles and is being hailed as the future of overlanding.
It combines battery-electric technology with the versatility and off-grid independence of 4×4 touring, making it a go-anywhere electric vehicle (EV).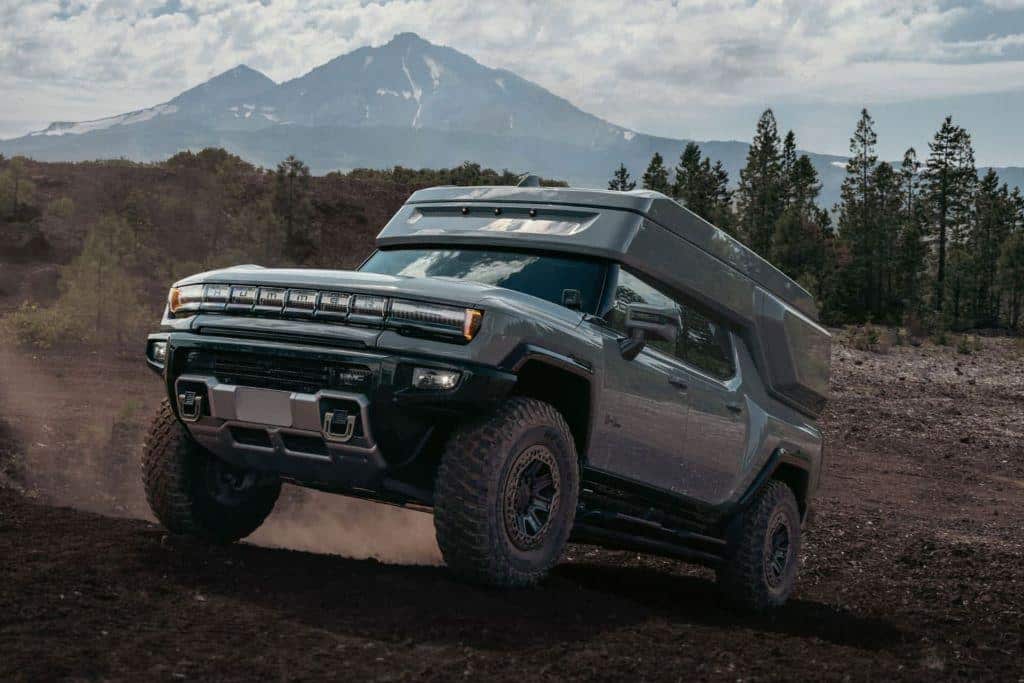 According to an article by caravancampingsales, the EarthCruiser features a removable carbon-fiber camper body with an all-weather, tri-layered electric pop-top roof.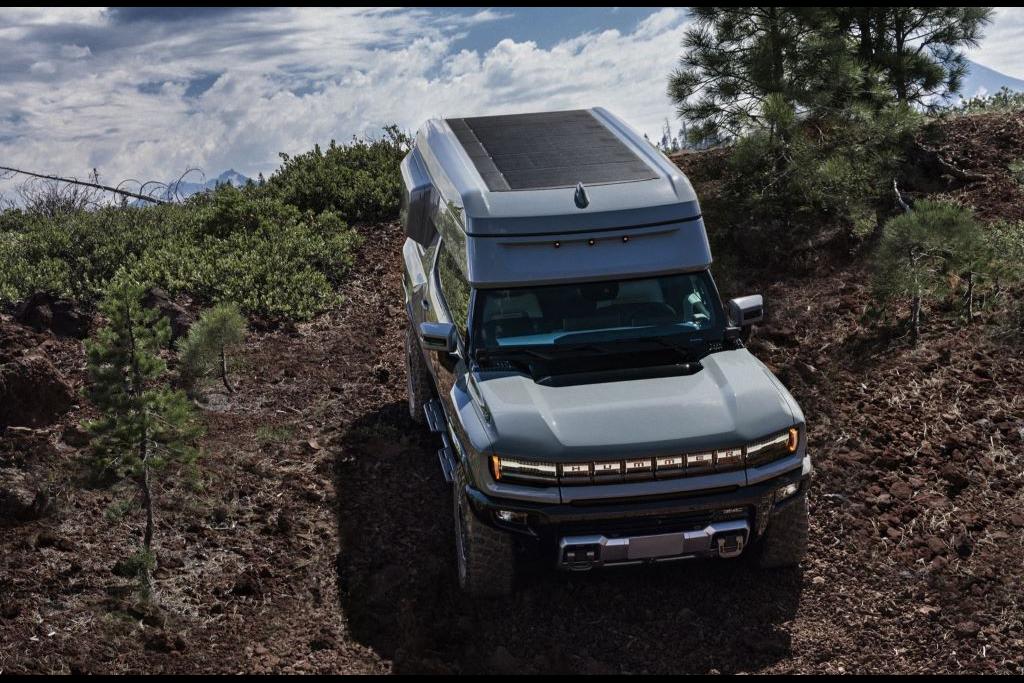 It measures 542.5cm long, 292.5cm high in Camp mode, and 225cm in travel mode. The vehicle is equipped with a range of camping and off-road features, including an outdoor shower, exterior recovery gear storage, filtered water access, lockable utility hook-ups, an exterior keypad for lighting and system control, and exterior scene lights.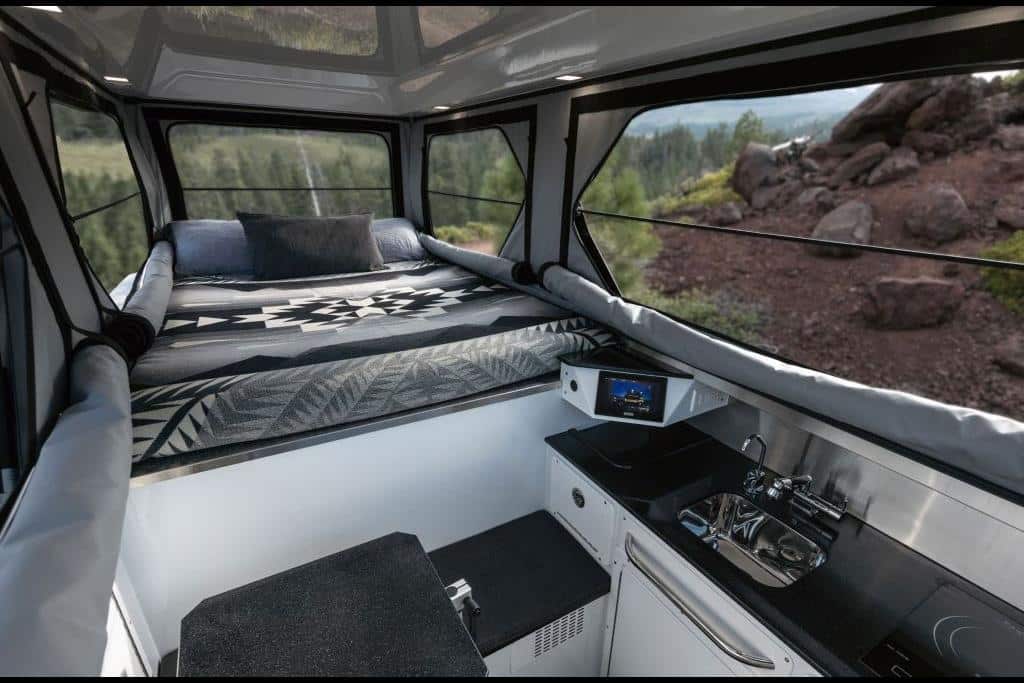 Inside the camper body, which mounts on top of the rear tub and roof and is accessible through either a rear door or a 'manhole' above the driver's cabin, there is up to 200 cm interior height (87.5cm above the double bed).
The internal camping features include a stainless steel sink with hot/cold water, an induction cooktop, a 7-inch diagonal touchscreen, a fridge/freezer, dimmable interior lighting, underbed storage, and drawers and cabinets for additional storage.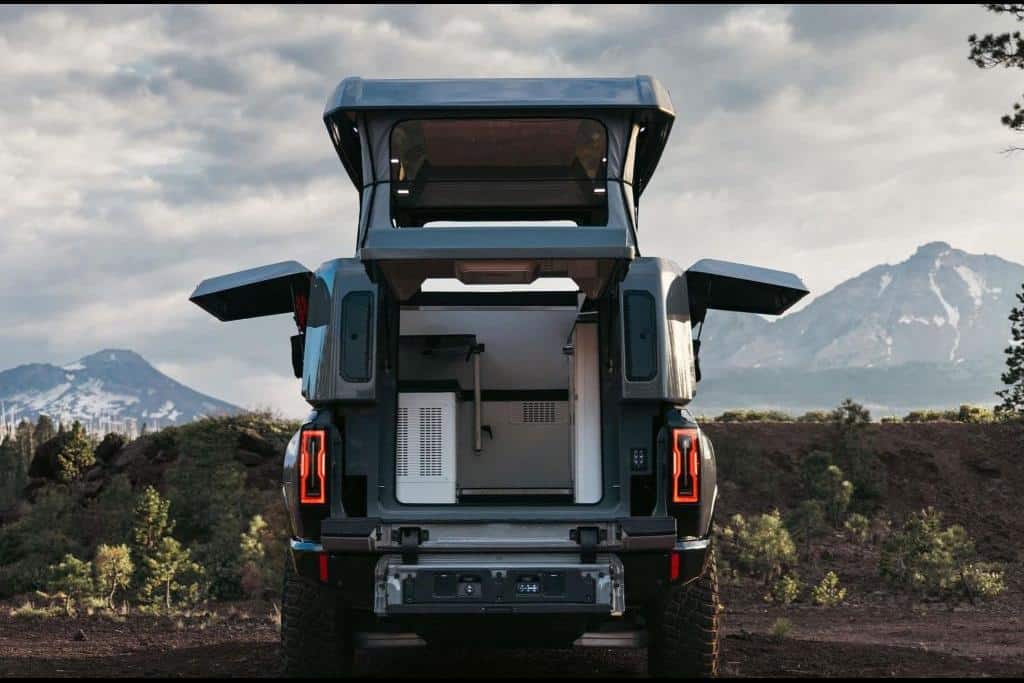 For off-grid camping, the EarthCruiser is equipped with a 460Ah lithium battery, 1500W inverter, and 605W integrated rooftop solar, along with 19L fresh and 26L grey water tanks.
This makes it one of the most capable GM off-roaders to date. The GMC Hummer EV also comes with a suite of standard and optional features to help it tackle tough terrain, including adjustable ride height and a Crab Walk function that allows it to move diagonally.
The standard GMC Hummer EV is powered by three permanent magnet motors that output about 745kW of power and 1625 Nm of torque.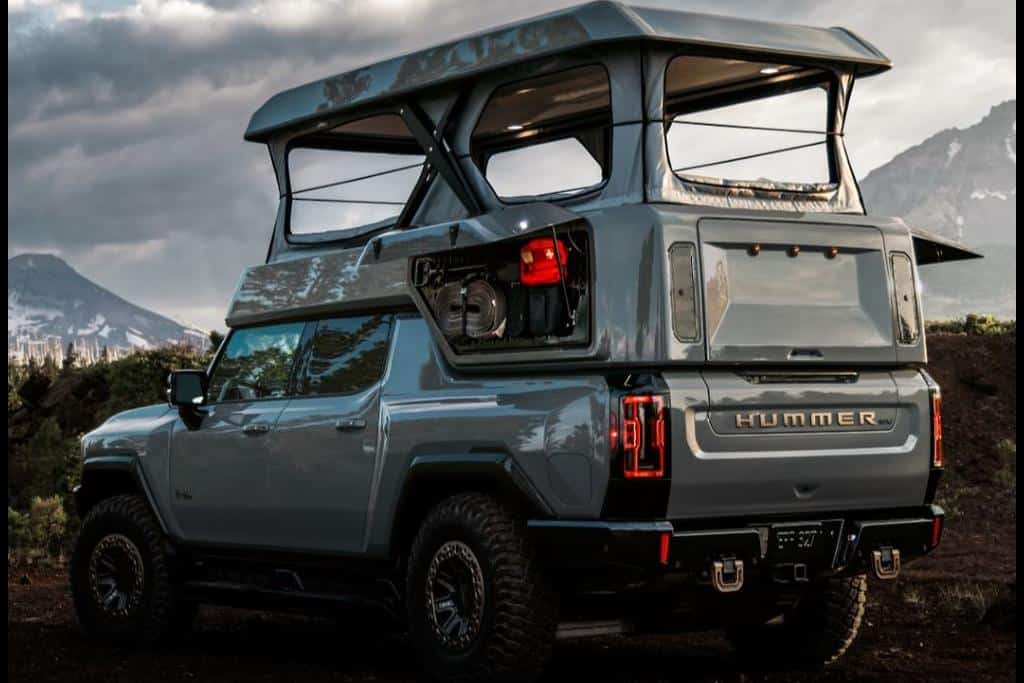 These are fed by a massive 212.7kWh lithium-ion battery that can be charged in as little as 24 minutes via a 350kW DC fast-charger. Despite weighing about 4265kg, the five-seat dual-cab 4×4 pick-up can accelerate from 0 to 60mph (97 km/h) in just three seconds.
However, its towing capacity is less noteworthy at 3400 kg. The base pricing in North America starts at $US108,700 ($A162K).
EarthCruiser USA has not yet listed a price for the GMC Hummer RV slide-on camper, although it hopes it will be "under six figures". It is currently taking fully refundable $100 deposits on its website, with production expected to commence in 2024.
The GMC Hummer EV EarthCruiser is a groundbreaking collaboration between GM and EarthCruiser Overland Vehicles. It offers adventurers a blend of cutting-edge technology, innovation, and comfort for on- or off-road exploration.
With its stylish slide-on carbon-fiber camper body, all-weather, tri-layered electric pop-top roof, and a range of camping and off-road features, it is being touted as the future of overlanding.
Featured image from EarthCruiser