In just its first year of operation, Broad River Campground has attracted an impressive 20,000 visitors. 
The 82-acre campground, situated near the Broad River, has experienced considerable growth over the past 11 months.
Most recently, a new swimming pool was added to the park, opening just in time for Memorial Day weekend. Park manager Jake Whisnant expressed his excitement, stating, "Every two weeks, something is changing here."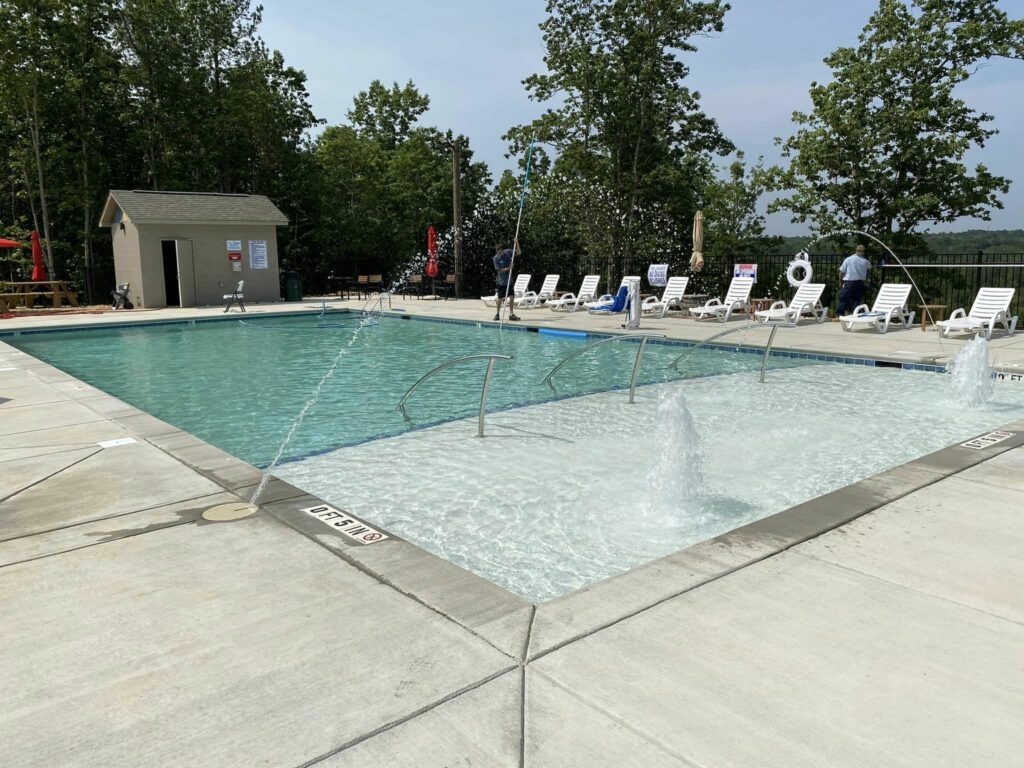 Since its opening in July last year, Broad River Campground has continuously developed, adding amenities such as a camp store, clubhouse, community room, laundry facility, and bathhouse.
Tyler Watts, a real estate investor with Student Rental Investments, conceived the idea for the campground when real estate prices soared in 2020. The campground is being completed in phases, with the first phase finished and the second currently underway.
The park initially opened with 10 cabins, five glamping domes, and 16 RV sites. Watts described the experience as "phenomenal," particularly noting the success of the uniquely decorated glamping domes.
Each 400-square-foot glamping dome features a queen-size bed, sleeper sofa futon, mini fridge, heating and cooling, private baths, and hot tubs on the deck. Guests also have access to Wi-Fi and streaming services like Netflix, Hulu, and YouTube.
Over Memorial Day weekend, despite a rain forecast, the campground was almost fully-booked.
Broad River Campground attracts visitors from nearby areas such as Charlotte, as well as from Tennessee, South Carolina, and other states.
Watts reported a positive response from locals, adding that the park's location allows guests to feel secluded in nature while still being just 10 minutes from Boiling Springs and 15 minutes from Gaffney and Shelby.
The campground has established an easement agreement with the nearby Broad River Greenway, providing guests with access to a golf cart trail that leads to a parking pad near the river.
The cabins, resembling tiny homes, can sleep six to eight people and are uniquely designed to avoid a cookie-cutter feel.
The development of the site is planned in three phases, with the addition of more RVs and glamping sites in the works.
Watts anticipates the park will be fully completed by late 2024. So far, the feedback from county commissioners, town hall, and the mayor has been positive. Watts said, "We built what we proposed. We were going to build, which is an upscale park,"
"This is what the county wanted to see built and we were able to deliver."
Weekend events will be offered throughout the camping season, which runs from Memorial Day to Labor Day.
The success of Broad River Campground's expansion serves as a valuable lesson for private campground owners and operators.
To maintain a competitive edge in the outdoor hospitality industry, it's crucial to continuously innovate and invest in new amenities and experiences for guests.
Offering unique accommodation options and activities that cater to guests' preferences and keeping up with emerging technological solutions, such as Wi-Fi connectivity, can help attract diverse clientele and keep them returning.
Additionally, collaborating with local attractions, like the Broad River Greenway, can help to establish a strong position within the community and create mutually beneficial partnerships.
By focusing on guest experience, staying adaptable, and striving for continuous improvement, private campground owners and operators can create thriving businesses in an increasingly competitive market.
The campground was awarded "Best Kept Secret" and "Best Customer Service" by the Carolinas Association Of RV Parks And Campgrounds (CARVC).
The campground offers 90 acres of family and pet-friendly fun with stays in cabins, glamping domes, RV sites, and five tent sites.
Attractions and amenities include the brand new swimming pool, a playground and climbing dome, a gaga pit, a ping pong table, corn hole, tetherball, horseshoes, a book lending library, giant checkers and chess sets, two hiking trails, creek wading, and complimentary access to the Broad River Greenway.
Featured image from Broad River Campground.