Kampgrounds of America, Inc. (KOA) hosted its annual Awards Luncheon at its Expo and Convention yesterday at South Point Hotel, Casino, & Spa in Las Vegas (Nevada).
The event celebrated the achievements of campground owners within its network, recognized longstanding commitments, and also highlighted innovative practices that are setting new standards in the campground and RV park sectors.
The luncheon honored a group of KOA business owners, emphasizing their decades-long partnerships with the organization.
A unique aspect of this celebration was the presentation of a limited edition bronze to those marking 40 years with KOA, symbolizing the deep-rooted relationships formed within this community. This gesture speaks volumes about the value of enduring partnerships in the outdoor hospitality industry.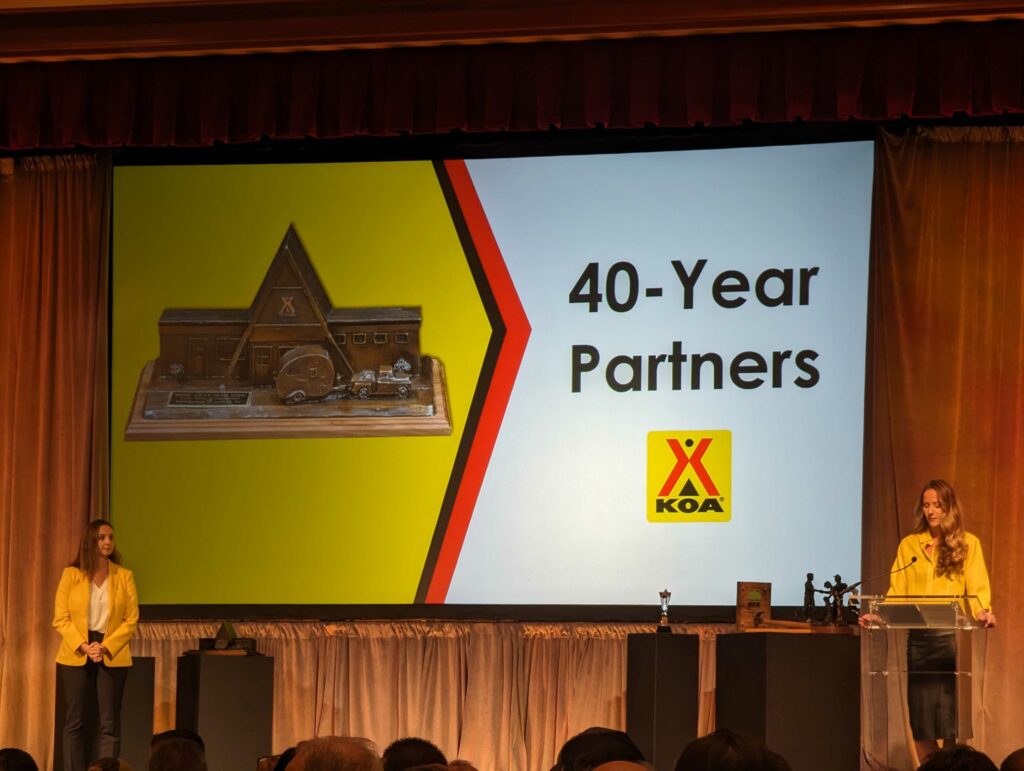 Among the honorees were Bill Olendorf and Jennifer Mason, owners of Point South/I-95 Yemassee's KOA Holiday (South Carolina). Olendorf, who transitioned from a career in advertising and sales, cited KOA's supportive network as a key reason for his successful shift to campground management. This story resonates with many in the industry, highlighting the support systems that are crucial for success in outdoor hospitality.
"When we bought it, I looked at what else was out there and KOA was the only thing that made sense. Because I wanted somebody to look over my shoulders and keep me in line when I did something wrong," Olendorf recalled.
Marc Unterhalter of West Palm Beach/Lion Country Safari KOA Journey also received the bronze award. Jennifer, the campground's vice president highlighted the unique approach to camping, offering experiences adjacent to a wildlife reserve. This exemplifies the innovative spirit that campground owners are increasingly adopting, understanding the need to offer unique and immersive experiences to guests. According to her, the hospitality and guest service mindset are essential to running a successful career.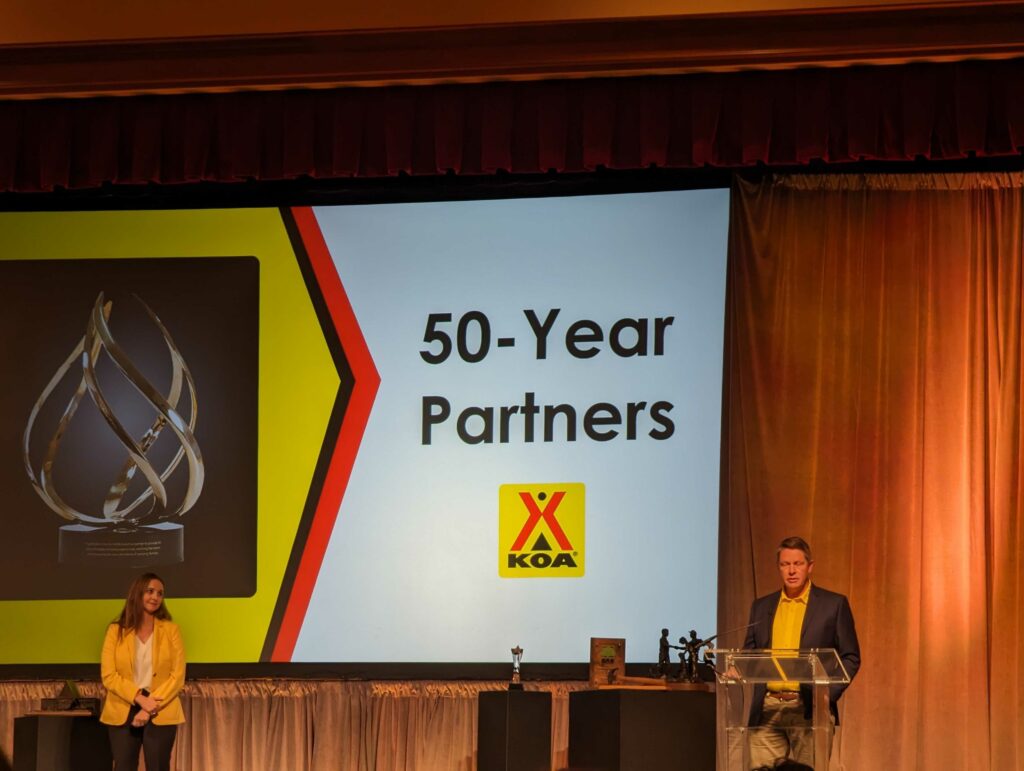 A piece of art called The Lasting Fire was awarded to the 50-year partners. Awardee Lamar Perlis, owner of the Cordele KOA Journey emphasized customer satisfaction. After transitioning from other businesses to KOA, underscores a fundamental principle in the outdoor hospitality industry: prioritizing guest experiences leads to business success.
Perlis' mantra: success is built on staying involved in all aspects of the business, but not by commanding the team.
The Savannah South KOA, managed by brothers Jimmy and Jackie Sommers, and Boone KOA Holiday, run by the Harmon family, were also recognized. Their stories of adapting to industry changes and overcoming challenges offer valuable lessons to peers in the industry, especially in times of rapid evolution and market shifts.
The San Francisco North/Petaluma KOA, managed by the Wood family since 1973, was lauded for its continuous improvement and family involvement. This long-term commitment to quality and innovation is a benchmark for other operators in the sector.
Special awards were also a highlight of the event. The Rising Star Award, given to Mark and Starr Peterson of Paris Landing/Kentucky Lake KOA Holiday, recognized the impressive growth and engagement of new business owners within the KOA network. This award shines a light on the potential for success even for newcomers in the industry, with the right mix of innovation and commitment.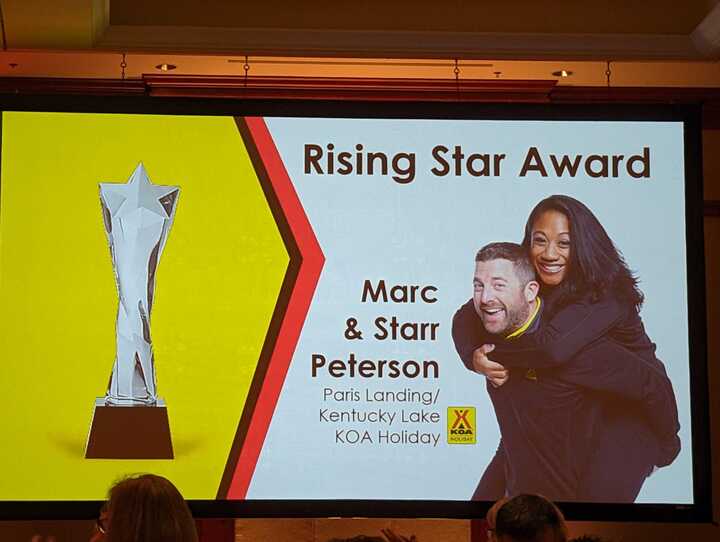 The Petersons have made significant changes and improvements to the campground, including the recent addition of two Deluxe Cabins and five new RV Sites with KOA Patios, in addition to upgrading 23 existing sites with KOA Patios. Wi-Fi upgrades keep campers connected on all their devices.
The Campground of the Year award went to Chuck and Lisa Spencer of Denver West/Central City KOA Holiday, commended for their exceptional service and continuous improvements to their campground. This accolade sets a standard for all campground owners, emphasizing that excellence in service and facility enhancement are key drivers of success.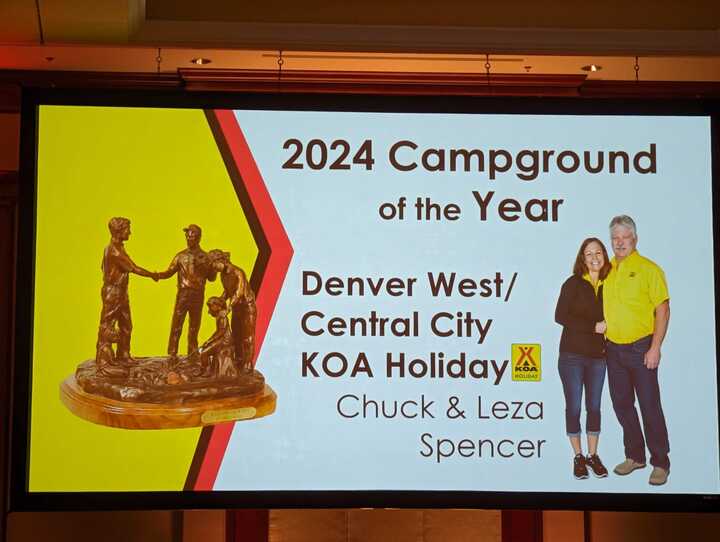 As per a KOA release, what was once an overrun location has been updated and renovated to what Denver West/Central City KOA Holiday it is today. The Spencer's improvements include the addition of 14 Pull-Thru Sites, each with a KOA Patio, four new KOA Patio Deluxe Cabins and 22 RV site upgrades. A focus on delivering premier pet amenities includes a revamped KampK9 dog park and two Paw Pen Sites that provide guests with private, fenced pet areas right at their site.
The release also highlighted that the Spencer family is also looking to the future of camping and their campground. Four electric vehicle (EV) charging stations have been added to the campground to service the growing interest in EVs among campers. The additional purchase of an adjoining property will allow the campground to open 30 additional sites.
The awarding included video messages and expressions of gratitude towards various KOA team members, reflecting on the strength and supportiveness of the KOA network. This community aspect is a critical factor in the resilience and growth of the outdoor hospitality industry.
The KOA Awards Luncheon was a showcase of the strategies and values that are driving the campground and RV park industry forward. For campground owners and outdoor hospitality operators, the stories and insights shared during this event offer a roadmap for building successful, sustainable, and guest-centric businesses in a dynamic and evolving industry.
Featured image from Modern Campground.