This Easter weekend, families can enjoy a fun-filled getaway at Jellystone Park Camp-Resort locations, where a range of exciting events await, including egg hunts with Yogi Bear and his friends, and Easter-themed games.
Trent Hershenson, vice president of marketing for Camp Jellystone, said, "Many of our locations offer Easter craft activities and visits from the Easter Bunny. Some even offer chocolate Easter Bunny eating contests."
He added that due to their popularity, some locations that open later have Easter-themed weekends as late as June to ensure that families don't miss out on the fun.
Camp Jellystone is the Southfield, Michigan-based company that franchises Jellystone Park Camp-Resorts across the U.S. and Canada.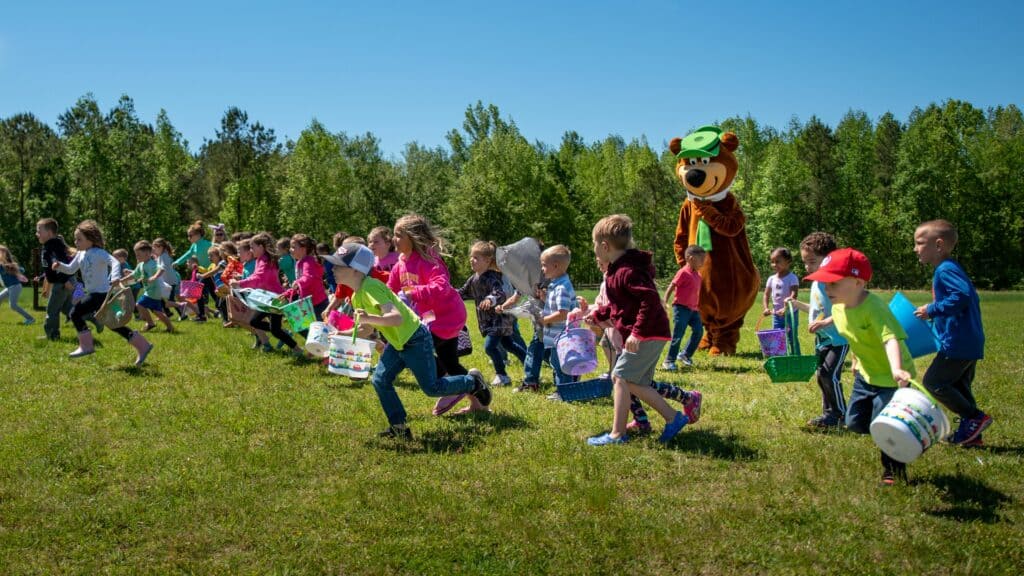 While most Jellystone Park locations offer Easter egg hunts and craft activities, specific activities vary by location. Here's a glimpse into some of the exciting Easter events taking place at Jellystone Park locations across the country this year:
Big Prairie, Ohio: Glow-in-the-Dark Egg Hunt & More
Easter will be celebrated the weekend of April 14-16 at the Big Prairie, Ohio location, offering a glow-in-the-dark egg hunt, a daytime egg hunt, and an egg drop challenge, among other activities.
Bremen, Georgia: Egg Decorating, Hunt & Crafts
The Bremen, Georgia location plans to celebrate Easter with egg decorating, an egg hunt, and Easter crafts for the entire family to enjoy.
Burleson, Texas: Egg Relay Races & More
Families who spend Easter weekend at the Burleson, Texas location can participate in Easter egg relay races, a "tip the Easter basket" group game, a scavenger hunt for large wooden Easter eggs, and a "Hop & Treat" event on Saturday evening. They will also enjoy an Easter-themed craft activity and a chocolate bunny eating contest.
Eureka, Missouri: Crafts, Inflatables & Juggling Show
The Eureka, Missouri location has organized Easter crafts, inflatables, two egg hunts, and a juggling show for an action-packed Easter weekend.
Lincoln, Delaware: Adult & Child Easter Egg Hunts
This year, the Lincoln, Delaware location has planned adult and child Easter egg hunts, Easter crafts, a "Hey Ride," and other engaging activities for their Easter weekend celebration.
Mill Run, Pennsylvania: Magical Easter Basket Ride & More
The Mill Run, Pennsylvania location is preparing for a magical Easter basket ride, egg coloring, cookie decorating, an Easter egg hunt, a jelly bean guessing contest, an Easter basket raffle, and candy bar bingo.
Sturgeon Bay, Wisconsin: June Easter Celebration
Sturgeon Bay, Wisconsin will be celebrating Easter the weekend of June 9-11, offering an Easter egg hunt, a DJ dance on Saturday night, and other fun events for the family.
Private campground owners and operators stand to benefit from these well-organized, festive events by attracting more families seeking memorable experiences.
In turn, campgrounds can build a strong reputation and encourage repeat visits by offering unique, enjoyable activities for all ages.
With more than 75 locations across the United States and Canada, Yogi Bear's Jellystone Park Camp-Resorts demonstrate a commitment to providing exceptional outdoor experiences for guests, making it a go-to destination for families during special occasions like Easter.
Featured image courtesy of Jellystone Park.