Dyana Kelley, president and CEO of the California Outdoor Hospitality Association (CalOHA), in an afternoon pre-show workshop at the Glamping Show Americas 2023 shed light on the pivotal role of effective risk management, underscoring the potential elements that could jeopardize a glamping business.
As the luxury camping sector continues to grow and become recognized, it now finds itself navigating a road of regulatory pressures. The glamping industry, once able to navigate through regulatory loopholes, is now under a vigilant lens, necessitating strict adherence to laws and regulations.
During the workshop held in Colorado on October 2, Kelley delved into the crucial topic of risk mitigation, particularly focusing on regulatory, insurance, and Americans with Disabilities Act (ADA) compliance in the booming glamping industry.
Kelley highlighted the industry's evolution, noting that while it has managed to "fly under the radar" in the past, the current growth and legitimization of the sector are placing it firmly on regulatory bodies' scopes.
Kelley's advice to glamping entrepreneurs was multifaceted. Firstly, she urged them to connect with state associations that represent outdoor hospitality, as they can provide insights into regulatory pathways and processes. Secondly, she emphasized the importance of cautious engagement with other glamping establishments to glean insights while being wary of incomplete or inaccurate information.
So try to find an associate state association that represents outdoor hospitality in your state and see what that pathway is," said Kelley. "Having that state association behind you is going to be a great asset to your team."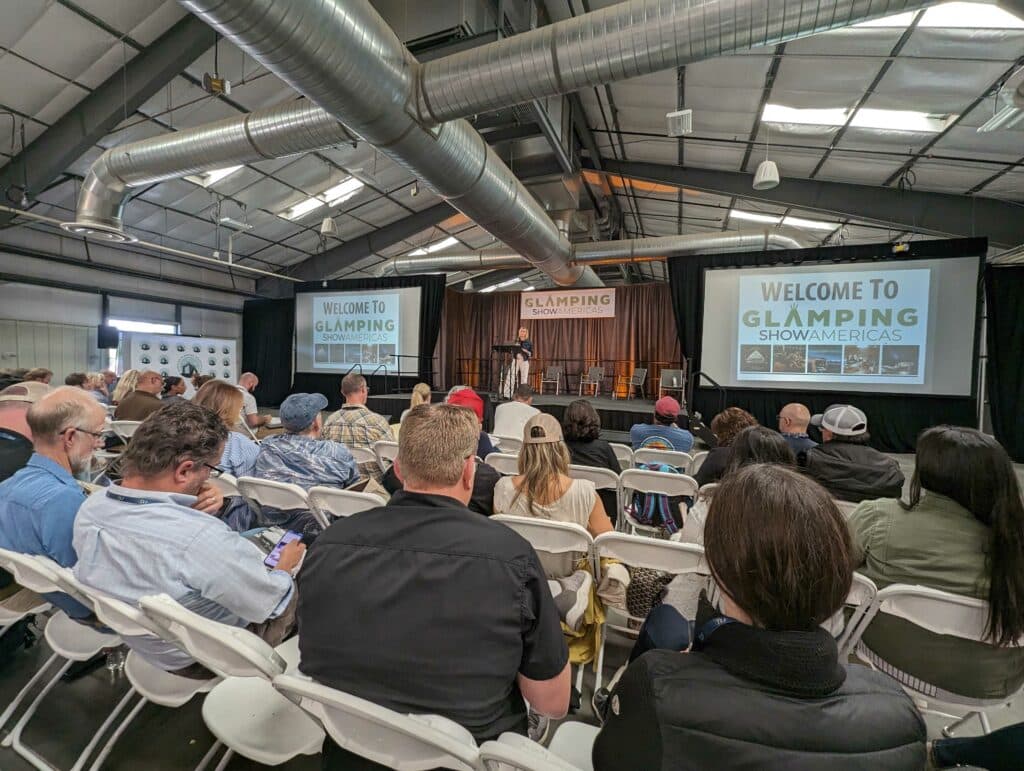 The journey through regulatory compliance, as Kelley outlined, involves a stepwise approach, starting from the local city or township level, progressing to the county, and finally to the state, ensuring all necessary questions are asked and answered at each level. This meticulous approach is vital to avoid potential roadblocks and ensure that all regulatory boxes are ticked.
Kelley also underscored the importance of building a robust team, comprising a state association, an attorney specializing in outdoor hospitality, an engineer, an environmental specialist, an insurance agent with industry-specific knowledge, an ADA specialist, and potentially an economic development professional to champion the project at the county level.
The discussion also touched on the critical distinction between a business license and a permit to operate, with Kelley warning of potential pitfalls if this is not understood and navigated correctly. She also highlighted the potential for insurance costs to skyrocket, citing an example of a 100-site property experiencing a $300,000 increase in insurance costs.
"You need to, again, find an insurance agent that specializes in outdoor hospitality," Kelley stressed, asking, "Are you prepared to invest in something where you budget this much money for your insurance and next year it goes up $300,000?"
Kelley's talk was not just a guide through the regulatory maze but also a stark reminder of the potential risks and the meticulous planning and expertise needed to navigate them. Her insights provided a roadmap, urging businesses in the glamping industry to not only comply with existing regulations but to be prepared for increased scrutiny as the industry continues to expand and legitimize.
In a sector where the stakes are high and the regulatory waters can be murky, Kelley's insights illuminated a path forward, ensuring that businesses can navigate through with a well-equipped team and a thorough understanding of the regulatory landscape.