Known for providing exceptional reservation and park management software, CampLife has ushered in a new era of campground operations with the recent launch of its "Events + Activities" feature. This innovative tool offers a game-changing solution for private campground owners and operators, promising streamlined event management, enhanced guest engagement, and additional revenue streams.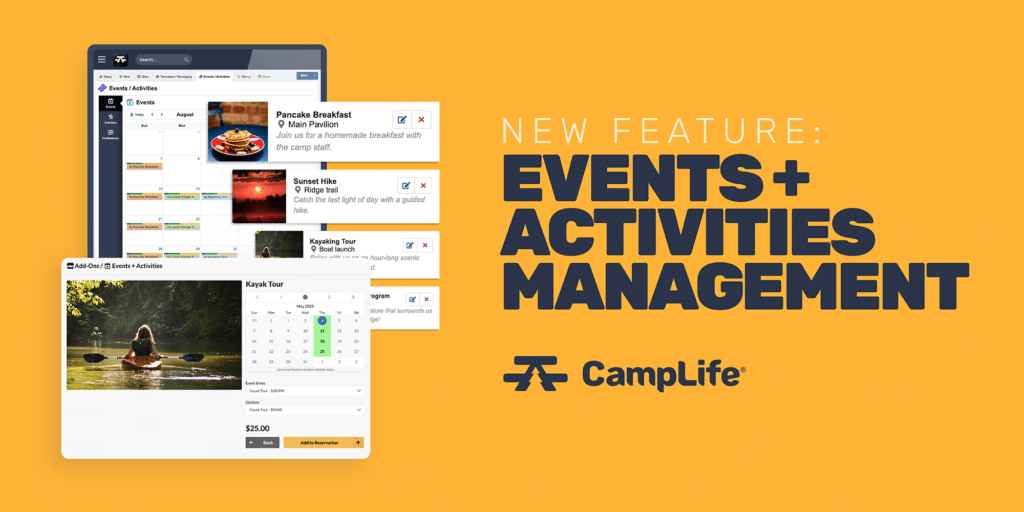 Redefining Event Management
Unveiled on March 10, 2023, this pioneering feature enables park owners to seamlessly plan, organize, and execute special events, from pancake breakfasts to kayak tours, aimed at keeping guests entertained and eager to return.
Not only does the new feature empower park staff to create a variety of activities, but it also provides the capability to link these experiences to an online event calendar. Detailed pictures and descriptions can be added to each event, bringing to life the unique experiences awaiting guests.
Enhanced Revenue Opportunities
A key aspect of the "Events + Activities" tool is its integrated ticket sales capability. Campgrounds can sell tickets for events and activities as add-ons to online reservations, broadening their service offerings and unlocking additional revenue potential. Moreover, these experiences can be showcased in an online camp store, reaching even more potential guests via the park's website and social media platforms.
As Justin Sharp, CampLife's Lead User Experience architect, says, "It can't be underscored how big this can be for our parks for managing their events and activities. To have it all built into our suite of tools is going to be a game changer."
The new feature is included in the Unlimited Plan, and is available for the All Features, Standard, and Premium Plans at an additional cost of just 3% of the total Events + Activities on the invoice, with a nominal one-time setup fee of $99. CampLife also offers custom pricing options tailored for large-scale facilities.
In line with CampLife's commitment to customer success, the company is offering a suite of training videos for those who add the new Events + Activities feature. These videos offer a comprehensive guide to setup and use, with promises of continued updates as new functionalities are rolled out.
Beyond streamlining event management and unlocking new revenue streams, the new feature promises to enhance the guest experience. Tyler Duffy, CampLife president, commented, "We're excited to see the unique ways our parks will use the Events + Activities feature to create unforgettable memories for their guests."
Founded in 2006, CampLife currently serves over 700 parks across the United States and Canada, ranging in size from small, family-owned properties to expansive, government-run park systems. The company's innovative reservation and park management software is designed to help operators maximize their properties, streamline daily tasks, and provide guests with experiences they can't wait to repeat.
Private campground owners and operators stand to reap immense benefits from CampLife's newest feature. Not only does it offer a simplified and comprehensive approach to event management, but it also provides an opportunity to diversify service offerings, expand customer reach, and ultimately enhance guests' experiences.
As such, "Events + Activities" sets the stage for a new era of campground operations, underpinned by efficiency, innovation, and memorable guest experiences.