Members of the outdoor hospitality industry on Tuesday (October 19) learned, engaged, and networked at the British Columbia Lodging and Campgrounds Association's (BCLCA) Ideas Forum, closing the first day of the conference with plenty of takeaways from keynote speakers and breakout sessions.
The association hosted its Ideas Forum virtually this year, with plans already in the works for a hybrid event in 2022. Jumpstarting the forum was Kampgrounds of America (KOA) CEO and President Toby O'Rourke discussing how campground owners can improve their business approach.
"It takes a lot of diligence, and it can be difficult, but it's very important to continually revisit your business to improve your experience. Make more investments and adjustments and maximize your revenue," she said.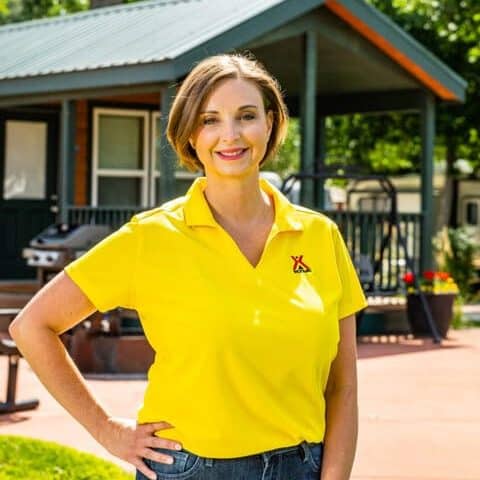 In line with this, she discussed how owners could understand their guests by using the data they collect from their property management system (PMS). Several vendors are in attendance offering PMS such as Campspot, Camp Reservations Canada, Let's Camp, and Good Sam (Campground Booking).
In tackling capital improvements, O'Rourke suggested transforming underutilized sites into higher-yield sites or glamping units. She also advised giving cabins a fresher look to increase income.
Toby also talked about staffing shortages and best practices for attracting and retaining employees, noting the need for a training culture. Later on, the CEO shared about WiFi and reliability saying that 25 percent of campers say that the availability and quality of WiFi factor into their decision of where they stay and often how long they stay at a property.
O'Rourke expressed the importance of educating yourself on pandemic assistance programs that are available to campground owners. She mentioned that KOA worked with Crestview Strategy, a Canada-based public affairs agency, earlier this year to help navigate the challenges presented by pandemic-related business restrictions.
Also making up the first day were breakout and cracker barrel sessions in addition to attendee and vendor networking.
A presentation by BC Parks and Parks Canada discussed having a capital plan to expand campsites, accessibility, and working with indigenous peoples to co-manage the public resource. They also spoke about their partnership with the private sector to address issues concerning COVID-19, campers' behavior, and waste management.
In a separate breakout session, Real Estate Investor and Pigeon Forge Jellystone Park Owner Heather Blankenship and Crystal Cove Beach Resort General Manager JJ Belanger shared the kind of accommodations campers are seeking. They also talked about the unique ways to provide new experiences in cabins, yurts, RV rentals, and other glamping units that park owners can consider to garner profit.
The cracker barrel portion saw participants exchanging experiences and insights regarding accommodation for employees, navigating employee shortages, and the need for modern amenities. Attendees also talked about WiFi being a utility and the cost of installing reliable connectivity with more smart devices demanding bandwidth.
There were plenty of networking opportunities among vendors and campground owners during the Networking Lounge, Vendor Speed Dating, Coffee and Conversation Networking, and the Virtual Tradeshow portions of the event. Members chatted about attending face-to-face tradeshows vs. virtual video appointments and shared product demos.
The second day of the conference is currently underway and featured a reservations panel, continued vendor and attendee networking, as well as ways to reach new guests and generate more profit.
BCLCA's 2021 Ideas Forum is taking place from October 19 to 21. After the conference, attendees will be able to watch recordings of all the sessions. For those who did not have the chance to attend live, sessions will be available for purchase at a later date.
The British Columbia Lodging and Campgrounds Association (BCLCA) is a not-for-profit trade association and consumer marketing organization. Created in 1944, BC Lodging and Campgrounds Association is membership-driven and represents the interests of British Columbia's independently owned and operated small and mid-size lodging and campground/RV park businesses.
For more information, click here.