With a long-standing history and rich culture, teepees offer a unique glamping experience that pays homage to indigenous heritage while providing comfort to those seeking a connection with nature.
Teepees, also known as tipis or tepees, have long stood as iconic representations of the nomadic traditions of numerous indigenous tribes from the Great Plains, with a history that spans thousands of years.
These conical tents, historically made of animal skins upon wooden poles, are not just shelters but a testament to a way of life that emphasizes mobility, resourcefulness, and harmony with the environment.
Today, many glamping sites around the world have adopted teepees as a form of luxury accommodation, infusing them with modern amenities while respecting their cultural significance.
In Denmark, for instance, various teepee stays combine the traditional structure with comfortable bedding, heating, and local produce, providing an authentic and sustainable travel experience.
"Tipi glamping in Denmark provides a unique and authentic camping experience that is inspired by the traditional homes of nomadic indigenous peoples," according to Campanyon, a platform that connects campers with local hosts. "These glamping stays evoke a sense of adventure and exploration, providing visitors with a glimpse into the simple joys of life and a different lifestyle."  
In the United States, Westgate River Ranch Resort & Rodeo is another example. It presents a diverse array of traditional and luxury accommodations, including teepees as part of its exceptional glamping experience.
These teepees provide a perfect balance of comfort and cultural immersion, offering a luxurious stay with a touch of Native American heritage. Each teepee is fully furnished with double beds, a sleeper sofa, air conditioning, and private bathrooms, ensuring a comfortable and convenient stay.
The interiors are beautifully decorated, reflecting the rich cultural history associated with teepees, yet they are equipped with modern amenities to provide a truly upscale camping experience.
In addition to the teepees, River Ranch's offerings include Luxe Conestoga Wagon, Luxury Glamping Tents, and Lodge Guest Rooms, each with unique features and comforts to suit the different preferences and needs of the guests.
Meanwhile, GreenWood Tipi Glamping, nestled at the foothills of Snowdonia National Park in North Wales, offers a remarkable glamping experience that is fully equipped with all necessary amenities, including hot showers and kitchen facilities to ensure a comfortable and hassle-free stay.
This unique stay also provides guests with unlimited access to the award-winning GreenWood Family Park, making it an ideal choice for families seeking both excitement and relaxation.
Surrounded by breathtaking landscapes, GreenWood Tipi Glamping offers guests the opportunity to immerse in outdoor adventures, explore the rich natural beauty, and create unforgettable memories in a setting that's both culturally rich and welcoming.
Economic Implication of Teepees for Glamping Site Owners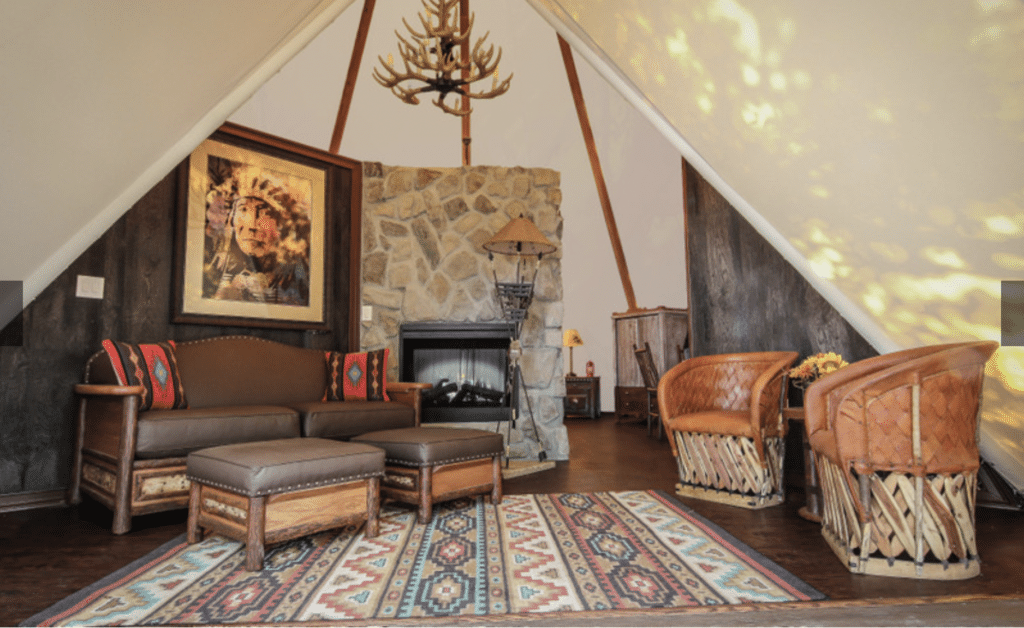 Despite the cultural and aesthetic appeal of teepees, their economic viability is a consideration for glamping site owners since the average daily rate (ADR) for teepee accommodations stands at $105.
For comparison, cabins fetch the highest ADR at $290, followed by domes at $261, treehouses at $246, and Airstreams at $227. Yurts and traditional tents come in at $194 and $182, respectively, while covered wagons are at $163.
For glamping owners and aspiring glamping entrepreneurs, this pricing disparity may influence their decision when diversifying their accommodation offerings, simply because lower ADR means they might not contribute as significantly to the revenue as other accommodation types.
This could lead to a reluctance among site owners to prioritize them over more profitable options, especially when considering the investment required to establish and maintain various glamping units.
Furthermore, the profitability of teepees may be affected by market demand, with guests potentially perceiving them as a less luxurious option compared to the alternatives.
This perception could be due to the rustic and traditional nature of teepees, which, despite their charm, may not command the same price point as modernized and uniquely designed accommodations like domes or treehouses.
For glamping site owners, including teepees in their facilities is more than a nod to cultural traditions; it's a commitment to offering diverse and meaningful experiences to guests while educating visitors on the historical context of teepees and promoting sustainable tourism practices.
However, the relatively lower ADR for teepees might necessitate site owners to strike a careful balance between offering cultural enrichment and maintaining business sustainability, which is crucial for entrepreneurs.
While teepees add a unique cultural dimension to glamping sites, attracting a niche market, owners must also consider the financial implications and strategize to ensure that these culturally rich accommodations contribute positively to the overall profitability of their business.
It may also challenge the industry to find innovative ways to add value to teepee stays or to use them as part of a broader range of services that can appeal to a wide audience, similar to River Ranch's diverse offerings.
The integration of teepees for site owners offers a chance to differentiate their offerings and for the outdoor hospitality industry to promote a deeper understanding of history and culture in a modern setting.