Toby O'Rourke, the president and CEO of Kampgrounds of America (KOA), will be the keynote speaker at the 2023 conference of the Carolinas Association of RV Parks and Campgrounds (CARVC) in Myrtle Beach, South Carolina.
A leader in the camping industry, her advocacy efforts were critical to keeping campgrounds open and operating during the onslaught of the pandemic, leading her to receive the Stan Martin Award from the National Association of RV Parks and Campgrounds (ARVC) in November last year.
Moreover, O'Rourke serves on the RV Industry Association (RVIA) board and the Care Camps advisory council. She is also a member of the Outdoor CEO Council and ARVC Business Forum.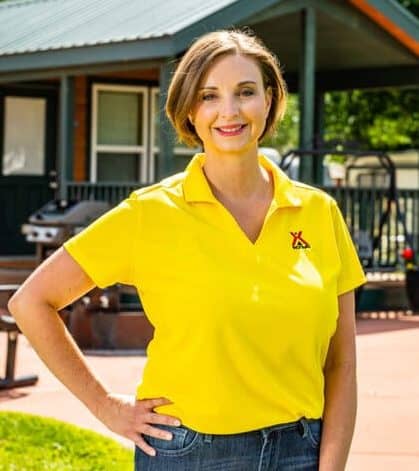 According to a member email, the 2023 CARVC Conference and Expo will be held at the Embassy Suites Myrtle Beach Oceanfront on February 5-7, 2023.
Earlier this year, the association held a conference and expo in Myrtle Beach, themed "Back to the Future," where it introduced the newly-formed Georgia Association of RV Parks and Campgrounds (GARVC) and hosted educational sessions and networking events.
In 2023, the fun and learning will continue as CARVC organizes another Take Away Tour on February 4. In the 2022 tour, CARVC Executive Director Dee Witting and participants visited four campgrounds—one of which was where they held wine tasting.
As of the time of writing, the association has not yet released information on the educational and networking sessions at the 2023 conference. However, new next year are sessions offered on Sunday for those that register for the Take Away Tour or check in early.
Registration will begin in early September, as per the CARVC member email.
The Carolina Association of RV Parks and Campgrounds (CARVC) is a non-profit trade association representing the RV parks and campgrounds in North and South Carolina. Its mission is to promote the growth, prosperity, improvement, and profitability of privately operated camping and RV parks in the Carolinas and the outdoor hospitality industry.
To learn more about the association, visit https://campingcarolinas.com/.
Kampgrounds of America is the world's largest system of private campgrounds and a leader in the outdoor hospitality industry, which publishes the North American Camping report annually. KOA has over 525 franchised and company-owned locations across North America. It also recently launched Terramor Outdoor Resorts, a luxury camping brand that ended its first full season at its flagship property in Bar Harbor, Maine at 80% occupancy.
Click here for more information about KOA.