As the outdoor hospitality industry continues to evolve, some campgrounds have expanded to no longer be just places where people stay while they explore the area. Instead, more parks are stepping up their game and becoming travel destinations for campers of all ages.
For years, heated pools, playgrounds, and cornholes have kept guests entertained at the property. In addition to the usual mini-golf, some campgrounds have upgraded by adding inflatables, arcade games, and other fun things for campers to enjoy.
What will the future hold for campground attractions as the industry expands and changes?
At the 2022 IAAPA Expo, it was evident that amusement parks and attractions have changed over time. Companies that run attractions have stepped up their game even more to meet the changing needs of tourists.
While the products on exhibit at the expo are usually seen at attraction sites, campground and RV park owners looking to improve their amenities can add some entertainment pieces for campers.
"[You also have to consider] what [your] guests do besides sleeping," IAAPA President and CEO Jakob Wahl told Modern Campground in a November interview.
Wahl stated that people chase after memorable experiences and campgrounds must widen their horizons because "expectations have changed."
"How can I elevate the stay at my resort [in] a way that I differentiate from my competitors, and how do I make it so special that they actually want to leave home and come back again?" the CEO said.
Kampgrounds of America's 2022 North American Camping Report says that first-time campers are unlikely or at risk of not camping again. This is because the camping experience didn't live up to their expectations, which could be because the campground didn't have a lot of services or amenities.
Campground Attractions
In today's travel landscape, campgrounds have the chance to create a unique atmosphere and keep their guests busy by adding offerings that appeal to various groups of campers.
For example are ropes courses, climbing walls, or ziplines that can tap into the more adventurous side of campers.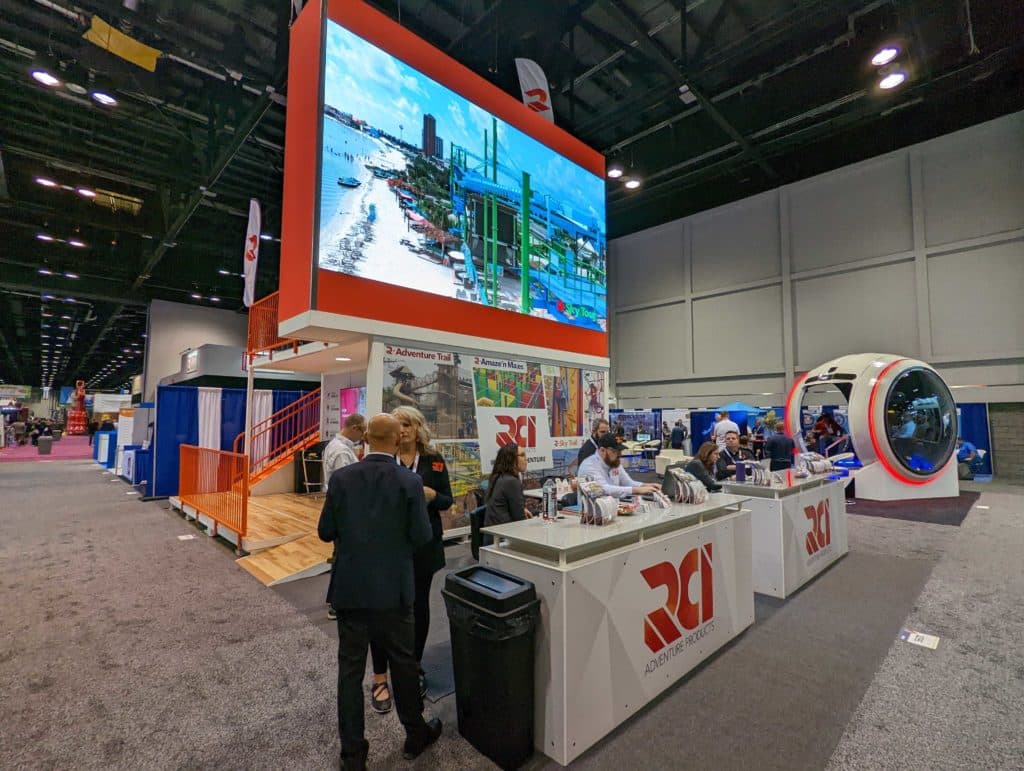 One of the vendors present at the IAAPA Expo is RCI Adventure Products. To align with the nature theme of campgrounds, RCI's Steve Morse told Modern Campground that the company can customize the products in earth tones and theme them to match the natural surroundings.
These can be thrilling additions that allow campers to challenge themselves and try something new. By including these, a campground may be able to draw younger visitors due to the added excitement.
According to Morse, the netplay is a high-capacity, low-labor product that only needs one operator. The company's Sky Trail ropes course is also a well-liked option all over the world because it amplifies experiences while keeping participants securely harnessed.
However, it should be emphasized that it's crucial to guarantee personnel training, as well as safe and up-to-date equipment. It might also be important to secure the required insurance or permits.
Nevertheless, because they can encourage cooperation and problem-solving abilities, these thrilling attractions present a chance for theme parks to provide team-building or corporate retreat programs.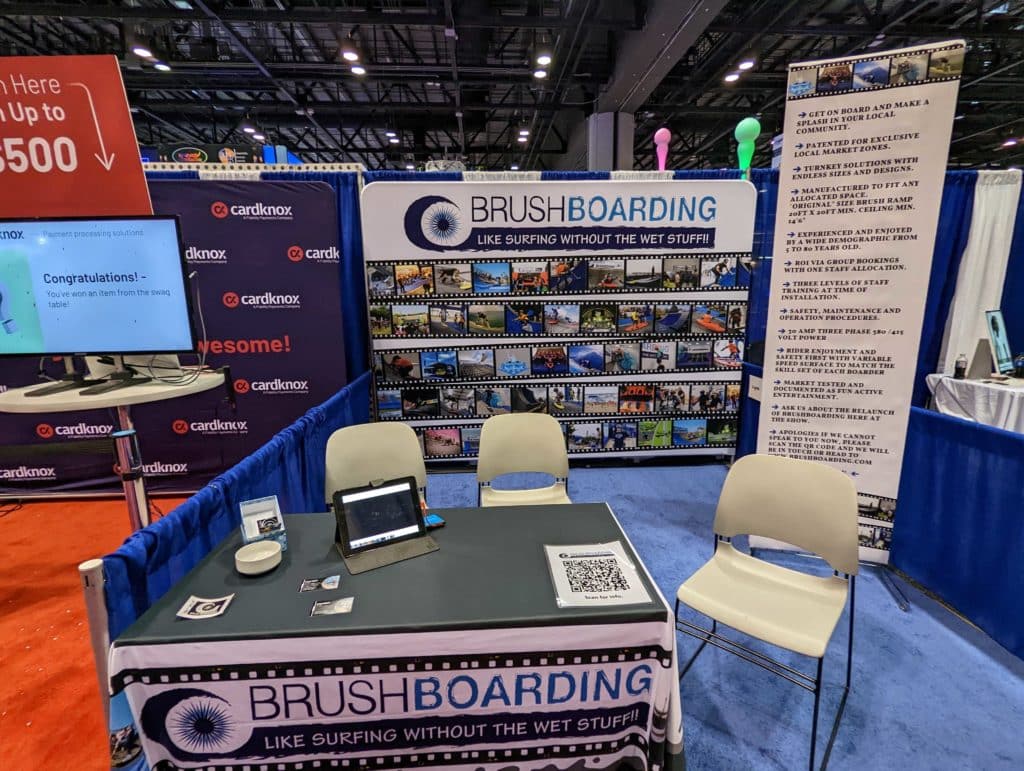 Next on the list is BrushBoarding, a multi-board fitness device that delivers a distinctive and participatory experience for all ages and abilities. It is another potential magnet for campgrounds and RV parks.
Kyle Dent, the creator and developer of BrushBoarding, told Modern Campground during the 2022 IAAPA Expo that the device may be used both indoors and outdoors and is appropriate for children, elders, and those with disabilities.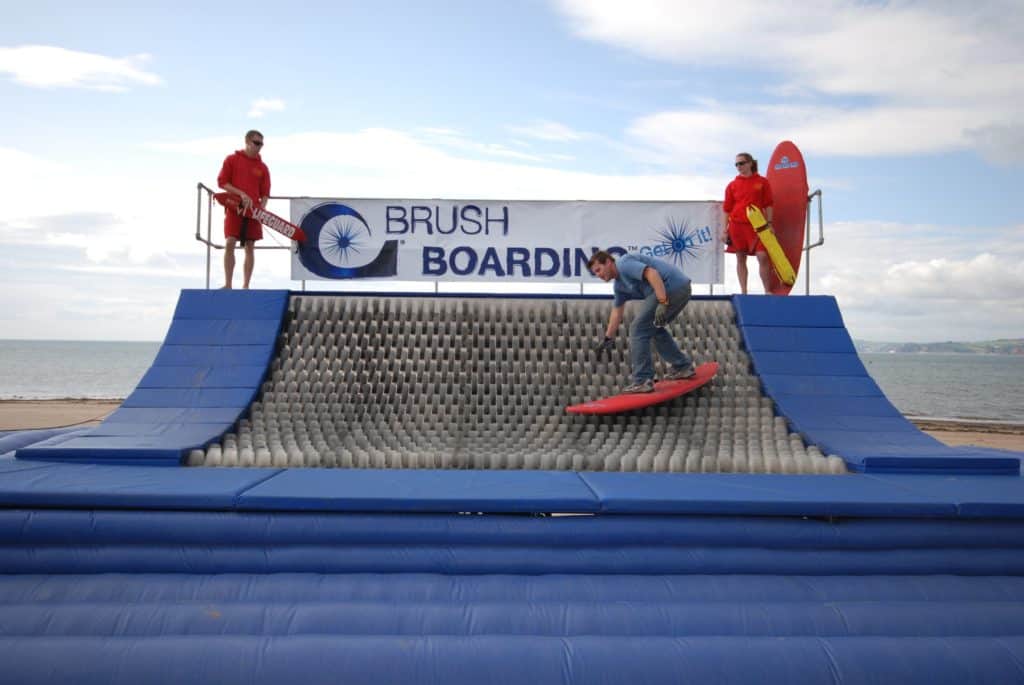 According to Dent, it can be moved and has been utilized in a variety of weather conditions, making it suitable for both indoor and outdoor applications.
For campers searching for a fun and distinctive way to stay active while away, BrushBoarding offers an exhilarating and unique activity that combines elements of surfing and snowboarding. If campgrounds and RV parks want to provide a variety of activities for visitors of various ages and interests, it might be a terrific addition.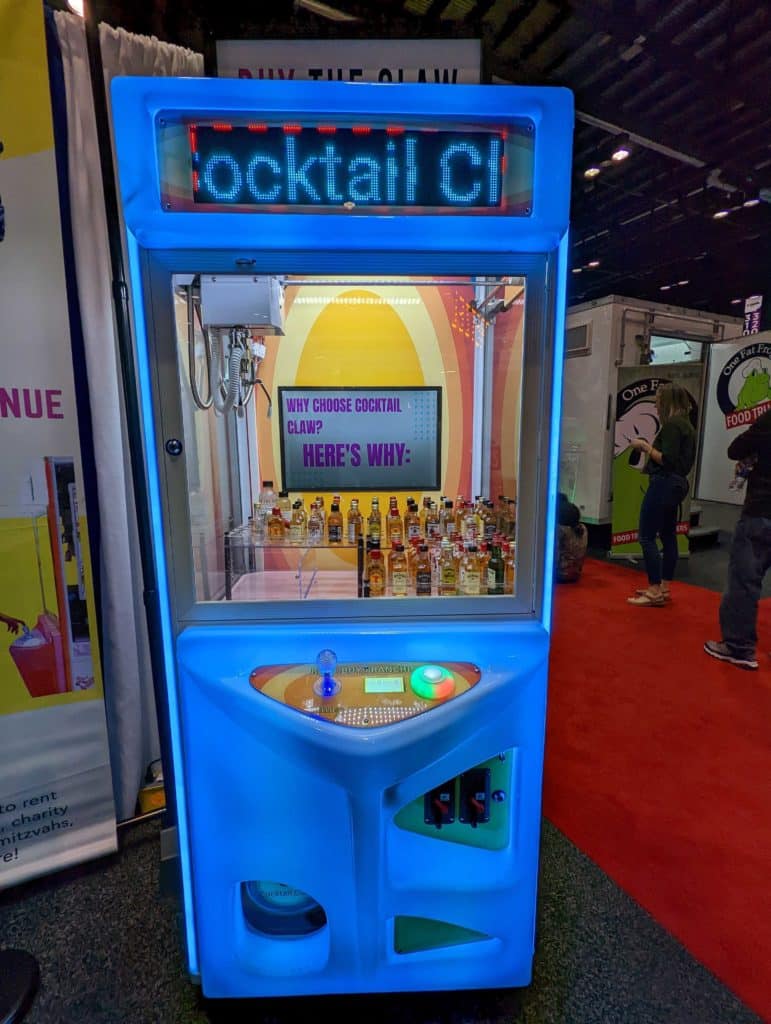 People of all ages enjoy playing on claw machines, but Cocktail Claw lets those of drinking age claw for beverages.
After a long day of traveling, who wouldn't want to do that? Russell Gottesman, the founder and CEO of Cocktail Claw, joked during an interview with MC.
As long as a liquor license allows, Cocktail Claw is an interactive attraction that might be popular at campgrounds and RV parks. Adults can play the adaptable claw machine and earn alcoholic beverages or other rewards.
It contains a customizable LED screen that can be used to promote upcoming events and activities at the campground.
Additionally, according to Gottesman, it doesn't always have to include liquor but can be used in the campground's general store to carry prizes and provide discounts on future visits.
Cocktail Claw is an amusing and distinctive addition to any campsite or RV park since it is visually appealing and customizable. It is available for individual party rentals as well as for occasions like weddings and business gatherings. Cocktail Claw might be a favorite with campers of all ages thanks to its interactive and adaptable features.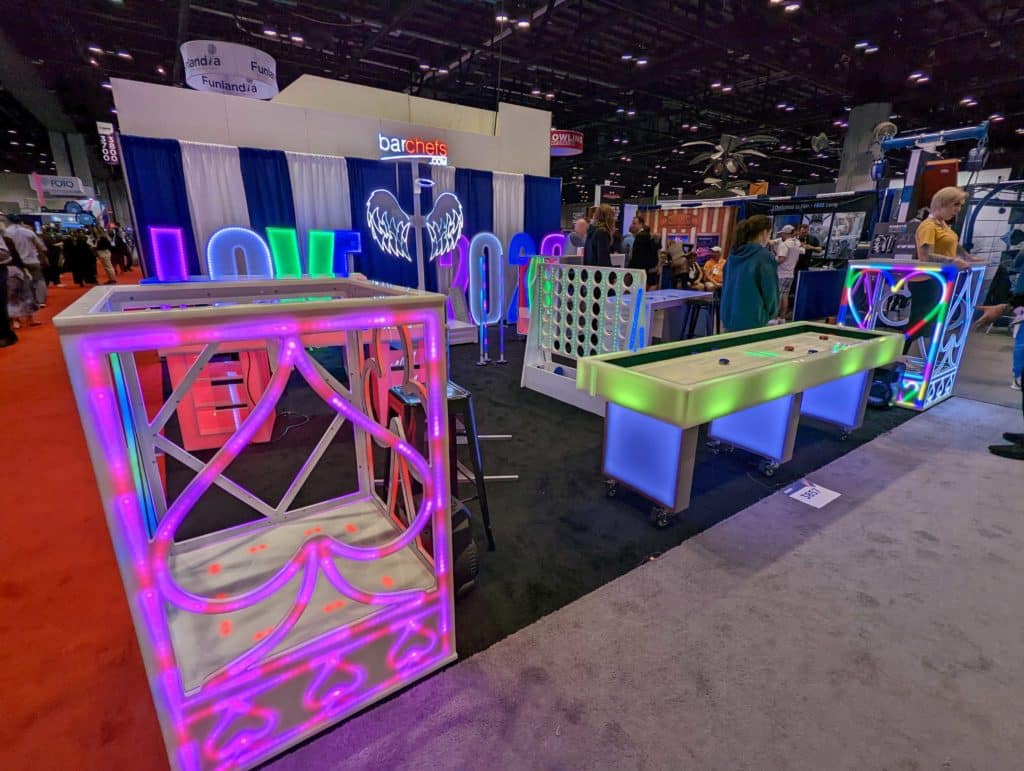 Bar Chefs might also be a nice fit for campgrounds and RV parks looking to add a little light and brightness to their facilities.
The business specializes in producing furniture and stages that are illuminated by LEDs, including bars, tables, and even an LED dog bed. A campsite would find some of their products, like cornhole games, to be entertaining.
"Corn holes are easy to get stored. They hold up at night time. You can still keep the action going with a little light around the area. A lot of fun for the family," Founder & CEO Andy Lakatos told Modern Campground.
Products from Bar Chefs are renowned for their vivid LED lighting, which adds a distinctive and eye-catching touch to any venue.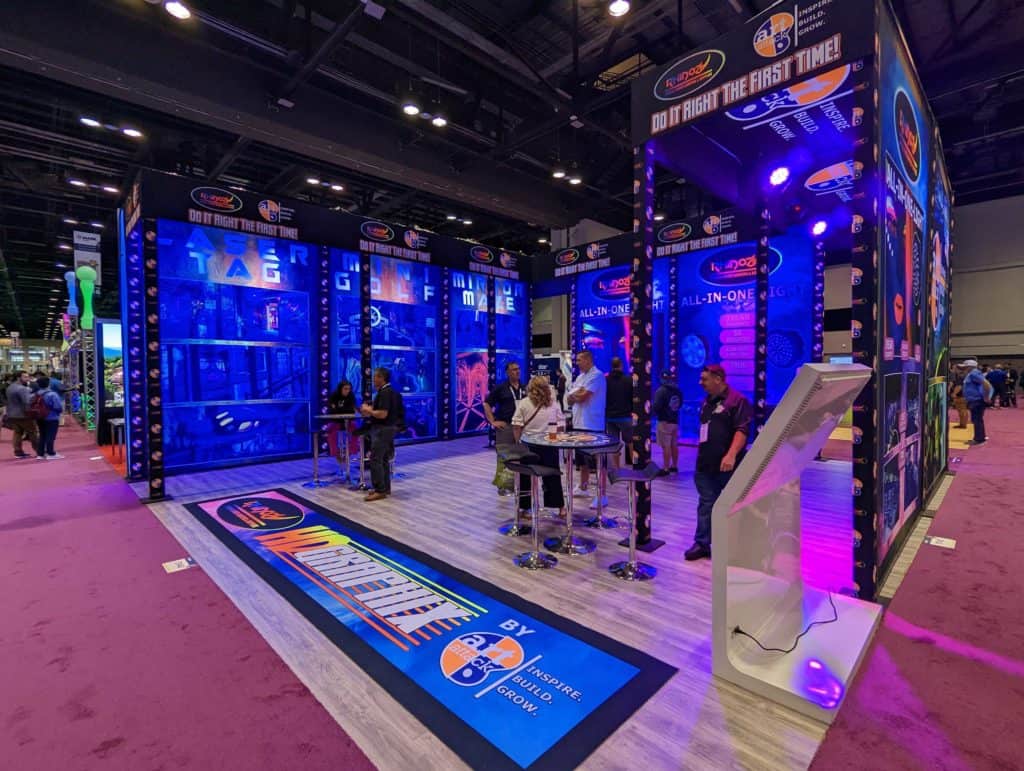 Even though mini-golf is available at most campgrounds, Art Attack's courses earn a spot on the list. The company's main offerings are mirror mazes, laser tag arenas, traditional light mini-golf, and blacklight mini-golf.
The mini-golf courses made by the company are famous for their robustness and immersive experience, with life-size props, HD Graphix, and 3D components that up the ante on the competition.
In order to ensure that their mini golf courses will be a durable and lasting attraction, Art Attack also offers a two-year warranty on all of their courses.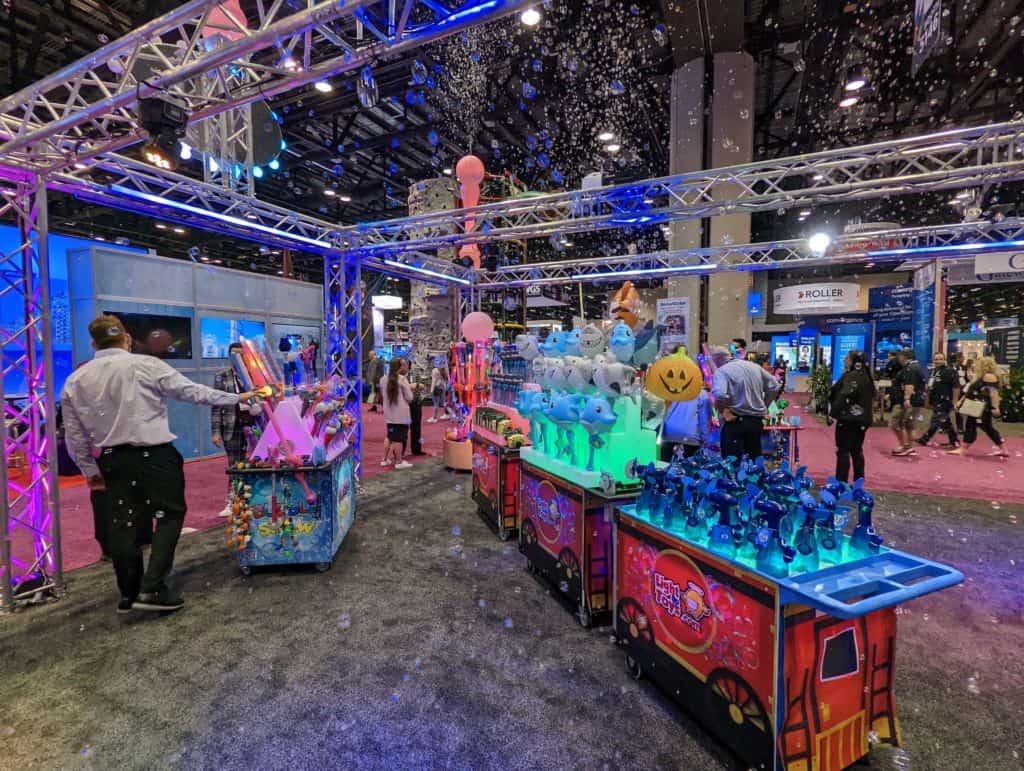 The bubble wands from LightUpToys.com, which provide a fantastic experience for kids and those who are young at heart, are last but certainly not least on the list. The business collaborates with some of the most well-known theme parks and attractions in the world, which are still visited by tourists of all ages.
The company's bubble toys and light-up items are also a fantastic fit for campgrounds, where visitors are seeking enjoyable and enchanted activities to partake in while they're there.
No matter the type of attraction a campground or RV park plans to add, it's important to take the needs and interests of guests into account. By offering various options, campgrounds can create a unique and memorable experience that keeps guests coming back year after year.