Donald G. Bennett, Jr., a longtime leader and advocate for New York's campground industry, was inducted into the Campground Owners of New York (CONY) Hall of Fame on November 4. The induction ceremony took place during CONY's 60th anniversary gala at the Turning Stone Resort & Casino in Verona, New York.
Bennett was honored for his lifelong dedication to the outdoor hospitality industry. He practically grew up in the business, with his grandparents Edward and Mildred Yaniszewski starting Conesus Lake Campground in the Finger Lakes region, according to a press release.
Mildred is also a CONY Hall of Fame inductee, making Bennett's induction a family affair. Bennett now co-owns the campground with his wife Lisa.
During the ceremony, friends and colleagues highlighted Bennett's long history with CONY. He served on the board of directors, including as treasurer, before becoming the association's executive administrator in 2006. That role was later re-styled as president and CEO.
Mark Anderson, owner of Camp Chautauqua, recalled stories about Bennett's time on the CONY board. Mark Dorr of the New York Hospitality Association shared how camping with Bennett led to cherished family memories.
Other Hall of Fame members were in attendance, including Michael and Gina Lenhard, Randy Lehman, and Mark Anderson.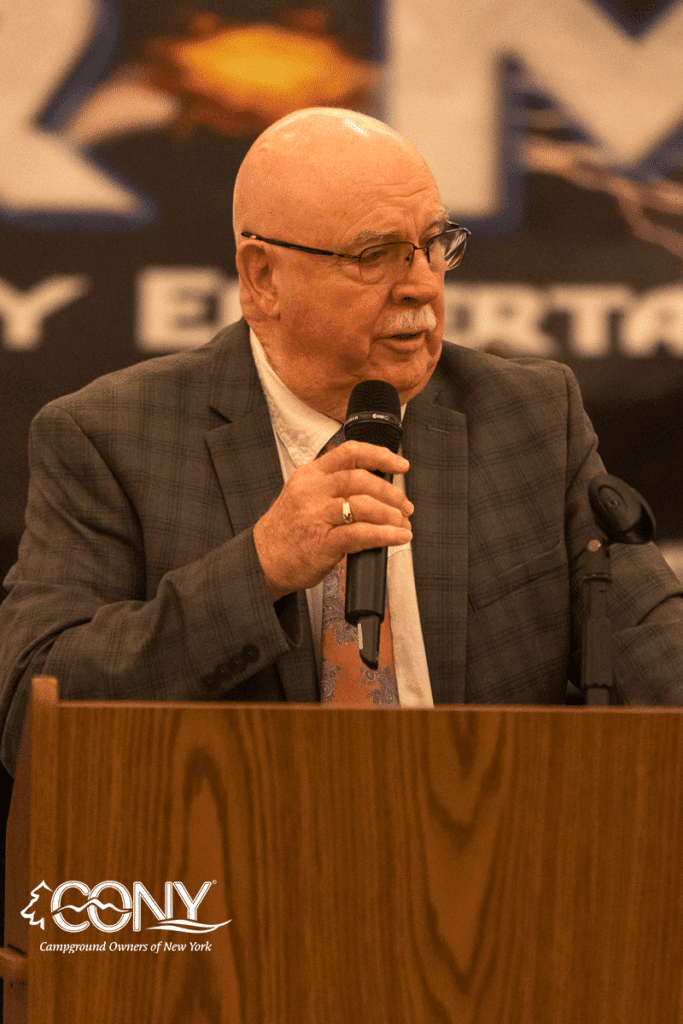 During his remarks, the new CONY Board Chair Matt Anderson called Bennett one of his best friends and inspirations. He highlighted Bennett's 17 years of leadership as CONY transitioned from executive administrator to president and CEO.
Speakers at the event also praised Bennett's dedication and leadership over his 17 years heading up CONY. He helped modernize and expand the organization's marketing and outreach during his tenure. This included upgrading the website, integrating social media, and developing a mobile app.
Bennett was also credited with spearheading new member benefit programs for CONY, like the creation of a legal hotline.
He also championed campground owners during the COVID-19 pandemic, ensuring sites were deemed essential services and could remain open.
In his own remarks, Bennett graciously thanked his wife, parents, sons, and more who helped shape his career. He gave particular gratitude to his wife Lisa, calling her his "best friend" and "rock."
Bennett joins 17 other inductees in the CONY Hall of Fame. The honor recognizes exceptional campground owners and industry partners who have greatly contributed to the association and their communities.
To be eligible for the Hall of Fame, individuals must be or have been CONY members for at least 8 years. They should have served on the board, owned a quality campground, and made contributions to the industry and tourism in New York.
Bennett easily meets the criteria. In addition to his CONY leadership, he serves on numerous tourism-related boards across New York. This includes the Finger Lakes Tourism Alliance and New York State Hospitality and Tourism Association.
Beyond his campground ownership and advocacy roles, Bennett is also a certified public accountant. He operates an accounting firm in Pittsford, NY, where he lives with his wife.
The CONY Hall of Fame induction caps a busy year for Bennett. He recently transitioned from his role leading CONY to focus full-time on his tourism consultancy and marketing firm, Merchantry Tourism.
Featured image from CONY.