In a world where travel enthusiasts and adventurers yearn for comfort and sustainability on the open road, the caravan industry is responding with an exciting array of innovations and features to enhance the road-tripping experience.
Driven by a commitment to eco-friendliness, technological integration, and a desire to redefine the mobile living experience, these innovations aim to elevate the experience of traveling on the open road.
Within this dynamic realm of recreational vehicles, caravan enthusiasts and explorers can now look forward to a slew of exciting innovations and features that promise to enhance the road-tripping experience.
The industry is currently in the midst of a significant transformation, marked by a dedication to environmental sustainability, seamless technology integration, and a vision to redefine the concept of caravanning.
Here, we delve into some of the latest trends and innovations in caravan design that are making waves in the industry.
Eco-Friendly Caravans 
With a growing emphasis on sustainability, caravan manufacturers are increasingly incorporating eco-friendly features into their designs. Solar panels, energy-efficient appliances, and advanced waste disposal systems are becoming standard in many models.
Link Composites, an eco-friendly industry supplier, has been making strides in revolutionizing the sector by seeking to support eco-friendly caravan manufacturing with composite fiberglass panels, highlighting a transformative concept in the caravan industry in Australia.
"The use of composite fiberglass sandwich panels will revolutionize the caravan industry in Australia, offering a new level of design flexibility, energy efficiency, and sustainability," said Will Robinson, a managing director at Link Composites, in an earlier report.
The utilization of these panels not only paves the way for more versatile and adaptive caravan designs but also significantly uplifts the energy conservation capabilities of the vehicles, ensuring that they are both environmentally responsible and cost-effective in the long run.
This forward-thinking approach aligns with a growing emphasis on adopting sustainable practices in the industry, ensuring that the caravan adventures of the future are not only more attuned to the needs of the traveler but also more harmonious with the environment.
Sustainable Materials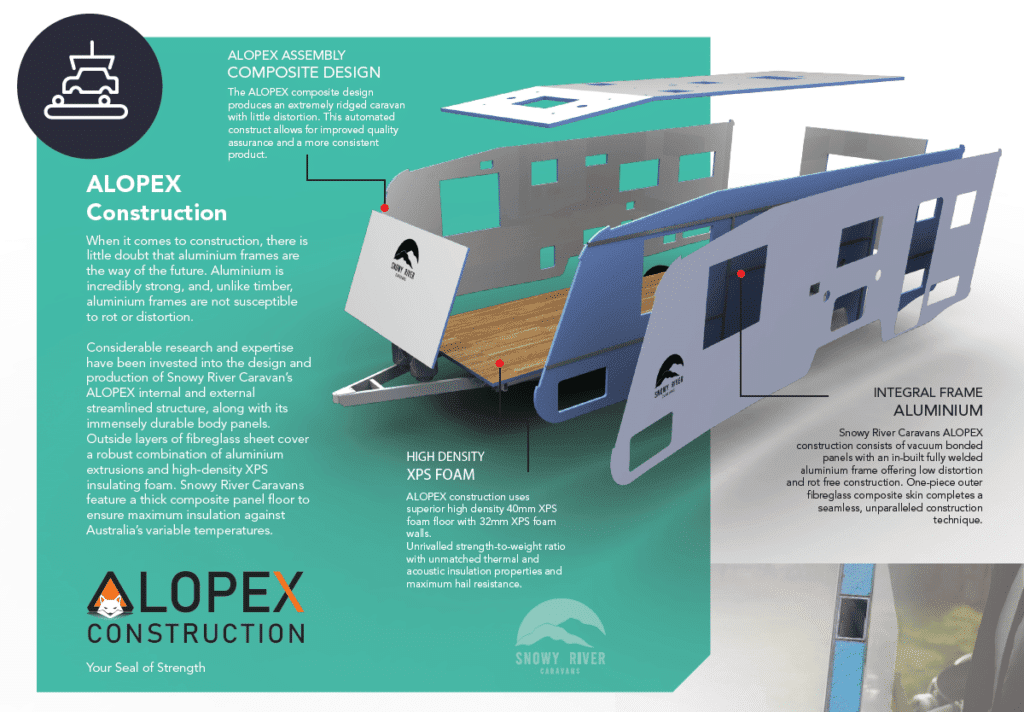 Sustainability is at the forefront of caravan design, not only in terms of features but also materials. Manufacturers are turning to eco-conscious materials, including recycled and renewable resources, to minimize their environmental impact. Lightweight yet durable materials are employed to improve fuel efficiency and towing ease.
Green RV, a family-owned and operated Australian dealership, offers caravans manufactured with environmentally conscious materials, particularly favoring aluminum and composite materials. Aluminum stands out as an eco-friendly choice when compared to alternative materials commonly used in the industry.
"At Green RV, we believe that it's important to make choices that are good for the environment as well as for our customers," wrote Green RV in a post on its website. That's why we are proud to offer a range of caravans that are manufactured using environmentally responsible best practices.
"When you purchase a caravan from us, you can feel good knowing that you are supporting a company that values sustainability," the post added. "Our caravans are made with eco-friendly materials and feature energy-saving technologies that help reduce your carbon footprint."
Through their conscientious approach to caravan manufacturing, which involves the use of eco-friendly materials and the incorporation of energy-saving technologies, they ensure that customers can embark on their adventures with a reduced carbon footprint.
Purchasing a caravan from Green RV is not merely acquiring a vehicle; it's supporting a philosophy that intertwines the joy of exploration with a steadfast commitment to preserving the environment. Thus, customers can revel in their journeys, knowing that they are making a choice that is beneficial for both their adventurous spirits and the planet.
Smart Technology Integration 
The era of the smart home has found a new frontier in caravans. Cutting-edge technology is now seamlessly integrated into caravan designs, offering occupants smart climate control systems, automated lighting, and even voice-activated assistants that make life on the road more convenient and enjoyable.
Arvikon, a European manufacturing company, introduces an innovative concept that focuses on smart caravaning and home automation solutions, which aim to revolutionize the mobile living experience by integrating cutting-edge technology into recreational vehicles.
"Smart Caravaning system is designed to revolutionize the way RV owners control and manage various aspects of their vehicles, such as lighting, heating, and entertainment," wrote Arvikon in a report.
"The all-in-one design of our Smart Caravaning system allows for the integration of a wide range of functions and features into a single device, making it easy to control all aspects of an RV from one central location."
Arvikon's system includes features like smart climate control, lighting automation, security monitoring, and even voice-activated assistants, creating a seamless and luxurious environment for travelers.
The European manufacturing company aims to lead this transformation by providing innovative solutions that make road-tripping not just comfortable but also environmentally responsible, reflecting the growing trend of eco-conscious travel enthusiasts.
Compact Luxury: The Evolution of Interior Design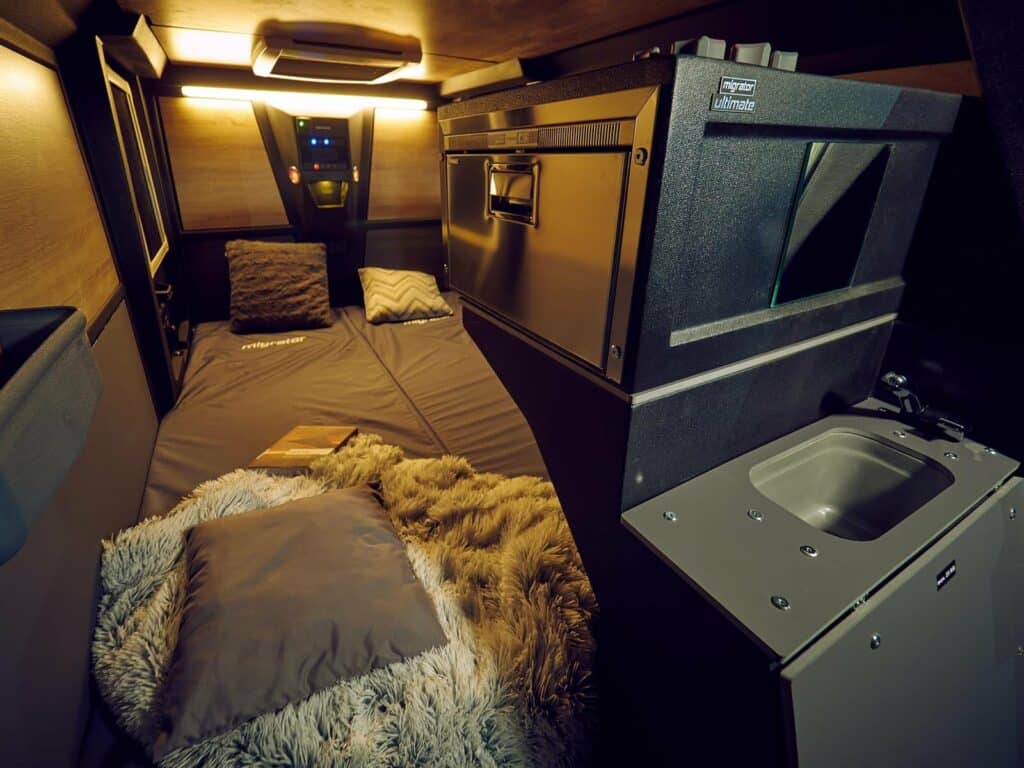 Caravans are no longer synonymous with cramped quarters. Manufacturers are redefining interior spaces to maximize comfort and luxury. Innovations like slide-out sections, convertible furniture, and hidden storage compartments are allowing caravanners to enjoy spacious living areas without sacrificing mobility.
High-end finishes and plush furnishings are becoming the norm, ensuring a luxurious home away from home. Moreover, extra strong protective layers on the caravan's interior and exterior walls are considered to ensure maximum protection from extreme weather conditions as well as bumps and knocks during long journeys.
"Every model offers plenty of storage space so everything you need will be within easy reach while traveling," as FIM Caravans, a manufacturing company specialising in mini caravans, described the interior design of their mini-carvan.
"The interiors also feature modern fixtures such as air conditioning, heating systems, and even state-of-the-art audio systems to enjoy your favorite tunes while on holiday!"
Meanwhile, the FIM Caravans emphasized that their models come equipped with comfortable beds, ensuring that travelers can look forward to a restful sleep after a day of adventure. They highlighted that their caravans are not just reliable and comfortable but also stylish and convenient, making them ideal for any trip.
Multi-Functional Exterior Spaces for Al Fresco Living
Caravan designers are reimagining exterior spaces to be more versatile. Fold-out awnings, outdoor kitchens, and entertainment areas are becoming increasingly popular with breathtaking natural views in our surroundings.
These outdoor spaces allow travelers to fully embrace nature while retaining the comforts of home, offering the perfect setting for al fresco dining, socializing, and soaking in the beauty of the great outdoors.
Meet the 2023 Jayco Crosstrak, a 5m (16ft) Pop Top Hybrid Caravan that seamlessly combines functionality with comfort. Priced at around $55,390, this caravan is designed to accommodate up to 3 people, making it ideal for small families or couples.
It boasts a length of 6.65 meters and is equipped with the advanced JTECH 2.0 Independent trailing arm coil spring suspension, complemented by shock absorbers, ensuring a smooth journey on various terrains.
One of its standout features is an exterior kitchen, perfect for those who love outdoor cooking and dining, allowing travelers to enjoy meals amidst nature. With its blend of essential amenities, durable construction, and thoughtful design, the Jayco Crosstrak promises a memorable and comfortable camping experience.
Connectivity On the Go: Staying Plugged In
In our increasingly digital age, connectivity is a must. Caravan manufacturers recognize this and are equipping their models with robust connectivity options, including Wi-Fi boosters, 5G compatibility, and satellite internet. These features enable remote work, seamless entertainment streaming, and staying in touch with loved ones while on the move.
The RV IT Guy, a virtual tech company, offers a comprehensive solution for mobile internet and remote tech support tailored specifically for RVers. Their service stands out with its truly unlimited data offering and robust security measures, providing RV enthusiasts with peace of mind while on the road.
"Our 'beacons' are managed WiFi devices that create a private wireless network anywhere within our nationwide network," as RV IT Guy wrote. "Unlike most hotspots and wireless data plans, they don't slow down after you've used a pre-determined amount of data."
"They are suitable for moderate internet consumption by 2-6 people, including web browsing, email, gaming, remote work, real-time calling, and video streaming at standard definition."
Moreover, the tech company goes the extra mile by equipping each beacon with 256-bit VPN encryption, safeguarding travelers from privacy breaches and a wide range of security threats commonly encountered on unsecured public WiFi networks.
Their virtual network connects users to a team of distributed IT professionals who are readily available to tackle any technical issues on various connected devices. RV IT Guy's commitment to addressing the unique connectivity and support needs of full-time travelers ensures that they stay securely connected and have expert assistance wherever their journey takes them.
Off-Roading Capabilities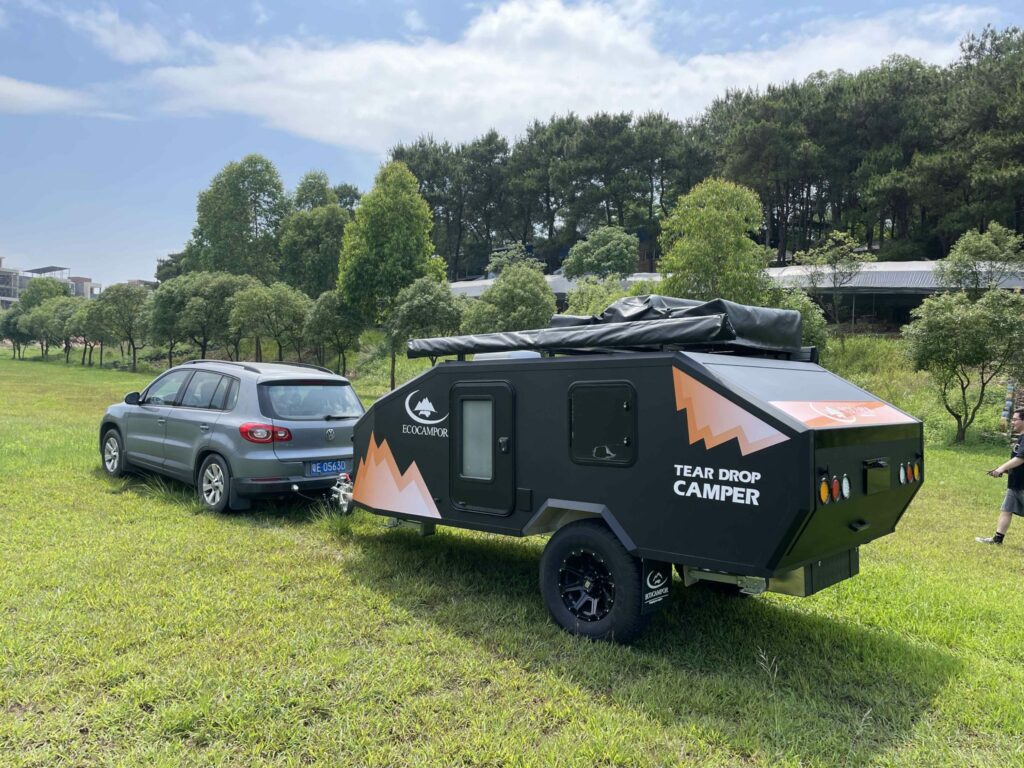 Adventurous travelers are increasingly seeking the thrill of off-roading with their caravans. Manufacturers are responding by designing caravans with rugged off-road features, including reinforced chassis, heavy-duty suspension, and all-terrain tires. These robust caravans are capable of tackling challenging terrains, opening up new horizons for explorers.
Ecocampor, for instance, is an off-road camper trailer and caravan manufacturer that features a robust and durable design for their caravans, enabling them to navigate through challenging terrains with ease. These caravans are not only built to withstand the rigors of off-road adventures but also to provide a comfortable and secure environment in various landscapes.
Whether traversing through rocky paths, sandy dunes, or muddy trails, the off-road capabilities of these caravans ensure that explorers can venture into the wild with confidence, ensuring comfort and security even in the most rugged conditions.
As the caravan industry continues to evolve, these trends and innovations promise to redefine the mobile living experience. Caravan enthusiasts and novices alike can expect further exciting developments in the years ahead as manufacturers strive to cater to a diverse and discerning customer base.
Whether you're a seasoned traveler or a novice adventurer, these new features and innovations in caravan design are set to enhance your road-tripping experience and inspire the exploration of new horizons.