The annual Burning Man festival, a celebration of cultural diversity and self-expression, draws massive crowds to Black Rock City, a temporary city erected in Nevada. A key aspect of the festival experience is the accommodation, and many attendees opt for the comfort and convenience of renting a luxury RV.
Southern California's top-rated luxury RV rental company, RvFunRental, has announced that its inventory for Luxury Motorhomes and Trailers for the 2023 and 2024 Burning Man Festival events is already halfway sold out.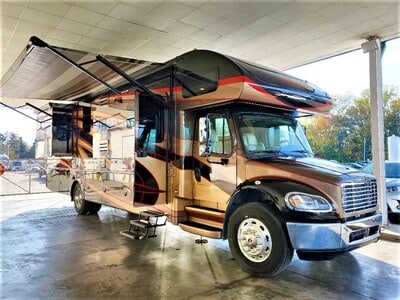 The demand for RV rentals at Burning Man is significant, and securing a dependable luxury RV early is crucial for festival-goers. The pricing for Burning Man Festival RV Rentals ranges from $5K to $15K, depending on the type of RV. The options include Basic RV Rental, Travel Trailer, and Luxury RV, which includes Super C, Class A, and large 10+ sleepers.
The surge in RV rentals for the Burning Man festival is not just a trend but a necessity for many attendees. The festival's location in the Nevada desert presents unique challenges, such as extreme weather conditions and limited access to amenities. An RV provides a comfortable and secure living space, complete with essential facilities.
However, renting an RV for Burning Man is not just about comfort and convenience. It's also about being mindful of the environment. Festival veterans recommend using the generator sparingly to conserve gas and suggest innovative cooling methods like placing a damp towel over the ceiling vent.
According to a press release, they also advise topping up batteries and considering RVs with solar panels or bringing your own to hook them up directly.
The high demand for RV rentals during the Burning Man festival has a significant economic impact on local businesses, particularly RV rental companies like RvFunRental. The festival period sees a spike in business, contributing to the local economy. Moreover, the influx of festival-goers also boosts other sectors, including local tourism, retail, and hospitality.
RvFunRental is not just a rental company but also offers RV owners in North America the opportunity to generate a second income through their RV rental income consignment program. This initiative further stimulates the local economy by providing RV owners with an additional source of income.
The Burning Man festival's impact extends beyond the event's duration. The increased visibility and revenue during the festival period can have long-term benefits for local businesses and the broader community. The festival also contributes to promoting cultural diversity and self-expression, enhancing the region's cultural richness.
The rising demand for RV rentals at the Burning Man festival is a testament to the event's popularity and its economic impact on local businesses and tourism.
As the festival continues to grow, the demand for RV rentals is expected to rise, further boosting the local economy. The festival's success story offers valuable insights for other regions and events on leveraging local resources to enhance economic and cultural value.