During this year's KOA Convention & Expo in Las Vegas, Nevada, Kampgrounds of America (KOA) held its annual Breakfast Awards ceremony recognizing industry leaders and long-time partners for their contributions to the camping and outdoor hospitality sector.
The prestigious gathering, set against the vibrant backdrop of Las Vegas, saw KOA honor partners who have shown enduring commitment and excellence.
These partners, some associated with KOA for over 20 and 30 years, exemplify the dedication and quality that KOA values.
Notable among them are Grant and Lisa Robertson of Raton KOA Journey, Rick, Danielle, and Sharon LeClaire of Washington / Pittsburgh SW KOA Journey, the Schmidt Family of Elizabethtown/Hershey KOA Holiday, as well as Michael, Jason, and Bonnie Christopher of North Sydney Cabot Trail KOA for two decades of KOA partnership.
Pamela Mandela of Cloverdale Hillsburg KOA and Maurice Dicaire of Pocatello KOA Journey were also celebrated for their 30-year affiliations with KOA.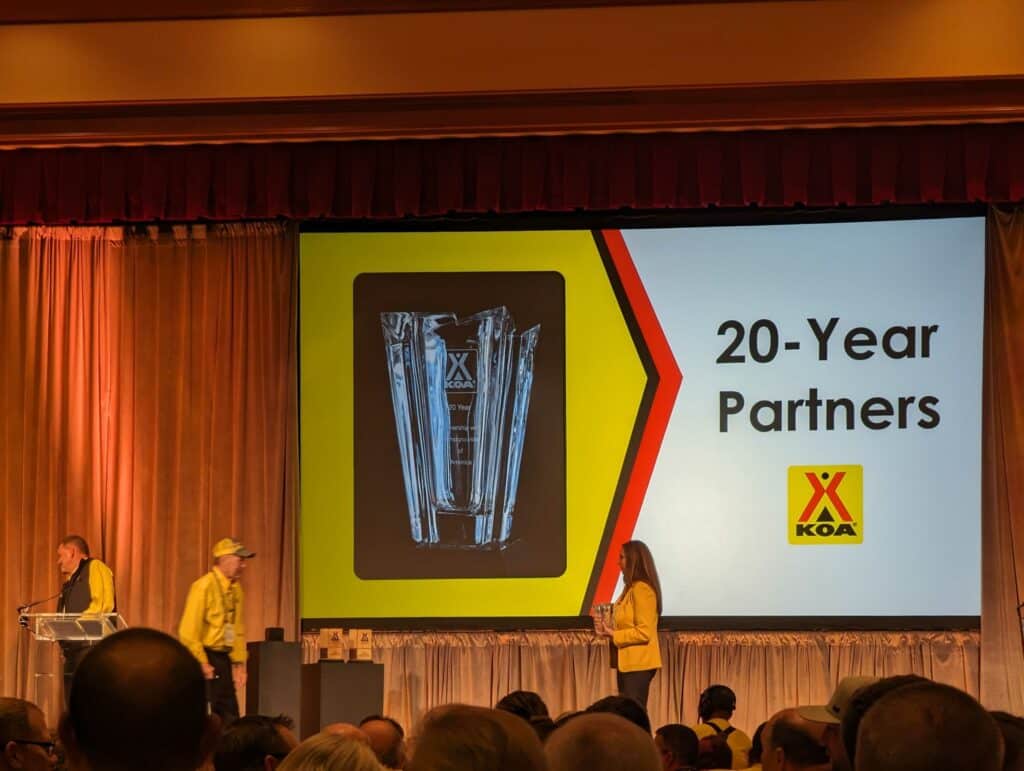 Adding to the morning's accolades were the Founder's and President's Awards. These awards, integral to KOA's tradition of excellence, set the benchmark for quality and service in the camping industry.
The criteria for these awards are stringent, combining guest feedback from over a quarter million KOA campers with the results of an annual inspection process. This year, over 400 campgrounds received these awards.
The Founder's Award, named in honor of KOA's visionary founder Dave Drum, was presented to campgrounds like Big Sur KOA in California, known for its breathtaking views and exceptional guest services, and the family-friendly Orlando KOA in Florida, acclaimed for its comprehensive amenities and activities.
The President's Award, signifying outstanding camping experiences, was bestowed upon Asheville East KOA in North Carolina, recognized for its excellent facilities and guest satisfaction, and Banff KOA in Alberta, Canada, noted for its remarkable natural beauty and top-notch camping services.
To see the list of winners for the KOA Founder's and President's Awards, click here.
A special highlight of the event was the recognition of Doug Mulaney, marking his 15-year career with KOA. Mulaney's significant contributions to campground design and development have led to the creation of over 25,000 sites, shaping the future vision of KOA campgrounds.
As the industry evolves, so too will the criteria and significance of the KOA awards. These awards are expected to adapt to the changing demands of campers and emerging trends in outdoor hospitality, continuing to set a high standard in the industry.
The KOA Breakfast Awards, through these recognitions, not only celebrate current achievements but also reflect the organization's commitment to fostering excellence and innovation in the world of camping and outdoor hospitality.
Later in the afternoon, KOA is set to name this year's Rising Star and Campground of the Year as well as a special recognition of 40 and 50-year partners.