Hipcamp, an online marketplace for outdoor stays, has announced the release of free public lands maps aimed at helping outdoor enthusiasts find and book campsites across the U.S. that are situated on or close to public lands' points of interest.
The innovative tools feature a variety of campsites near national parks, borders for Bureau of Land Management (BLM) lands where campers can stay without charge, and Hipcamp sites in proximity to picturesque rivers and vital wildlife refuges.
In a press release, Hipcamp CEO Alyssa Ravasio said, "Our new maps make it simple to plan your National Parks road trip this summer, and give you an easy way to find the perfect Hipcamp or free outdoor stay along your itinerary."
"Public lands are our commons, and Hipcamp's new public lands maps deliver on our brand promise of making it simple for everyone to get outside."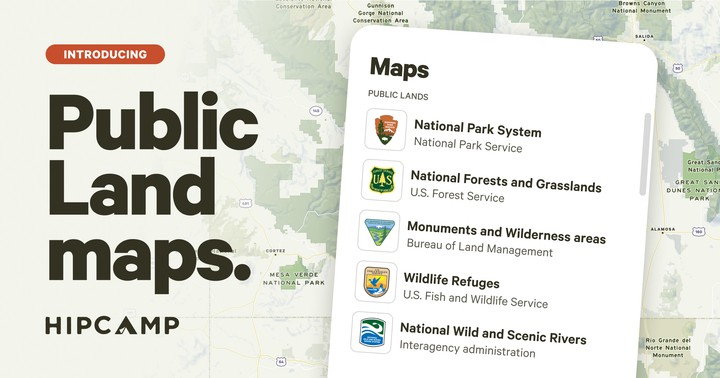 The interactive maps, accessible at hipcamp.com, display all 424 National Park Service unit boundaries, in addition to entrance gates and visitor centers.
Campers can now utilize Hipcamp's extensive database of 600,000 U.S. sites to locate accommodations within a manageable driving distance of landmarks like Bryce Canyon National Park's Hoodoos or explore alternative destinations like Florida's Dry Tortugas National Park, which is known for its diverse marine life.
The platform also provides valuable information for road wanderers, van lifers, and digital nomads seeking details on where they can safely park and camp for free on BLM lands.
Furthermore, birders and anglers can take advantage of the maps to find tent camping, RV sites, cabins, and other accommodations near bird sanctuaries and scenic rivers.
Ravasio highlighted the uniqueness of the platform, stating, "This level of detail across multiple agencies has never been made available for free in a single place."
"We are proud to share public lands boundaries, information about how to get outside in a more sustainable way, and education about how to responsibly recreate on public and private lands. We encourage all Hipcampers to leave the land better than they found it when they pack up their tent or head off to their next destination," she added.
The platform also offers other free map layers, such as International Dark Skies Maps, Indigenous territories across the United States, and detailed data coverage maps from cell providers like Starlink, AT&T, Verizon, and more.
Founded in 2013, Hipcamp has become a major provider of outdoor stays. The fully remote company operates in the United States, Australia, Canada, and the United Kingdom, and has facilitated over 7 million nights spent under the stars.
By listing on Hipcamp, landowners such as farmers, ranchers, and vintners can generate additional revenue streams, allowing them to maintain their land and keep working lands productive. Hipcamp's commitment to simplifying the process of getting outside contributes to the protection of habitats and fosters an appreciation for nature.