Stricter emission regulations, upcoming electric vehicle (EV) innovations, and the mushrooming charging stations in the country are some of the signs suggesting a future that prioritizes electric mobility.
In the outdoor hospitality industry, 57% of campers who own or are planning to buy an EV in the next 12 months say that one of the important factors in choosing a campground is having a charging station or the ability to charge their vehicle, David Basler of the National Association of RV Parks and Campgrounds (ARVC) shared during a panel discussion at a conference in Florida today.
With more and more people opting for electric vehicles (EVs) and as campgrounds prepare for the shift, it is apparent that the future is electric. To help campground owners and operators understand the place of EVs in the outdoor hospitality industry, ARVC prepared a panel discussion at the Outdoor Hospitality Conference & Expo 2022 (OHCE2022) in Orlando.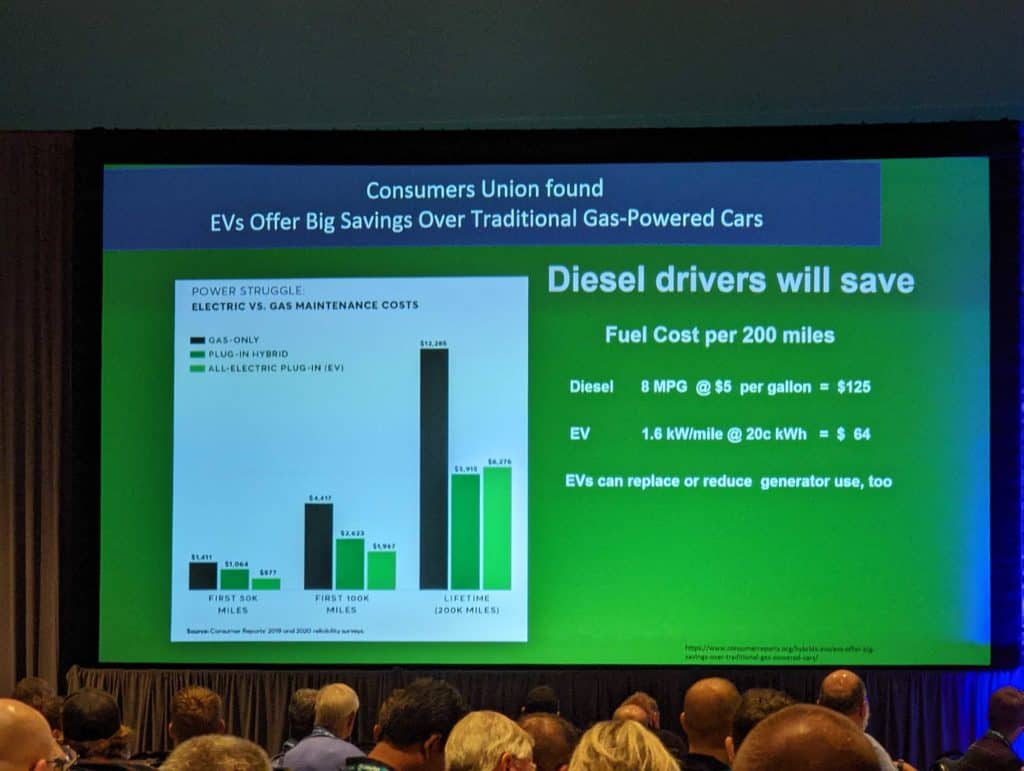 Experts coming from Winnebago Industries, Texas Electric Transportation Resource Alliance, National Drive Smart, and QuietKat were present at the Rosen Centre Hotel this morning for the annual conference organized by the national association.
For Winnebago's Nick Davis, EVs and RVs can utilize existing infrastructure.
"I know that'll be a big topic […] of what nerd work needs to be done to continue to grow that infrastructure, but we have a lot of great things in place today—whether it's fast chargers, whether it's public level two charging, or whether it's your lovely campgrounds to bring that into the fold as well," Winnebago's Nick Davis shared.
While some campground owners might be worried whether they're equipped to accommodate the new wave of guests, early adopters are "very forgiving" and experiences don't have to be perfect, Davis said.
Alleyn Harned of National Drive Smart echoed this statement. He said that electric vehicles usually come with a standard 110-volt charger, so residential 110-volt outlets, in most cases, will also work for EV charging.
"Just a simple plug. It talks to the car and then it accepts the charge. And so the residential 110 outlets that you offer for folks to charge their laptops will also work—to some respects—for charging EV," Harned said.
Three Types of EV Charging Stations
There are three kinds of EV charging stations: AC Level 1, AC Level 2, and DC Fast Charge.
AC Level 1 chargers are 120-volt chargers that provide three to five miles of range per hour of charging. Level 1s are also typically limited to 12 to 16 amps and have charging loads of 1.4 to 1.9 kilowatts.
Chargers that give 10-20 miles of range per hour are considered AC Level 2 and usually are 208 volts or 240 volts. These chargers are 12 to 80 amps and have charging loads of 2.5 kilowatts to 19.2 kilowatts.
The third kind of EV charging station is called a DC Fast Charger. This type carries over 90 kilowatts of charging loads and recharges EVs to 80% in a matter of 20 to 30 minutes. Fast chargers are either 208-volt or 480-volt three-phase alternating current plugs and are over 125 amps.
Asked what businesses can do to figure out whether they are doing the correct steps in being part of the EV revolution and taking advantage of the new customer base, Harned said that the key is to communicate with customers.
"[I]f you have electric vehicle operators that are upset, uh, about being stranded or are staying an extra day because they miscalculated, um, that's the leading indicator [business input]," he said.
Moreover, installing up to Level 2 chargers at campgrounds is possible, he said, but bigger chargers can also come with grants and programs. Those in need of assistance can reach out to their local Clean Cities Coalition for support.
EV Chargers at Campgrounds
The hassle can soon bear its fruit as installing EV chargers can be a money-maker for campgrounds, said Tom "Smitty" Smith of the Texas Electric Transportation Resource Alliance.
"Just like when you used to make money off having a plug in your campgrounds, in your sites. It's the same kind of money-making deal. Except you […] sell more kilowatts and you can make more money 'cause it's a premium deal," said Smith.
"So it'll be a good money-maker for you over time," he added.
EV customers also have the potential to linger at campgrounds longer because of the charging time, thereby opening the possibility of foot traffic to the camp store or other park facilities.
On E-Bikes
One electric vehicle used for recreational purposes surging in popularity is the electric bike. E-bikes allow campers to explore local areas that they would not be able to travel to in their cars.
Jake Roach of QuietKat, the fourth member of the EV panel at OHCE2022, mentioned that not only will EVs make up over half of vehicles in ten years, but e-bikes will also be owned by 15% of people by then.
Campgrounds, he said, have the potential to lead the e-bike revolution as the recreation vehicles help campers discover areas without disrupting other people's experiences. The vehicles also let adventurers have more close experiences with nature.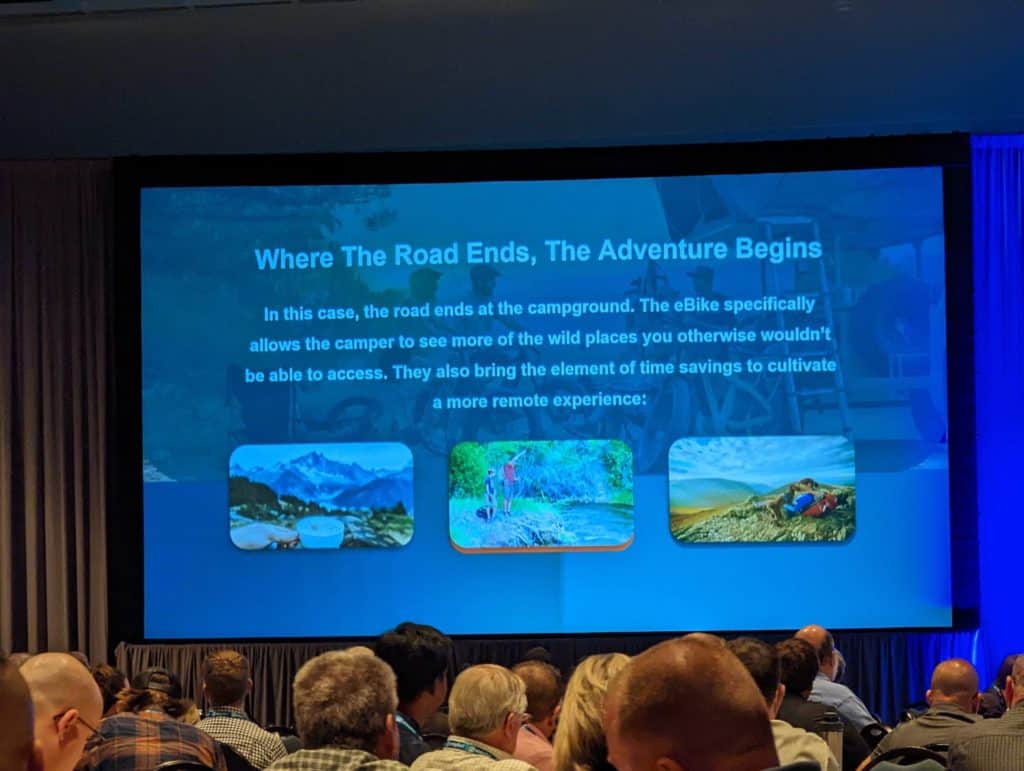 Because of the no-noise or emissions of e-bikes, there is also lower impact on animals.
The panel discussion called "Outdoor Hospitality and the Future of Electric Vehicles" is part of the Outdoor Hospitality Conference & Expo 2022 (OHCE2022) organized by the National ARVC. The conference is underway at the Rosen Centre Hotel in Orlando, Florida.
Visit https://www.arvc.org/ohce to learn more.