Dave & Matt Vans announced its brand new line-up of Lifestyle Vehicles (LVs) for 2023, combining renowned interior build with expanded vehicle capabilities to level up the van life experience for all.
Built on the all-new 2023 Ram ProMaster chassis, Dave & Matt Vans' 2023 LVs will further enhance the van living experience for part-time and full-time van lifers alike, with the most standard safety features ever included on a commercial van.
The New LVs include a new nine-speed 948TE automatic transmission, a fleet-specific five-year/100,000-mile powertrain limited warranty, and more – all built out with Dave & Matt Vans' signature utility, according to a press release.
"We've always prided ourselves on offering Lifestyle Vehicles that provide exceptional functionality and performance, and this new lineup takes that to the next level," said Matt Fesler, chief marketing officer of Dave & Matt Vans.
"With the wide range of upgrades to our vehicles, the 2023 LVs we offer are stronger and reliable, and, ultimately, more powerful than ever before, providing more opportunities, greater versatility, and even more comfortable life for our customers. In the meantime, we're sticking to the qualities that have always been the hallmark of Dave and Matt Vans. We will continue to provide the most accessible and practical automobile packages on the market."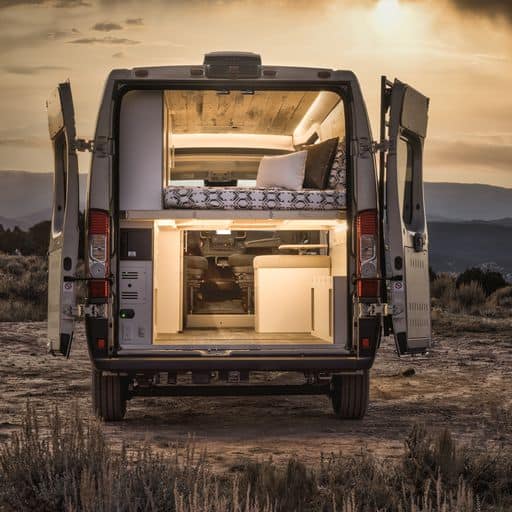 The heart of these LVs their incredible power is the 3.6-liter 24-valve variably valved timing Pentastar(r) V6 motor (3.6L V6 V6 VVT), which boasts 276 horsepower and 6,400 revolutions per minute, providing the power needed by drivers to travel the length of the road and explore the roads that aren't as well-traveled for off-road adventure.
In addition, with extended intervals for an oil change at 10,000 miles, drivers can enjoy more fun and less work. Additionally, the vast array of safety features in the 2023 LVs includes all-speed traction controls and electronic stability control, crosswind assistance, drowsy driver detection, electronic roll mitigation, and many more.
Further bolstering their reliability, the 2023 LVs include five-year/60,000-mile roadside assistance and a one-year craftsmanship warranty on all vehicles, in addition to Dave & Matt Vans' extended powertrain warranty.
The newly updated LV exterior sports a new front that features the standard halogen headlights, fog lamps, and a custom bumper with an inbuilt step that can assist in changing wiper blades and washing the windshield. Other exterior features include dual-sided cargo windows with sliding screens and black steel wheels.
In 2023 Dave & Matt Vans continues to move forward with its highly praised, completely revamped interiors launched on its 2022 limited-run LVs. It also comes with an exceptional option.
Upgrades to the build can include a Foldaway Double Seat that provides two belted seats with three points in the living area of the vehicle; A Storage Bench with Additional Storage that doubles the car's bench storage space; A Power Boost that adds three batteries and an additional storage panel to store more power with faster charging – perfect for long weekend trips.*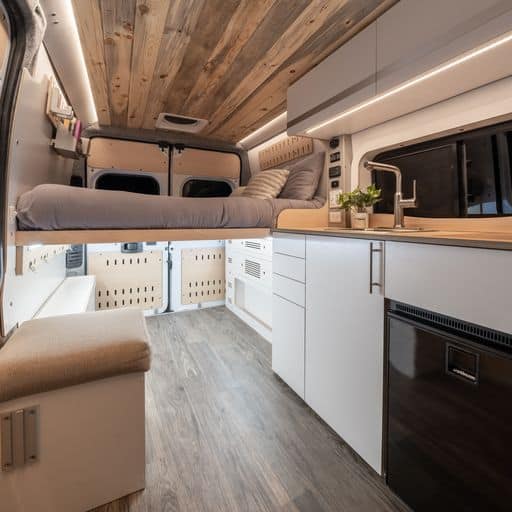 It also includes a Power Boost+, which provides two additional batteries and two solar panels, based on an existing model, to owners with the most electrical demands, and also for assurance and security, whatever the circumstances. Additionally, it comes with a Stow Table that provides a flexible surface to work on or for meals.
The many features included with Dave & Matt Vans' modernized interior design include an All-Electric Kitchenette equipped with an induction cooktop, a Lofted Bed made to order foam mattress that is layered as well as the open GEARage storage area that is perfect for storing items, a Drop-In storage System that lets owners select their ideal storage layout as well as Zoned Cabin Lighting with built-in dimming capabilities as well as many other.
The 2023 LV series includes three different models offered at the following base prices:
● LV3 (136-inch wheelbase): $85,995
● LV5 (159-inch wheelbase): $93,495; Featuring two available floorplans: 
■ LV5.1 – Short Queen Bed with Dinette Seating 
■ LV5.2 – Full Bed with Storage Closet 
● LV7 (159-inch wheelbase, extended): $98,995
Furthermore, Dave & Matt Vans has launched an entirely new interactive, interactive "Build Your Van' tool online, which allows users to modify their van to meet their individual preferences and immediately reserve the LV model they want.
In 2023, Dave & Matt Vans complies with RV Industry Association (RVIA) standards, which means it is guaranteed that Dave & Matt Vans adheres to a broad array of safety standards across the nation and its LVs remain eligible for the financing and insurance that is specifically designed for RVs.
The financing for RVs is offered for the 2023 models for as little as $600 per month. This is contingent on the term length, individual credit scores, and down payment amounts. For more information on the new 2023 LV models and to reserve a vehicle for purchase, visit https://dmvans.com/.