BLUETTI, a renowned name in the realm of portable power solutions, has recently unveiled its Autumn Prime Day savings, presenting consumers with an opportune moment to invest in reliable and robust power stations.
The announcement not only highlights the brand's commitment to making power accessibility more affordable but also underscores its strategic approach towards market penetration during peak shopping seasons.
The savings event is not merely a sale; it's a testament to BLUETTI's confidence in its power stations, which have been lauded for their versatility, durability, and innovative design, according to a press release.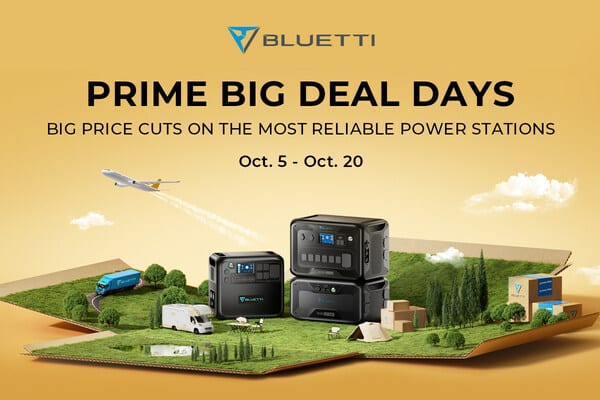 Navigating through the details of the announcement, it's evident that BLUETTI is not holding back in offering substantial savings on its range of power stations.
The AC200P, one of the brand's flagship models, is notably featured, boasting a substantial 2000Wh capacity and a variety of output options, ensuring users have the power they need, whenever and wherever they need it.
The AC200P, along with other models, is not just a product; it's a promise of unrestrained, uninterrupted power, especially pertinent for RV travelers and outdoor enthusiasts.
Diving into the user experiences and reviews, BLUETTI's power stations, particularly the AC200P, have garnered commendable feedback for their massive battery capacity and diverse output options.
A review by TechRadar extols the AC200P for its multifaceted charging options, albeit with a nod towards its significant weight as a potential drawback for some users. The AC200P, with its robust capacity, ensures that users, especially those on the road in RVs or embarking on outdoor adventures, are never left wanting power.
On the other hand, the AC50S, another model from BLUETTI, has been praised for its compact size and a variety of ports, as per a review on Lifewire, which also notes its relatively high price point as a potential barrier for some consumers.
The AC50S, with its smaller form factor, serves as a more portable yet equally reliable power solution, ensuring that users have a power source that is as on-the-go as they are. The user reviews on Amazon further substantiate these claims, providing a real-world testament to the power stations' efficacy and reliability in various scenarios.
BLUETTI's market positioning is notably strategic, with its product lineup offering solutions that cater to a wide array of user needs and applications.
The Autumn Prime Day savings event is not merely a promotional stint but a calculated move to enhance product accessibility and affordability, potentially driving up adoption rates among varied user demographics. The event, while providing tangible savings to consumers, also serves as a platform to showcase BLUETTI's robust product lineup to a wider audience.
The competitive edge for BLUETTI is carved out not just by the innovative design and capabilities of its power stations but also through strategic pricing and promotional events such as Autumn Prime Day.
By offering tangible savings on its products, BLUETTI is not just facilitating enhanced accessibility to reliable power solutions but is also fortifying its standing in the market as a brand that values its consumers, ensuring that reliable power is not just a luxury but a widespread, accessible reality.
For RV travelers, the relevance and impact of BLUETTI's power stations, especially amidst the Autumn Prime Day savings, cannot be overstated. The power stations, particularly models like the AC200P, offer a seamless, reliable, and robust power solution, ensuring that the journey on the road is not hampered by power constraints.
The substantial battery capacity, diverse output options, and multiple charging methods, including solar, ensure that the spirit of adventure is perpetually ignited and unencumbered by power limitations.
Moreover, the savings event provides an opportune moment for RV travelers to invest in a power solution that is not just reliable but also economically viable.
The discounts and savings ensure that the initial investment in a BLUETTI power station is substantially mitigated, providing more individuals the ability to harness the unrestrained, continuous power that BLUETTI promises, thereby ensuring that the adventures on the road are perpetually powered and unbounded.
BLUETTI's Autumn Prime Day, while being a time-limited savings event, has implications that extend far beyond its duration.
The event, through its substantial savings on power stations like the AC200P and AC50S, not only provides immediate financial relief to purchasers but also serves to enhance BLUETTI's brand perception as a consumer-centric entity.
The power stations, with their robust capabilities, continue to serve as reliable power anchors for varied user scenarios, from outdoor adventures to on-the-road travels in RVs.