The National Association of RV Parks and Campgrounds (ARVC) is pleased to announce an exclusive partnership with Green River, an industry-leading expert in the log cabin and cottage domain. As select partners of National ARVC, Green River brings their unmatched expertise, commitment to sustainability, and customer-centric approach to enhance the outdoor hospitality experience.
Both National ARVC and Green River share a profound respect for the environment, exemplified by their dedication to sustainability throughout their operations. Green River, the producer of Green River Log Cabins and Green River Cottages, is committed to responsibly sourcing timber from well-managed forests, minimizing waste, and utilizing eco-friendly construction methods. This commitment to eco-consciousness aligns perfectly with National ARVC's vision of promoting environmentally responsible practices within the outdoor hospitality industry.
Our wholesale customers are National ARVC members. And the National ARVC team is wonderful to work with," said Dean Garritson, president at Green River. "We support National ARVC and OHCE because they support the industry and they make it real easy to be effectively involved."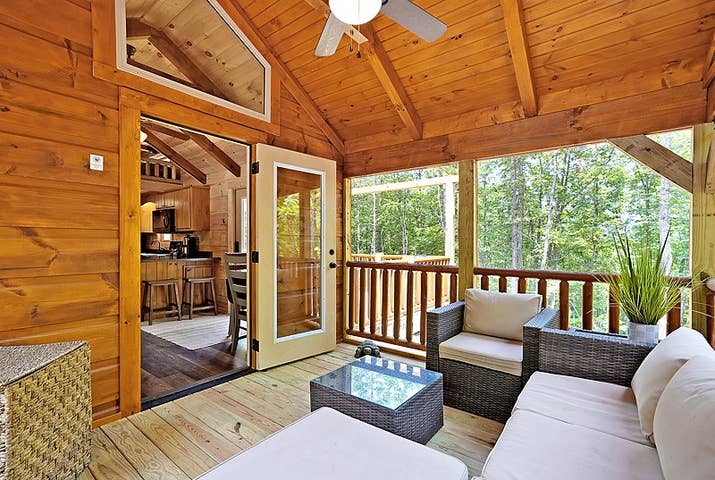 With a rich heritage of craftsmanship spanning several decades of creating picturesque log cabins that are a blend of tradition and innovation, Green River makes products built to last. Their team of highly skilled craftsmen ensure a high level of precision and attention to detail in every product. The result is log cabins of unparalleled quality, combining aesthetic charm, structural integrity, and energy-efficient design.
"The partnership between Green River and National ARVC signifies a shared vision for the future of the outdoor hospitality industry," says David Basler, Chief Strategy Officer at National ARVC. "Our select partners are a special breed of industry leaders. They aim to elevate the standards and champion shared values for our community. Green River does just that."
As a testament to this partnership, Green River is thrilled to announce their exhibition at National ARVC's Outdoor Hospitality Conference & Expo (OHCE2023). OHCE2023, a premier event in the industry, provides the perfect platform to showcase their cutting-edge park models and innovative designs.
OHCE2023 will take place from November 6-9 in Kansas City, MO. Green River will proudly display two of their most sought-after park models, giving attendees the opportunity to experience the comfort and functionality of their creations firsthand.
For more information on Green River, visit GreenRiverLogCabins.com. To see them on the expo floor this November, register for OHCE2023 at arvc.org/OHCE.
Green River Log Cabins & Green River Cottages craft exquisite log cabins and cottages that harmonize with nature. With more than 1,100 cabins to their credit, the Green River team is qualified, dedicated, and talented — they are superior craftsmen who take pride in their trade. Whether looking for a small vacation cabin or a rental property, customers will find what they are looking for at Green River Log Cabins and Green River Cottages. Learn more at www.greenriverlogcabins.com.
National ARVC, a leader in the outdoor hospitality industry, is the only national association dedicated to representing the interests and needs of private RV parks and campgrounds in North America. The association is deeply committed to providing its more than 3,000 members exclusive access to continuing education, networking, business and marketing tools, member-only benefits and discounts, and advocacy at the local, state and national levels. For more information about ARVC, visit its website at www.arvc.org.