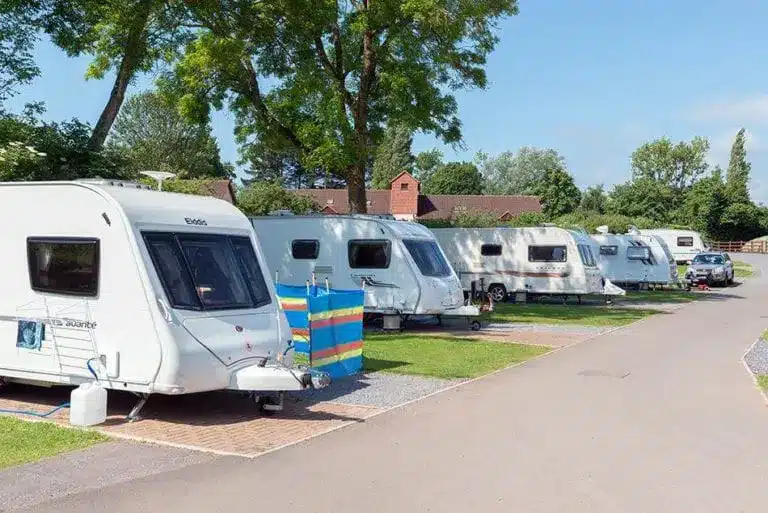 Multi-award winner Cofton Holidays invested £200,000 for 48 new super pitches to meet increasing demand. It will include water and waste connections and 16A electric hook-ups.
Guests will have access to covered washing-up areas, a grass area behind the hardstanding pitches, an on-site laundromat, refurbished heated toilet and shower blocks, TV aerial points, and WiFi.
The super pitches will also have a brick paver and gravel base, protecting each pitch from rain.
"We've known for a long time that demand for high-quality hardstanding pitches was on the rise… We are already receiving fantastic feedback from guests who have stayed. For them, the brick paver and gravel combination has made it much easier to set up an awning and outdoor furniture, creating a weatherproof option whatever the weather!" said Helen Scott, director at Cofton Holidays.
The site's landscaping was also renovated. The park restored large portions of land along with the planting of new greeneries, the creation of wildlife corridors, and increased biodiversity to invite birds, small mammals, and other small fauna.
The family-run campground saw its investment increase the total of super pitches from 26 to 74. The site received a significant surge in bookings during last year's summer, hitting a record increase of 20% occupancy.
Other facilities in the holiday park also include a heated indoor pool with a splash pad area and hydrotherapy loungers, a gym, restaurant, pub, steam room, sauna, fitness studio, soft play area, playground, sports wall, outdoor pools, and more.
Guests also enjoy five coarse fishing lakes, miles of cycle paths, and nature trails from woodlands to Dawson Warren Beach and nature reserve.
Other free on-site activities include the £50,000 Woodland Adventure Area which features a 25m zip line, a climbing cage, rope ladders, balance beam, balance lines, and scramble nets.
This article originally appeared on Out & About Live. Featured image from Cofton Holidays.