In the picturesque setting of Grafton, Ontario (Canada), Whispering Springs Glamping Resort is redefining the camping experience.
This unique resort, nestled on 200 acres of pristine wilderness, offers a blend of traditional camping and luxury amenities. But beyond its scenic beauty and comfort, the resort recently became a beacon of hope for families of children with disabilities through its "Camp Moonlight" initiative.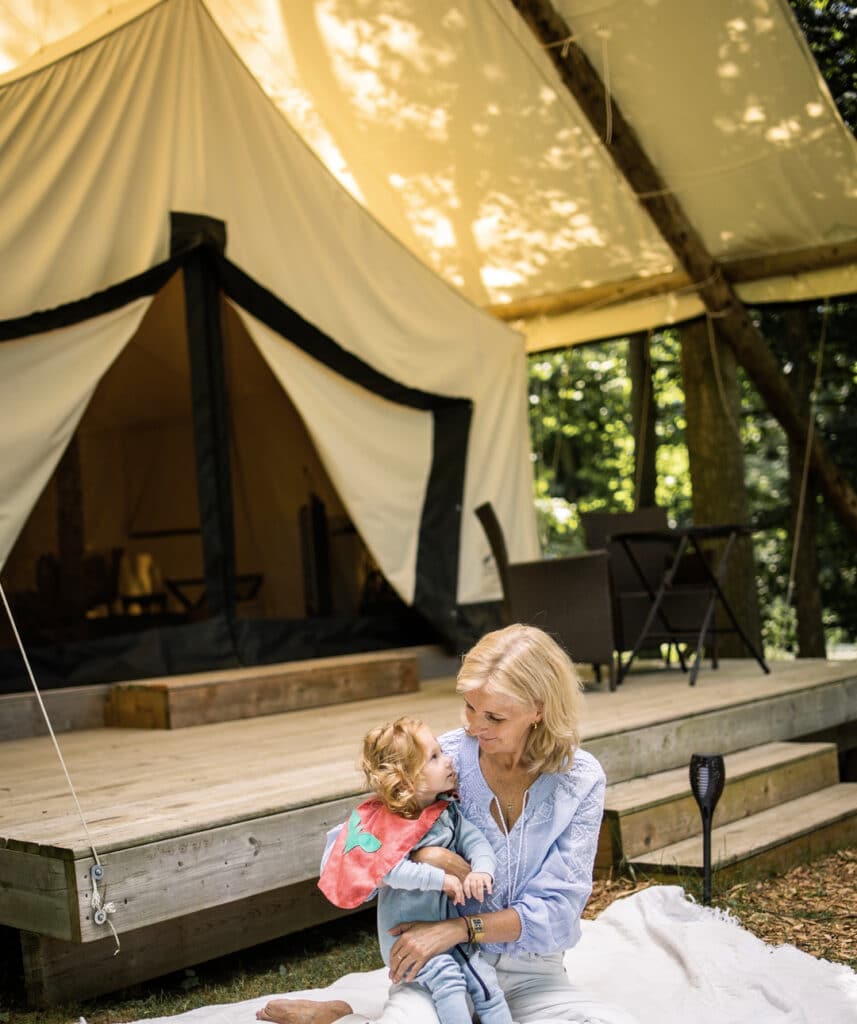 Owners John and Nancy Corcoran, inspired by their own family's journey, have turned their property into a sanctuary.
As per a report from Global News, their granddaughter, Ayla, who was diagnosed with quadriplegia cerebral palsy following a traumatic brain injury at birth, became the inspiration for Camp Moonlight. Witnessing the challenges Ayla and her family faced, the Corcorans were moved to action.
A decade ago, the Corcorans embarked on a significant life change. They sold their dream home in Ontario, most of their possessions, and set sail to explore The Bahamas. Despite their adventures, they held onto their land in Northumberland County, foreseeing its potential for something special. In 2015, they discovered glamping and knew it was the perfect fit for their property.
Their vision was simple but profound: to create a place where individuals could slow down and reconnect with family, friends, and nature. They aimed to bridge the gap between traditional camping and comfort, a vision that is deeply tied to their personal values of love for nature, connection, and well-being.
With extensive experience in the hospitality sector, including significant roles at Ste. Anne's Inn and Spa, the Corcorans applied their expertise to Whispering Springs.
Their hospitality extends beyond comfortable tents and scenic views. For the Camp Moonlight event, which took place from August 13 to 15, they offered their property and tents free of charge to families whose children have a physical disability. More than 50 volunteers, including therapists, helped run the retreat, highlighting the strong community support for this initiative.
Sarah-Lynne Gibbons, a mother from Ajax, Ontario, whose daughter, Zoey, has a rare genetic condition, was among the attendees. She expressed that Camp Moonlight made accessibility a key focus, allowing parents some time to "rest and recharge."
For Gibbons, the experience was a "dream come true," and she noted the sense of belonging and mutual compassion she felt with other families facing similar challenges.
Bridget Hewitt, another attendee from London, Ontario, whose son has multiple health complications, cherished the retreat as a chance for her family to escape the stressful journey of hospital visits.
For her son, it was an opportunity to roam freely and make new friends in a safe and welcoming environment. Among the highlights for the families were hydrotherapy sessions and the opportunity to connect with other families who understand their unique challenges.
The Corcorans, reflecting on the "powerful" experience of Camp Moonlight, hope to host another edition in the future. They expressed gratitude for the opportunity to host the event, emphasizing the love, kindness, and acceptance that defined it. For John and Nancy, this initiative is more than a charitable act; it is a manifestation of their life's philosophy of connection, compassion, and community.
Whispering Springs Glamping Resort, beyond being a venue for wilderness weddings, corporate events, and luxury wellness retreats, has become a symbol of what businesses can achieve when they align their operations with a deeper purpose. In a world where the traditional camping experience isn't for everyone, Whispering Springs bridges the gap with style and heart.
As families left the resort after the Camp Moonlight event, they carried with them not just the memories of a refreshing retreat but a renewed sense of hope and community.
Featured image from Whispering Springs Glamping Resort.