White Lake Provincial Park, located in B.C.'s Shuswap region (Canada), has been deteriorating, according to a camper.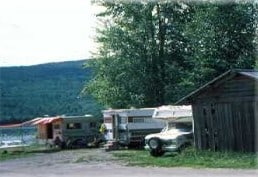 "I'm picking up and cleaning up garbage after campers leave," says Sorrento resident Don Pryor.
"The next campers (are also) coming in (and cleaning) it up because they want to camp here, so they clean up the mess that the camp boss should be cleaning up."
Last week, Pryor stayed at the campsite and said he hadn't witnessed any contractors or workers clean up the site. He's not seen them since they assumed management of the site.
He's been using White Lake Provincial Park for the past 30 years and claims he's never seen conditions get this bad.
While the campground is small, he says it has plenty to offer, adding that visitors come for the views and the fishing.
The lake is famous for its Rainbow Trout. But now, with roads filled with potholes, and the unkempt area, Pryor says people are moving to other places.
"We used to have fishermen come all the way from Toronto every spring to fish here. This year they couldn't get in here with their rigs."
Pryor says that he and other residents have damaged their vehicles over uneven roads.
"Contractor, sub-contractor to my knowledge, I've been told is in charge of looking after the parks that they sub-contract," said Pryor.
"We want the washrooms, the roads, and the grounds cleaned up, so we can camp with our kids with safety and not have to check it for glass."
The Ministry of Environment says the bathrooms at the campsite are maintained by the park manager, who, according to them, is present on site each day during the operation season to manage the facility.
BC Parks says they plan to raise these concerns with the operator to improve the quality of the campground.
This story originally appeared on Global News.