In the serene embrace of the British Columbia Rockies, where the mountains whisper tales of adventures and the skies paint a canvas of azure, lies Fairmont Hot Springs Resort.
Hailed the 9th best resort in Canada by Condé Nast Traveler in 2022, this sanctuary of tranquility and adventure has become a paradise for those who tread the paths less traveled.
Venturing into the heart of the resort, the RV resort emerges as a spot where elegance meets wilderness. With a prestigious Good Sam rating, it features 190 sites, each a gateway to the Rocky Mountain's splendor and the hot springs' soothing melodies.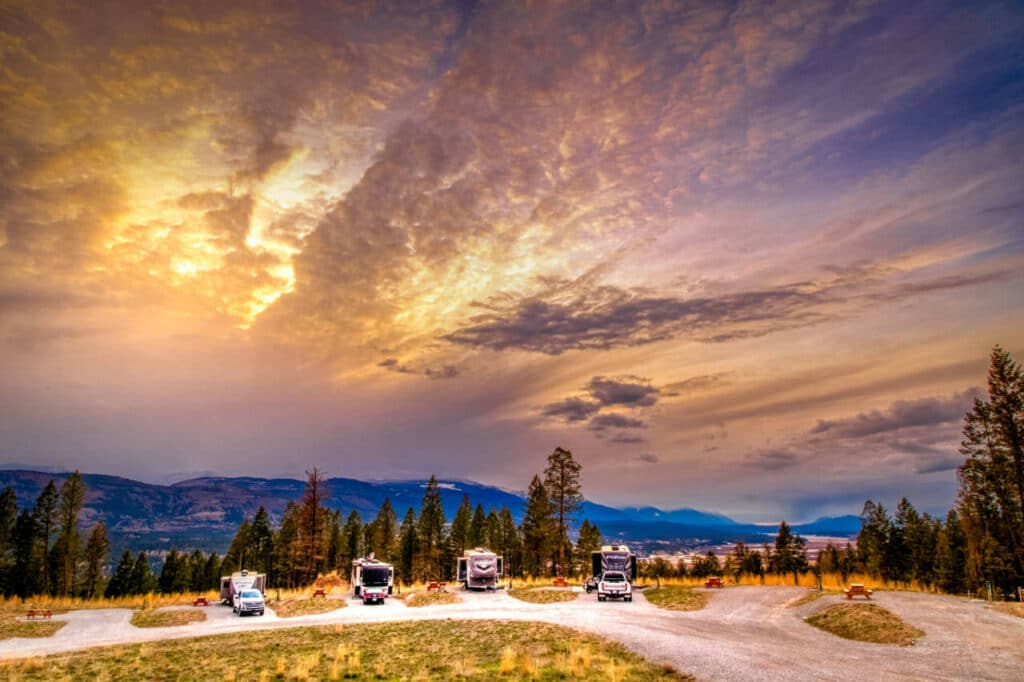 The resort offers a range of site types, including deluxe river view, premium mountain view, superior mountain view, classic, and standard. Each site is meticulously designed, with some featuring pull-through availability, cable TV hookups, and black-top pads. Electrical hook-ups are readily available, offering both 30A and 50A amps, and a sani-dump facility is conveniently located on the premises.
An onsite store, located in the RV resort office and open during regular business hours, is stocked with all the essentials, ensuring that those who call the road home have everything they need at their fingertips.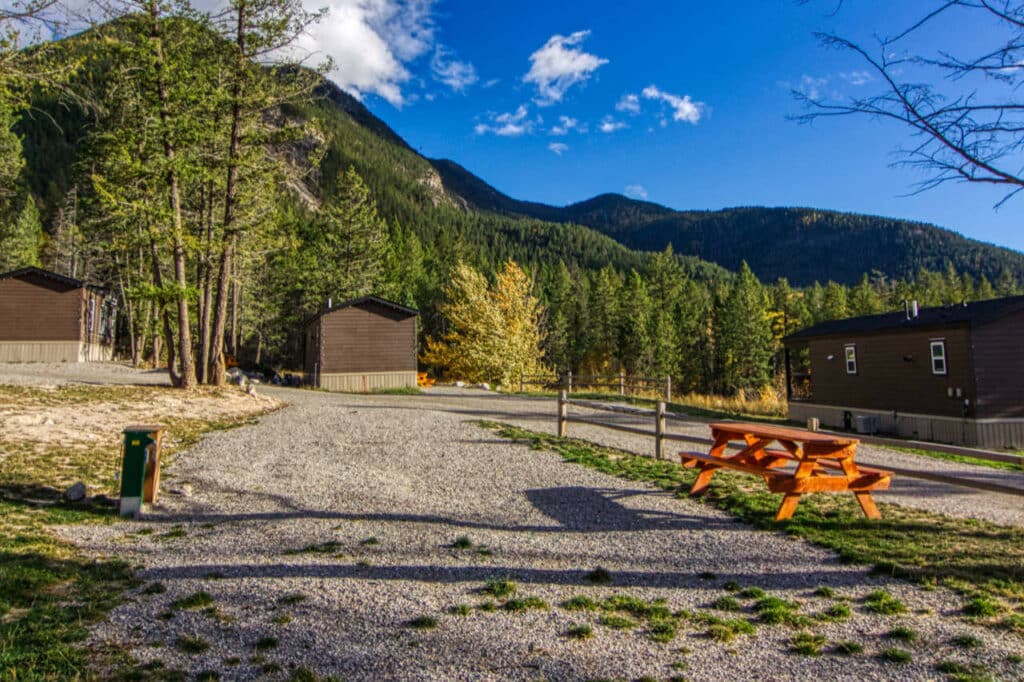 An affordable daily resort fee is the key to a realm of experiences for guests. From the embrace of the natural mineral hot spring pools to the digital connectivity of unlimited free Wi-Fi, every amenity is a thread in the tapestry of relaxation. Families find a haven, pets find a playground, and guests find a home.
At the resort, a diverse array of activities awaits to cater to every guest's preference. Mini golf offers a stage for friendly competition, while scavenger hunts present an opportunity for adventure and discovery.
Movie nights provide entertainment under the vast, starry sky, creating a unique outdoor cinema experience. For golf enthusiasts, the Riverside Driving Range is a place to hone skills and chase goals, and the indoor exercise room stands as a dedicated space for health and well-being.
The Campground
Still within Fairmont Hot Springs Resort, Spruce Grove Campground has 137 large sites, some with the Columbia River as their front porch. Modern comforts, a heated swimming pool, and proximity to the resort's myriad amenities craft a harmonious chorus of relaxation and adventure for guests staying here.
Spruce Grove Campground at Fairmont Hot Springs Resort offers more than just a camping experience; it offers accessibility and comfort, making it a charming retreat for nature lovers. With its camping and tenting sites, including standard, classic, and unserviced options, guests are invited to immerse themselves in the wilderness that is just steps away from their individual sites.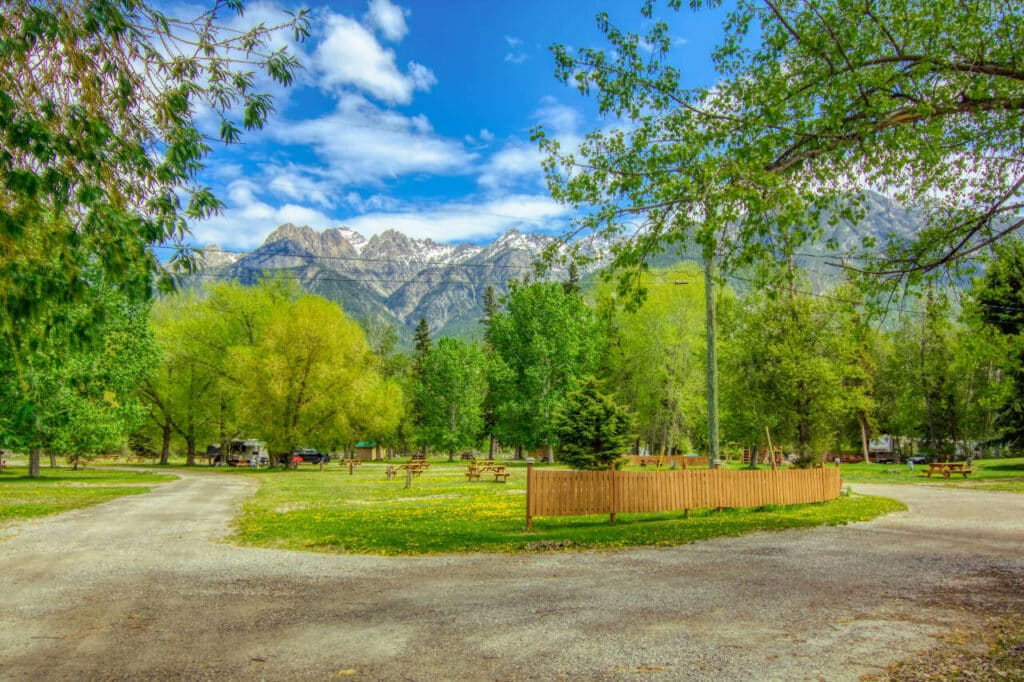 This scenic BC camping spot, situated on the banks of the Columbia River, is particularly popular with group gatherings and families, offering a blend of adventure and relaxation. A free heated swimming pool on-site adds a touch of luxury to the camping experience, ensuring guests can unwind in style.
Spruce Grove is not just about reconnecting with nature but also about convenience and comfort. The campground features full and partial hookups, with some sites equipped with power, water, and sewer. Pull-through sites are available for added convenience, and washrooms with hot showers and flush toilets ensure a comfortable stay. A coin-operated laundromat and a store offering ice, camping accessories, and firewood are additional amenities that cater to the needs of campers.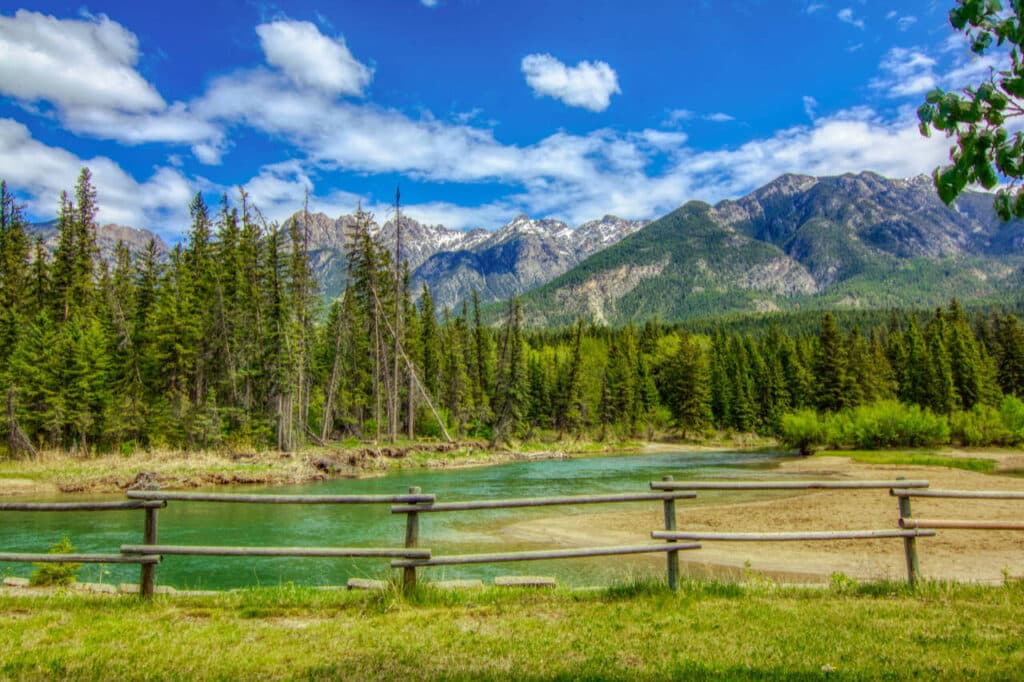 For those seeking a cozy evening under the stars, propane firepits are available for rent and sale. The campground is pet-friendly, welcoming furry companions to join in the adventure. Wireless internet is available in some locations, ensuring guests stay connected.
Spruce Grove's location is a gateway to a plethora of amenities at Fairmont Hot Springs Resort. Just a short drive away, guests have access to the legendary natural mineral hot springs, three golf courses, year-round shops, a spa, and various dining locations. The Basecamp at the main resort area is a hub of excitement, where guides provide fun for the whole family and assist in planning excursions, activities, mini golf, and much more.
Canada's Largest Natural Mineral Hot Springs
Canada's largest natural mineral hot springs can be found at the resort. Here, guests are invited to immerse themselves in the soothing, mineral-rich waters while basking in the panoramic mountain views that cradle the property. Whether you choose to swim, play, or simply soak, the hot springs promise relaxation and rejuvenation for visitors of all ages.
The resort meticulously maintains the water temperature in the soaking pool at an average of 39°C (102°F), creating a warm embrace for those seeking solace in its depths. The large swimming pool and dive pool offer a slightly cooler experience at 32°C (89°F) and 30°C (86°F) respectively, catering to a variety of preferences.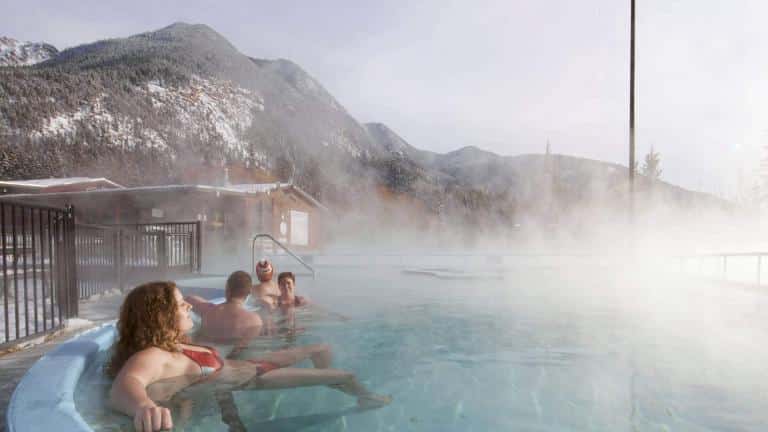 With over 1.2 million gallons of fresh mineral water flowing through the pools daily, guests are treated to a unique and tranquil experience. The waters are odorless and naturally heated, allowing for a calming escape amidst the beauty of the Rockies.
The journey of the water in the hot springs is a tale of nature's marvel. Originating from rain and snowmelt, the water seeps into the ground through the landscape's porous limestone. As it travels underground, it is naturally heated, transforming last year's rainfall into this year's soothing hot springs experience. This natural cycle ensures that guests are enjoying fresh, mineral-rich waters in their bathing suits, surrounded by the breathtaking scenery of the resort.
This combination of natural beauty, relaxation, and the rejuvenating properties of the hot springs makes Fairmont Hot Springs Resort a sought-after destination. Whether exploring the RV resort, camping under the stars, or indulging in the hot springs, guests are sure to create lasting memories in this mountainous haven.
Beyond the resort's embrace, the Columbia Valley is a canvas painted with trails of exploration and wildlife. It's a gallery of natural wonders, inviting the wanderer to explore, to witness, and to be a part of nature's masterpiece.
So, pack your wanderlust, let the wheels roll, and journey to where the hot springs await. At Fairmont Hot Springs Resort, every moment is a note in a symphony of experiences, inviting campers to discover the harmonious rhythm of the Rockies.
For more information, visit fairmonthotsprings.com.
Featured image from Fairmont Hot Springs Resort.