Songtsam, a luxury hotel and resort chain in the Tibet and Yunnan Provinces of China, has officially opened its first glamping property, Songtsam Glamping Palpa, in Tibet.
Nestled in Baiba Village on the Niyang River in Nyingchi, the glamping site offers guests an immersive luxury outdoor camping experience amidst the stunning backdrop of snow-capped mountains, lush forests, and verdant pastures.
Glamping, a fusion of glamour and camping, has seen a significant evolution and continues to trend globally. Songtsam Glamping Palpa seamlessly integrates luxury and nature, allowing guests to enjoy the tranquility of some of the world's most remote locations without compromising on comfort, safety, or amenities.
The glamping site features 30 accommodation tents, 4 dining tents, and 1 public leisure tent, all crafted by Tentipi, a top Nordic outdoor brand.
The accommodation tents, known as Aurum33, offer a spacious interior of 33m², ensuring guests never feel constrained. Each tent is equipped with modern amenities including a private bathroom, continuous hot water, an exquisite copper wash basin, and a toilet with automatic flush and heating functions.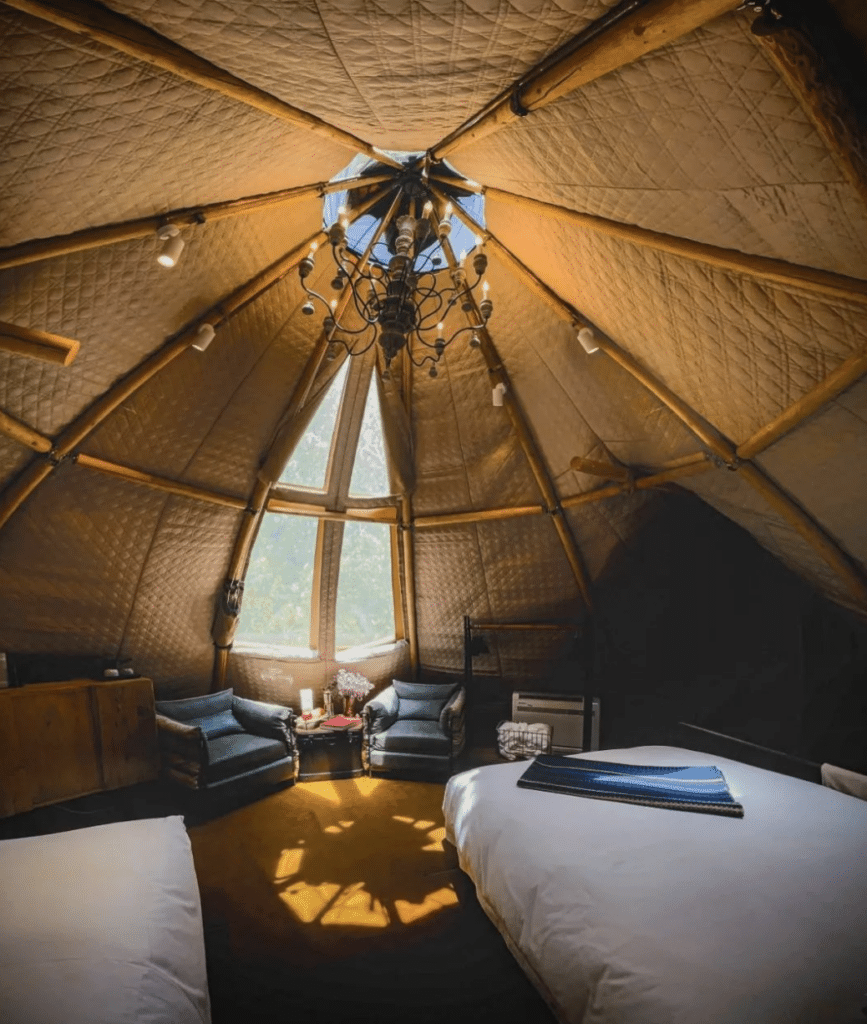 Photo courtesy of Songtsam
The dining tents, nicknamed the "witch hat" for their unique shape, can accommodate up to 72 people dining simultaneously. The dishes served are prepared with locally sourced Tibetan ingredients, providing guests with an authentic taste of the region.
Songtsam Glamping Palpa also offers a variety of outdoor activities, from learning traditional Gongbu archery to horse riding. The site plans to introduce more outdoor adventures, including rock climbing, ziplining, rafting, mountain biking, and off-road motorcycling, in the coming months.
The launch of Songtsam Glamping Palpa coincided with the annual Wangguo Festival, a local harvest festival, further integrating the site with local traditions and culture. Songtsam's commitment to sustainability and eco-friendly tourism is evident in its employment of local villagers and its pledge to contribute a portion of its income to the development of Baiba village.
Founded in 2000 by Mr. Baima Duoji, a former Tibetan Documentary filmmaker, Songtsam is the only collection of luxury Tibetan-style retreats focusing on the concept of Tibetan meditation by combining physical and spiritual healing.
The company's mission is to inspire guests with the diverse ethnic groups and cultures of the region while supporting the economic development of local communities and environmental conservation within Tibet and Yunnan.
For more information about Songtsam and its offerings, visit their official website. The opening of Songtsam Glamping Palpa marks a significant milestone in the continuous growth of glamping. With its unique blend of luxury, adventure, and cultural immersion, Songtsam Glamping Palpa is set to become a premier destination for discerning travelers seeking a unique and immersive travel experience.
Featured image from Songtsam.