What if one can make the unpredictable predictable? In a situation where weather can make or break a camping trip, Sensible Weather's Weather Guarantee aims to revolutionize campground bookings by providing reassurance for both campers and campground owners.
This innovative approach to weather prediction is offering a new level of confidence for travelers seeking sunny skies and enhancing the overall experience at campgrounds, RV parks, and glamping resorts.
The climate technology company was founded in 2019 by climate scientist Nick Cavanaugh and is backed by the National Science Foundation as well as executives from leading fintech and travel brands.
Their seamless consumer experience relies on fast, accurate data, eliminating the need for a claims filing process and providing same-day payouts through various methods.
The Need
Rain or shine, those in great need of time in nature will continue their journey. Still, there remain travelers who prefer camping when the sun's out—often skipping the trip altogether with the slightest possibility of rain.
This comes as no surprise. From then until now, weather has played a significant role in every kind of trip. Luckily, advancements in technology have paved the way for weather prediction innovations such as Weather Guarantee.
This service, offered by Sensible Weather, is built upon cutting-edge satellite imagery and climate analytics developed from over a decade's worth of research in industry and academia, Founder & CEO Nick Cavanaugh told Modern Campground.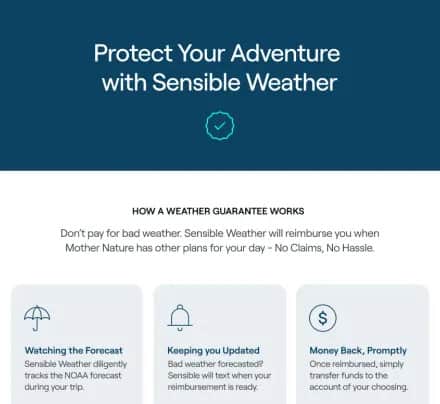 In action, anyone who booked a campsite online and opted for Weather Guarantee will be automatically reimbursed their daily rate if they experience rain, poor air quality, or other undesirable weather during any day of their booking.
"Sensible's Weather Guarantee is an experiential guarantee," Cavanaugh clarifies.
Unlike travel insurance policies that cover things that go wrong prior to a trip or while on the way to a destination, Weather Guarantee only kicks in once a traveler is in a destination and experiences inclement weather.
"With our data-centric automated reimbursement process, we have the ability to turn the insurance claims process on its head, proactively triggering the claims process based on preset weather forecast parameters," he shared.
The Weather Guarantee Advantage
Despite common misconceptions, Weather Guarantee does not completely tip the scale in favor of campers alone. In fact, consistent feedback Sensible Weather has been receiving from park owners is that they have observed a significant uptick in bookings around shoulder seasons as well as a drop in the number of cancellations due to weather.
For Tentrr CMO Todd King, while campgrounds cannot control the weather, offering automatic reimbursement for any reservation impacted by rain can make the camping experience even more enjoyable for campers.
"The number one reason campers are hesitant to commit to a camping trip is the possibility of rain. Our partnership with Sensible Weather eliminates this concern and further enhances Tentrr's unique outdoor experience for our campers," he said.
Sensible Weather has recently integrated with Tentrr, as well as Campspot and Aspira/Reserve America, so private campground owners are equipped with the opportunity to offer guests weather guarantees seamlessly within the checkout flow.
Per Cavanaugh, offering Weather Guarantee is one of the ways to increase guest satisfaction, and also booking confidence to increase conversion.
"Even the most spontaneous traveler can get frustrated when mother nature has other ideas for their day. Sensible Weather covers the campground and the visitor to ensure the best experience no matter what's in store when it comes to weather," the executive told Modern Campground in an email interview.
Because of the peace of mind and confidence the guarantee brings, he said guests are more likely to book and re-book.
In addition to its benefits to campground owners, Sensible Weather has a revenue share program with partners—an ideal way to increase passive revenue for campground owners.
Looking Ahead
As technology continues to advance and as the outdoor hospitality industry continues to grow, Cavanaugh said the company is focused on rolling out protection for other weather perils, especially as the company recognizes that the types of weather that impact the guest experience differ per locale and times of the year.
In the coming years, the ever-evolving industry is set to grow even further, but not without roadblocks.
At the moment, Cavanaugh said the latest issue that threatens travel lies within economic frustrations with inflation and looming recession. Still, he holds on to the resilience of the industry, saying that people still intend to travel despite higher prices, but are being more selective and strategic in planning their trips.
He also acknowledged the skyrocketing growth the industry has seen during the pandemic camping surge.
"With this growth, Sensible Weather still recognizes how much planning and investment goes into an outdoor adventure, and aims to empower people to participate and enjoy while feeling at ease with the potential outcome, whether it be rain or shine," he said.