Earl was taking a break from his busy executive job in the RV industry when an eye-opening encounter with a Black family ignited a desire to create a company that will, later on, introduce the wonderful world of camping to the people who have been avoiding it for generations.
Earl B. Hunter Jr., the founder of Black Folks Camp Too (BFCT), took a journey across North America with his son in 2015. The duo visited over 49 campgrounds across 20 states but noticed few to no "Black folks" pitching their tents or roasting marshmallows over the campfire during their three-month journey.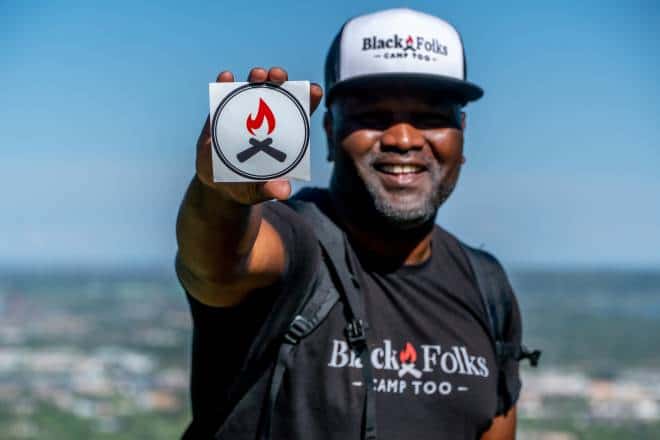 "We traveled, went to 49 campgrounds around 20 states, and we didn't see any Black folks at all. We saw one Black family. [They] challenged me and said, 'hey, look, you're an executive in the industry. You should probably want to change it,'" Hunter shared in an interview with Modern Campground.  
Today, the company is keen on its efforts to remove fear, acknowledge, and invite "more" Black folks to camp and enjoy the outdoor lifestyle with any and everybody. The company pushes its cause by teaming up with the people in the outdoor industry and educating members of the Black community through its digital education initiative (DEI).
"Our job is to educate folks, and we do that in a very systematic way. We do a lot of digital education, and we partner with a lot of folks in the outdoor industry who want to help us and drive this. We're a business," the founder said. "We're not a charity; we're not a 501(c)(3). We drive the business," he added.
In an interview with Modern Campground, the company's founder said that generational fear is one of the most significant factors limiting people of color from going to the woods and camp.
"You have that generational trauma, and you don't have any knowledge. You don't want to learn about something like that [camping]. You don't want to take a nature path. You don't want to do anything in the woods; you try to stay as far in the woods or camping as you can," he shared.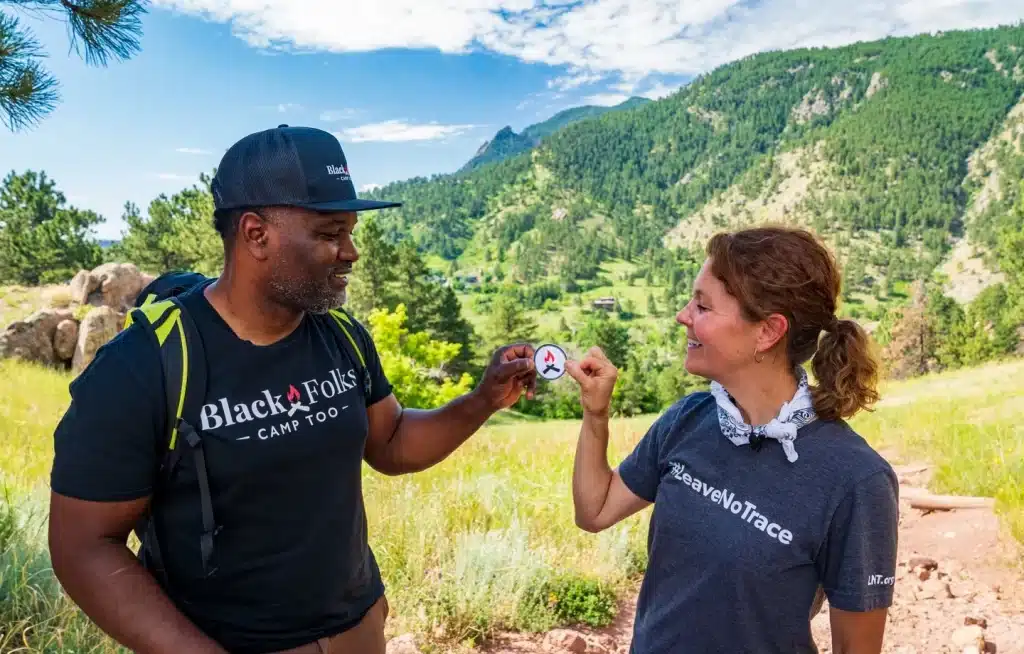 "There weren't any laws that kept the other folks out of the outdoors [but] there were laws that kept the Black folks out of the outdoors. Some laws were perpetuated concerning segregation to keep black folks out of the outdoors. It's not that we didn't want to go; a lot of us were told not to go," he added.
Today, the company, along with its partnerships, is changing that.
Unity Blaze is Black Folks Camp Too's movement with the goal of creating an impact that leads back to its three main drives and making camping diverse and inclusive.
The campfire in their logo is what Hunter named the "Unity Blaze," representing camping for all where campers must treat everyone, everywhere, equally. Hunter noted that the company's efforts are not to encourage camping exclusively for Black Folks but to get more people of color to enjoy the great outdoors.
"It didn't just say 'treat black folks equal.' It says 'everyone, everywhere, equally.' No matter your race, your age, or your gender," he said.
One of the company's recent partnerships was with outdoor recreation gear brand Oboz, creating the Black Folks Camp Too (BFCT) O-Fit Plus insole featuring the BFCT Unity Blaze. Hunter said that the money raised from the collaboration would be allocated towards the DEI, teaching and encouraging more first-time campers to set foot in the great outdoors.
"We think that you can learn to do this on your own and feel safe doing that because the very safe folks that are out there will be wearing unity blades, and they'll be letting you know they treat everyone everywhere equally," he said.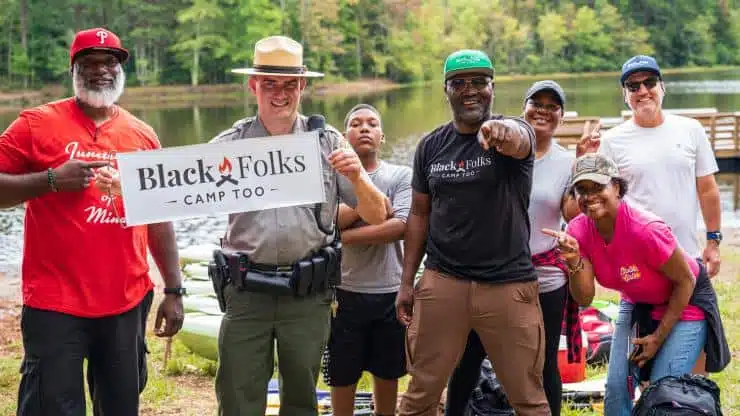 Also, part of the company's initiatives is creating scholarships for Historically Black College and University (HBCU) alumni to obtain their professional outdoor industry certificate. Black Folks Camp Too also helps alumni get their Leave No Trace (LNT) Master's Educator certificates and a Black Folks Camp Too (BFCT) Professional Outdoor certificate.
"What we're doing is we're enhancing, and we're sharing the word 'unity.' We want those folks to amplify that when they get out in the field or when they get out in their workplace," the Black Folks Camp Too founder said.
BFCT also works with campgrounds and RV dealers, encouraging them to fly the Unity Blaze flag at their campgrounds, signifying their support for unity among all campers regardless of race, religion, or gender.
"We want campgrounds to fly our unity blades flag. We want them to say, treat everyone everywhere equally," the founder said.
What began as a break from his hectic work life to spend more time with his kids ended up sparking a movement, and it's just the beginning.
"January 2022 is the start of our mission on how we're going to galvanize folks. Black folks, White folks, Asian folks, Latino folks—everybody together sitting around this campfire talking, having a conversation, enjoying public lands, enjoying campgrounds—all that. That's what we believe," he said.
"We believe in harmony and unity in the outdoors," he added.
"No matter who you are or where you're from, we want to see folks around that campfire having a conversation because what we're going to find is we have more [similarities] than we have differences, my friend," said Hunter.
For more information, visit their social media or send them an email at info@blackfolkscamptoo.com or visit the website by clicking here.