As spring sets in and driving conditions improve, gas demand has surged across the United States, as per a report by the American Automobile Association (AAA) Gas Prices.
However, concerns about an economic recession have kept global oil prices near $70 a barrel, preventing a significant rise in gas prices.
The national average for a gallon of regular gasoline has dropped three cents since last week, now sitting at $3.43.
Andrew Gross, a spokesperson for AAA, commented on the situation, stating they may be seeing a "return to seasonal trends in demand with warmer weather and longer days, but waffling oil prices could mitigate any increase at the pump for now."
The Energy Information Administration (EIA) reported that gas demand rose from 8.59 million to 8.96 million b/d last week, while total domestic gasoline stocks decreased by a considerable 6.4 million barrels to 229.6 million barrels.
Under normal circumstances, this increase in demand combined with tighter supply would push pump prices higher. However, recent fluctuations in oil prices have kept gas prices relatively stable.
Compared to a month ago, today's national average of $3.43 is four cents higher, but it remains 80 cents lower than in the same period last year.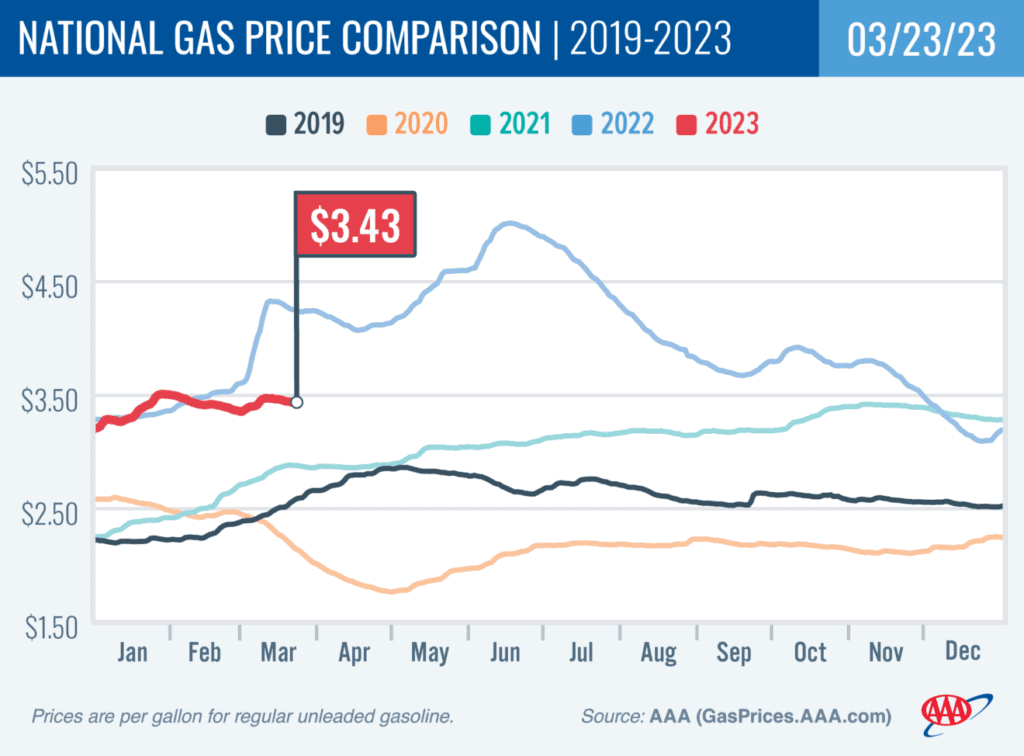 Among the states experiencing the largest decreases in gas prices since last Thursday were Colorado (-17 cents), Delaware (-13 cents), Ohio (-10 cents), Michigan (-8 cents), Nevada (-8 cents), Nebraska (-7 cents), New Jersey (-7 cents), Indiana (-7 cents), Utah (-6 cents), and California (-6 cents). The least expensive gas markets in the nation include Mississippi ($2.98), Oklahoma ($3.00), Arkansas ($3.03), Missouri ($3.03), Kansas ($3.04), Texas ($3.06), Louisiana ($3.07), Alabama ($3.09), South Carolina ($3.13), and Tennessee ($3.13).
Oil market dynamics have also played a role in the current situation. West Texas Intermediate (WTI) increased by $1.23, settling at $70.90 during Wednesday's formal trading session.
Crude prices experienced a rise following the EIA's report of growing demand and reduced gasoline stocks, signaling to the market that demand could be stronger than anticipated this year, despite ongoing economic concerns.
Additionally, the EIA reported that total domestic commercial crude inventories increased by 1.1 million barrels to 481.2 million barrels last week.