In a significant gathering that underscores the vitality of the camping industry in New Jersey, over 75 members convened for the annual New Jersey Campground Owners & Outdoor Lodging Association (NJCOA) fall tour and membership meeting.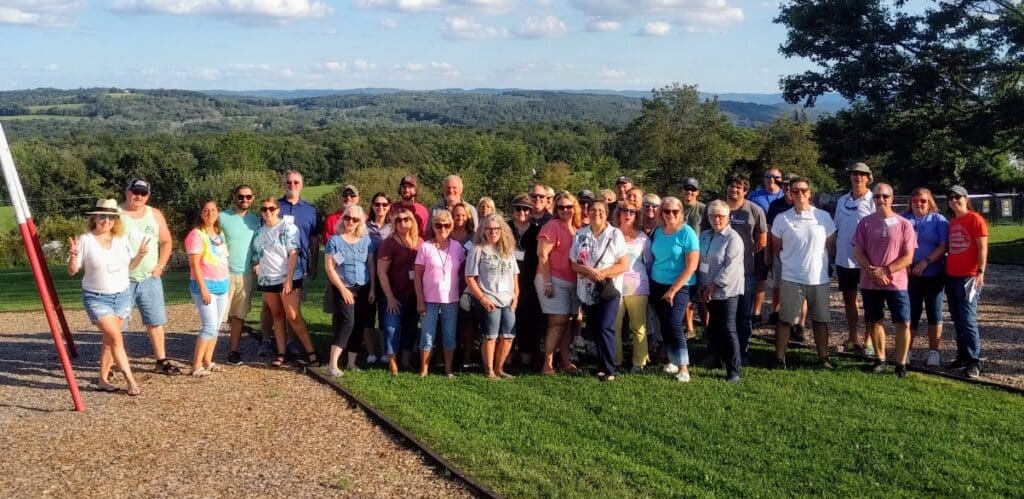 Held from September 12-14, at the scenic Kymer's Camping Resort in Branchville, NJ, the event was a testament to the thriving community of campground owners and operators in the state.
Joann DelVescio, NJCOA executive director, painted a vivid picture of the event, describing it as a "whirlwind three days."
"Each year we gather in a different region to learn more about our state and our fellow campgrounds. The Skylands Region has the highest points in the state and incorporates miles of the Appalachian Trail and the Delaware River. Along the tour we sampled local craft beverages at Milk Street Distillery, visited Beemerville Orchard for apples and cider, and enjoyed a stop at the Meyer's RV location in Branchville," DelVescio said.
Attendees had the opportunity to immerse themselves in the beauty of the northern Skylands vacation region. This region, a gem in New Jersey's crown, is renowned for its breathtaking high points, the iconic Appalachian Trail, and the serene Delaware River. Such attractions not only enhance the camping experience for visitors but also offer campground owners unique selling points to promote their sites.
Participants embarked on enlightening tours of local campgrounds, delved into the local culture by visiting attractions like the Milk Street Distillery and Beemerville Orchard, and enriched their knowledge through informational seminars. The association's annual meeting was a highlight, marking the election of dedicated officers and the celebration of outstanding achievements with award presentations.
For private campground owners and operators in New Jersey, such events are invaluable. They offer a platform to network, share best practices, and gain insights into the latest trends and innovations in the camping industry. The tours, for instance, provided a firsthand look at how fellow campground owners are enhancing their facilities, offering innovative services, and ensuring memorable experiences for their guests.
The election of Justin Crane as the President of NJCOA was a momentous occasion. Representing the third generation of his family to assume this role, Crane's election symbolizes the deep-rooted commitment of families in New Jersey to the camping industry. His leadership is expected to usher in a new era of growth and innovation for campground owners in the state.
The awards presented during the meeting celebrated excellence in various categories, from customer service to creative activities. Such recognition not only boosts morale but also sets a benchmark for other campground owners to aspire to.
Support for the event came from a diverse group of NJCOA members, reflecting the collaborative spirit of the camping community in New Jersey.
Featured image from New Jersey Campground Owners & Outdoor Lodging Association.