In a landscape where the desire for outdoor activities and reconnecting with nature is intensifying, the newly unveiled Silver Birch Resort in Williamsburg, Michigan, is poised to make waves in the glamping and outdoor hospitality sector.
Setting itself apart, this resort intricately weaves the camping experience with lavish comforts, with a unique offering of residential-style geodesic domes.
For many, camping has long been seen as an opportunity for reconnection – to nature, to family, and to simpler times. But the lack of amenities often proved a deterrent for some.
Woodland Creek Furniture owner Rob Evina and business partner Mark Grattafiori aimed to bridge this gap by creating a space that combines the allure of the great outdoors with the amenities of a top-tier resort.
Taking inspiration from the fond memories of their own family vacations, the duo founded Silver Birch Resort on a sprawling 75-acre property located on Moore Road in Whitewater Township. The newly-opened resort is built upon a "camping meets luxury" philosophy, offering six state-of-the-art, fully furnished geodesic domes.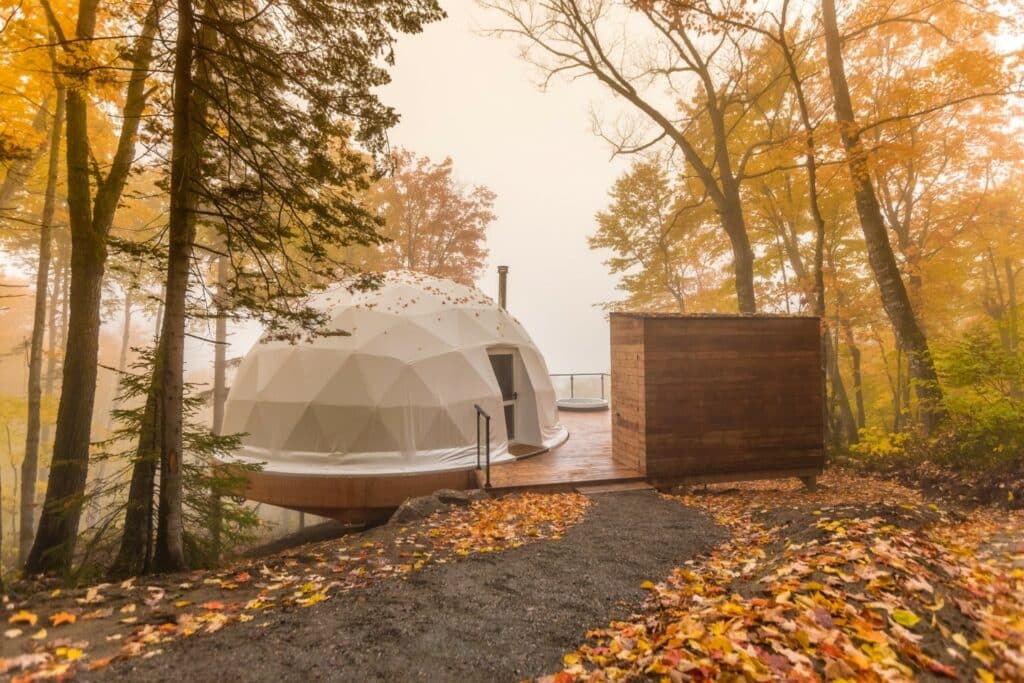 Each dome is an encapsulation of convenience and comfort. Spread over 780 square feet, they boast 16-foot-high ceilings, a full kitchen, a private bathroom, AC/heating, and an outdoor deck.
They even come equipped with hammocks and fire pits, as well as outdoor tubs for an authentic yet comfortable camping experience.
Designed to accommodate between 2 to 6 guests, the resort ensures privacy by spacing out units at least 100-150 feet apart.
The resort has been careful to preserve the property's natural beauty. Guests can explore miles of trails and encounter diverse wildlife, including deer, raccoons, porcupines, and the occasional bear. Evina emphasizes that the resort has a strong commitment to tranquility and peace, with no encouragement of dirt bikes or off-road vehicles.
Glamping or glamorous camping has become a significant trend within the industry, offering the joy of camping without the inconvenience.
While geodesic domes are not entirely new to this sector, Silver Birch Resort has taken it a notch higher. The domes are not merely luxury tents but fully-fledged residential standards. The resort's initial offering is a testament to this, reflecting a firm desire to dispel the stereotypes around glamping and elevate the experience altogether.
Notably, the domes are snow load-bearing and designed to remain in place throughout the year, even if they're currently intended for use from May to October.
There are plans to expand the resort by adding six larger domes with a living space of 1,200 square feet and 20-foot ceilings by next spring. Heated cabins for winter rentals are also on the cards, reflecting the resort's adaptive and forward-thinking nature.
Even before its opening, the resort has seen impressive demand with 120 reservations, nearly selling out for July. This initial interest speaks volumes about the potential success of this model. Furthermore, inquiries have been made about hosting weddings and corporate retreats, signaling a wide range of opportunities for the resort in the future.
Featured image from Silver Birch Resort.