Leading voices and unique perspectives from the RV and outdoor recreation industries come together for an exciting discussion on the latest news and trending topics next Wednesday, September 28, 2022.
The episode will feature special guests, Shyft Group's Specialty Vehicles President Steve Guillaume, and full-time RV-er and one-half of Our Downsized Life Peggy Staver.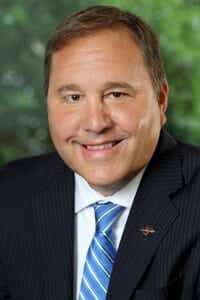 Guillaume joined the Shyft Group in 2015, taking charge of the company's specialty vehicles business unit, which includes its RV chassis portfolio, defense and government vehicles, and aftermarket parts and accessories. Prior to Shyft, Guillaume has had extensive experience taking leadership roles across multiple industry segments, including specialty vehicles, commercial trucks, and diesel engines—with a 24-year stint at Navistar.
Staver stepped out of her corporate career in 2016 and was later joined by her husband Andy, who started a new career as a traveling nurse. They soon found themselves venturing out onto the open road, permanently living in their RV. Since then, they began documenting their travels as well as their experiences owning and modifying their RV through their blog, Our Downsized Life.
Guillaume and Staver will be joined by recurring guests and leaders in the RV and outdoor recreation industries: Phil Ingrassia, President of the National RV Dealers Association (RVDA); Eleanore Hamm, President at RVDA of Canada; Shane Devenish, Executive Director at the Canadian Recreational Vehicle Association; Kurt Repanshek of National Parks Traveler; and Susan Carpenter of the RV Women's Alliance.
Apart from discussing key trends, challenges, and opportunities for the RV and outdoor recreation industries, the show will also take a look at Guillaume's personal experiences and insight regarding the RV industry, the Shyft Group's journey to becoming one of Detroit's fastest-growing businesses, and Staver's stories on the road as an RV owner.
September 21 Episode Recap
In this week's episode of MC Fireside Chats, CRR Lifestyle Company COO Mike Harrison Mike Harrison and Papoose Pond Family Campground & Cabins Co-owner Duncan Winship, and App My Community Founder Joe Duemig were joined by special guest Wild Energy, Inc. President and CEO Mike Sorensen as they discussed pressing issues in the camping industry while highlighting how campground owners can benefit from utilizing electricity to expand their business.
According to Harrison, the camping and RV park industries are experiencing a healthy, continued growth. However, he noted that the recent announcement of raised rates on top of inflation could impact the industry in the near future. Duemig later added that the season for campgrounds is slowly winding down as we head into autumn.
Sorensen of Wild Energy, a company that provides new energy monitoring and control solutions for the RV park and campground industry, said that businesses like campgrounds had changed significantly over the last 12 months. He noted that Wild Energy has seen electricity rates shift and how it impacts the rate decision-making of campground owners.
When asked about how they help campground owners offset dramatic increases, Sorensen replied: "It will take a little bit of time, the industry is part of the whole education process—[education] is an important aspect of it."
About MC Fireside Chats
MC Fireside Chats is a weekly show devoted to the outdoor hospitality industry. The show is hosted by Brian Searl, the founder and CEO of Insider Perks and Modern Campground, and Cara Csizmadia, member services coordinator at the Canadian Camping & RV Council (CCRVC).
Airing live every Wednesday at 2 p.m. (ET), MC Fireside Chats features guests from the camping and RV industry who share their take on the current state of the camping, glamping, and RVing sectors as well as upcoming innovations in RV parks, campgrounds, outdoor resorts, glamping, and the RV industry.
To listen to previous episodes of MC Fireside Chats, visit: https://moderncampground.com/mc-fireside-chats/.