In the realm of outdoor equipment, innovation is the name of the game. Litheli has recently unveiled its groundbreaking products – the eWagon W1 Pro and the Power Hub Eclair 1000.
These products were introduced through a successful crowdfunding campaign on Indiegogo, capturing the attention and interest of outdoor enthusiasts worldwide. The campaign not only highlighted the unique features of these products but also emphasized their potential to transform outdoor adventures.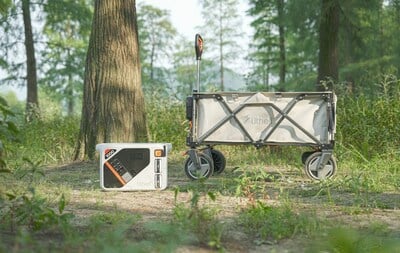 The eWagon W1 Pro, equipped with an electric drive, promises to redefine mobility in outdoor settings. Its design prioritizes convenience, allowing users to transport their camping gear with ease.
On the other hand, the Power Hub Eclair 1000 emerges as a beacon of reliability. With its rapid charging capabilities, it ensures that devices remain powered, a feature especially crucial in remote areas where consistent power sources are scarce.
For campers and RVers, these products offer a blend of efficiency and convenience. The eWagon's storage capabilities combined with its electric drive make it an invaluable asset for transporting equipment, according to a press release.
The Power Hub Eclair 1000, with its robust power supply, ensures safety and connectivity. In the vast expanses of the great outdoors, having a reliable power source can be the difference between a memorable adventure and a challenging ordeal.
Beyond their individual features, these products resonate with the eco-friendly ethos of many campers and RVers. Their design and functionality reflect a commitment to sustainability, a trait highly valued in the current outdoor equipment market.
User testimonials and reviews further attest to the practical benefits of these products. Many highlight their versatility, adaptability, and the tangible difference they make in real-world outdoor scenarios.
In the competitive landscape of outdoor equipment, Litheli's offerings stand out. Their unique features, combined with their potential applications, position them as frontrunners in the industry.
For those keen on exploring the great outdoors, Litheli's latest offerings promise an experience that is not only enjoyable but also environmentally conscious and efficient. The future of outdoor adventures looks promising, with Litheli leading the way.