Discover a unique and luxurious getaway in the heart of Miami Dade County at LULU Glamping, a first-of-its-kind glamping experience in South Florida that seamlessly blends nature with modern design.
According to an article by My Modern Met, guests are invited to immerse themselves in the beauty of the outdoors while enjoying all the comforts of technology.
Nestled amidst lush greenery, LULU Glamping offers privacy and tranquility, providing guests with a front-row seat to nature.
Photo courtesy of Indiegogo
The facility features spacious glamping sites, each boasting 1,100 square feet divided among two geodesic domes and a private patio, ensuring a comfortable and immersive nature retreat.
The main dome, spanning 364 square feet, is a haven of comfort and luxury, accommodating up to four guests. It features a plush king-size bed, a well-equipped kitchenette, and a cozy lounge area, creating a home away from home amidst the wilderness.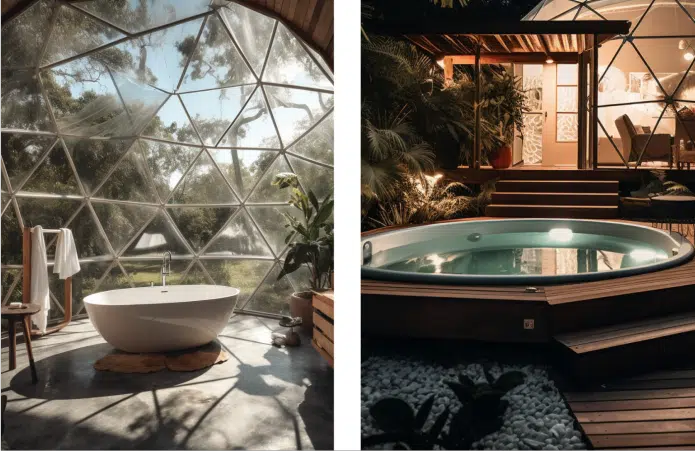 Photo courtesy of Indiegogo
A separate dome houses the bathroom facilities, complete with a soothing bathtub and shower, ensuring guests have everything they need for a comfortable stay.
The thoughtful design of the domes, with their expansive 15-feet-wide skylights, offers unparalleled opportunities for stargazing and connecting with the natural world.
Sustainability is at the core of LULU Glamping's mission, with the geodesic domes designed to have a minimal environmental impact.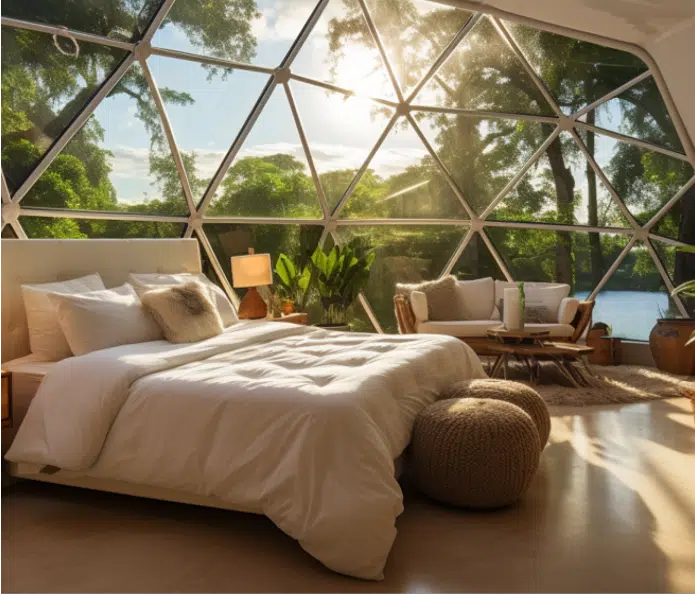 Photo courtesy of Indiegogo
They consume 50% less energy for heating and cooling compared to conventional structures, and are also hurricane-proof, addressing the unique challenges of the South Florida climate.
Guests can explore the surrounding nature trails, observe the local flora and fauna, and participate in outdoor yoga classes, fully immersing themselves in the natural beauty of Miami Dade County.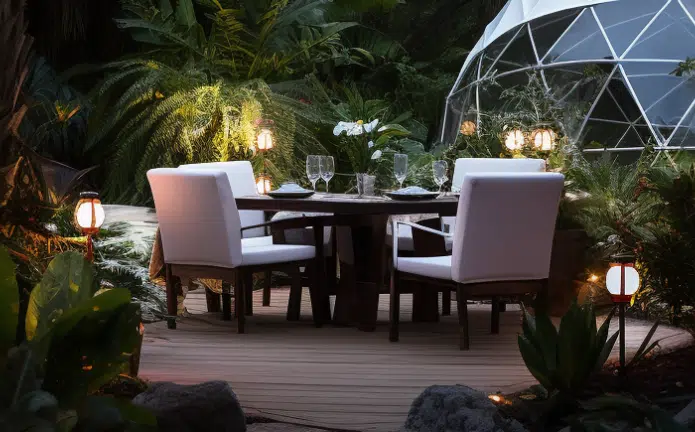 Photo courtesy of Indiegogo
The private patios feature hot tubs, dining pergolas, and barbecue areas, offering additional ways to relax and connect with nature.
The global trend of glamping has found a luxurious expression in LULU Glamping's geodesic domes, combining the benefits of these unique structures with the desire for comfortable and sustainable outdoor experiences.
Geodesic domes are gaining popularity for their durability, energy efficiency, and ability to offer panoramic views of the surroundings, as noted by the Glamping Dome Store.
Booking a stay at LULU Glamping is made easy through their Indiegogo campaign, where potential guests can secure their spot and take advantage of special prices.
The facility is set to open its doors this November, promising a unique and unforgettable glamping experience.
To stay updated and learn more about this luxurious nature retreat, guests are encouraged to follow LULU Glamping on Instagram. Here, they can get a glimpse of the stunning geodesic domes, the lush surroundings, and the myriad of activities and amenities available during their stay.
LULU Glamping in Miami Dade County offers a luxurious and sustainable way to connect with nature, providing guests with a unique and comfortable outdoor experience.
With its geodesic domes, thoughtful amenities, and commitment to sustainability, it stands as a testament to the possibilities of modern glamping and the beauty of nature.
Featured image from Indiegogo.