The Glamping Show Americas 2023 keeps on unfolding a plethora of insights and innovative strategies for enthusiasts and professionals in the glamping business through its free exhibitor presentations, such as the "White Duck Outdoors: Fireside Chat with Chris Jeub from Monument Glamping".
Recap of Day 1: A Dive into Glamping Innovations
The White Duck Outdoors presentation, led by Chris Jeub from Monument Glamping, took place at Booth #1200 from 2:45 pm MT to 3:15 pm MT.
It provided sage advice on navigating through the complexities of building a glamping operation, emphasizing the importance of maintaining healthy relationships with neighbors and government entities during the development phase.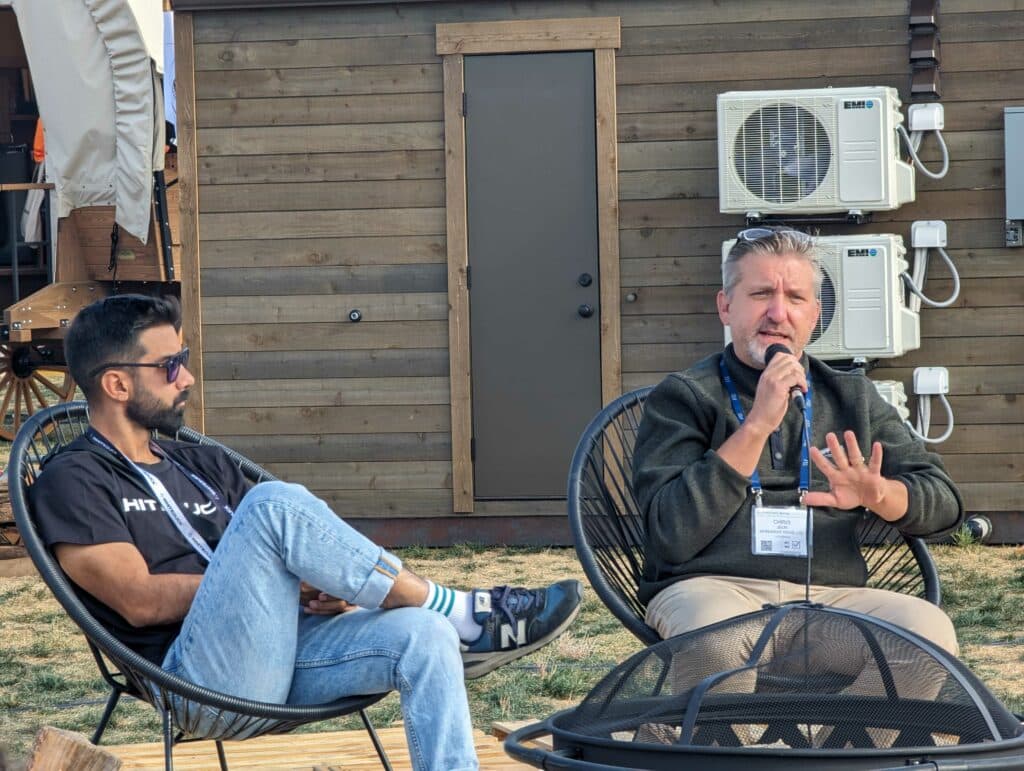 In another enlightening session, Newbook showcased its all-encompassing Campground Management Software at the Windmill Meeting Room from 2:15 pm MT to 2:45 pm MT. The demonstration highlighted top features designed to simplify and streamline daily operations, drive growth, and enhance guest experiences in the glamping business.
Azure Printed Homes took the attendees on a journey through sustainable luxury travel, exploring the transformative power of 3D-printing technology using recycled plastics in the glamping industry.
This presentation was held at Booth #905 and explored how this innovative technology is revolutionizing the glamping industry by creating unforgettable and eco-friendly experiences.
Moreover, HoneyTrek, presented by Mike & Anne, shared their 11-year global journey and their experiences from over 250 boutique hotel and glamping stays worldwide. Held at Booth #1002, the duo shared their most memorable experiences and how these can be applied to enhance the offerings of glamping camps.
Day 2: A Glimpse into Today's Presentations
Day 2 promises a continuation of insightful presentations, starting with "Peak Energy Technology: NEC Mandate, the Environment, Electricity, and Your Glamping Resort" at the Windmill Meeting Room from 2:15 pm MT to 3:00 pm MT.
William Weideman, president of Peak Energy Technology LLC, will delve into the impact of the NEC Surge Protection Mandate on glamping resorts and explore strategies for reducing operational costs while minimizing the carbon footprint.
The "HoneyTrek: Ask The Glampers!" session, scheduled for 2:45 pm MT to 3:15 pm MT at Booth #1002, invites attendees to an open discussion on the guest experience, providing a platform to ask the Howards about their extensive experiences in glamping and gain insights that can be applied to their own ventures.
Lastly, "White Duck Outdoors: Fireside Chat with Casey O'Keefe, The Dyrt," taking place at Booth #1200 from 2:45 pm MT to 3:15 pm MT, will explore topics ranging from acquiring new customers and adding revenue streams to optimizing listings and maximizing visibility through various online booking channels.
The session will also delve into the perks of commission-free bookings and the utilization of a PMS for direct bookings.
From exploring technological advancements in 3D-printed structures to diving deep into the practicalities of glamping operations and management software, the event has provided a comprehensive overview of the current state and future trends of the glamping business.
As the event progresses, attendees continue to explore, learn, and network, gaining valuable knowledge that promises to shape the future of glamping in a sustainable, profitable, and guest-centric direction.