New water slides, laser tag courses, gaga ball pits, and other attractions are being added to Jellystone Park Camp-Resort locations in preparation for the summer camping season.
"Jellystone Park locations offer a wide variety of family entertainment options, and our locations continue to add new attractions and make improvements to heighten their appeal," said Trent Hershenson, vice president of marketing for Camp Jellystone, which franchises more than 75 Jellystone Park locations across the U.S. and Canada.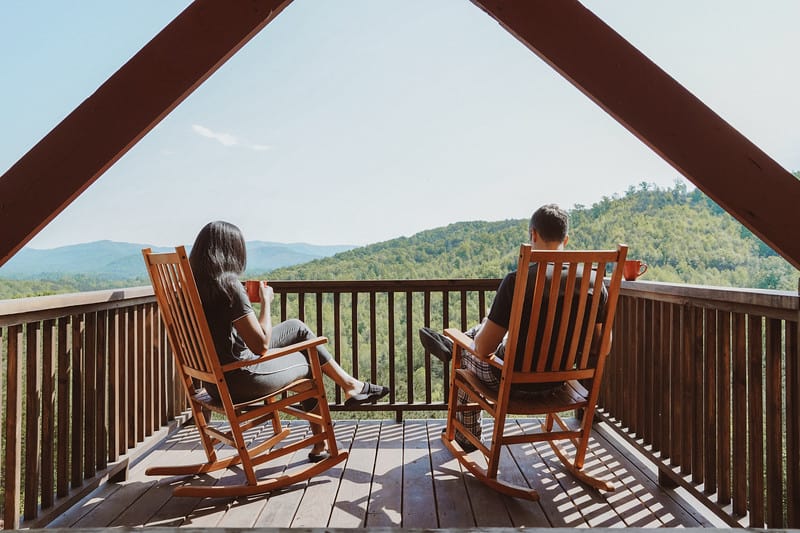 New attractions and enhancements underway at Jellystone Park locations across the country include a new three-story lookout tower at this Jellystone Park location in Bostic, North Carolina. The new attraction is being erected on top of 1,665-foot Cove Mountain. The tower will feature viewing decks on the second and third floors.
The park is also building an Alpine Coaster on Cove Mountain that will feature 1,025 feet of up track and 2,515 feet of down track for a total ride of 3,540 feet. Riders will be able to control how fast they go on the downhill section. New additions include a 200-seat amphitheater that is being built into a hillside and a new arts and crafts pavilion with 2,250 square feet of covered open-air pavilion space. The location is also building a new 600 square-foot Bears' Den. Guests will be able to come for private visits and experiences with Yogi Bear and his friends. The Bears' Den will also be equipped with large doors that can open up for group storytimes with the Yogi Bear characters.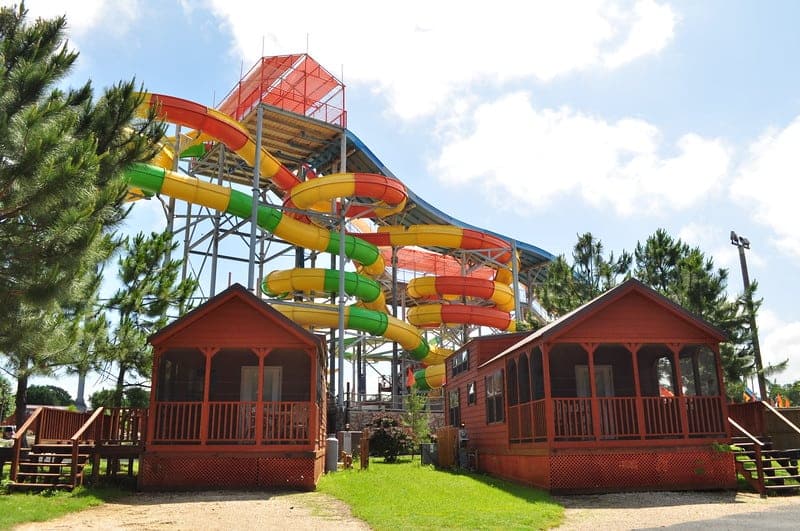 In Burleson, Texas, this park is adding a large outdoor swimming pool with a large sit-under waterfall and a swim-up smoothie bar as well as a large pool adjacent to a new 24,000 square-foot event center for activities and special events. The park is also adding a 16,000 square-foot wedding venue.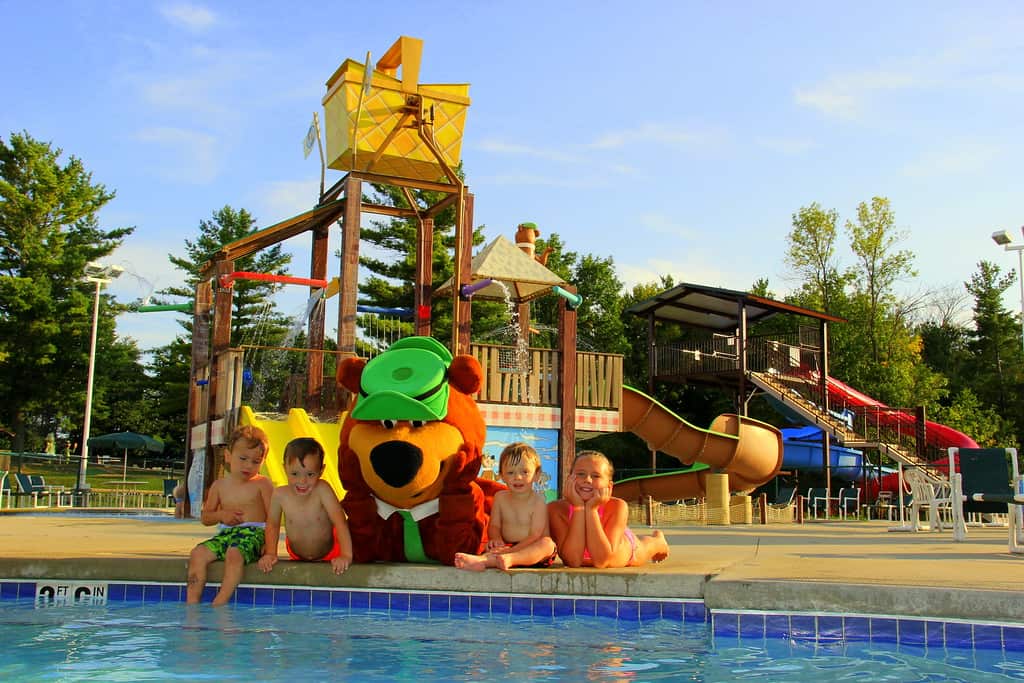 The Jellystone Park in Caledonia, Wisconsin has several improvements underway in 2022 including the addition of a fourth swimming pool in the park's water zone, which the park hopes to be done by summer. New Wibit sections are also being added to the park's floating obstacle course. New lighting is also being installed around Bear Paw Beach for the park's Northern Lights Drone Shows, which feature 50 drones that light up the sky like fireworks, but with more creative displays of lights that are synchronized to music. Two 350-foot-long slides are also being built on land for those who want to enjoy big slides without getting wet. The park has also purchased headphones for silent discos, in which participants dance to music only they can hear.
A water zone with two large slides and 64 interactive water features will soon hit the Jellystone Park in Fredericksburg, Texas. The property is also adding 36 RV sites. The park plans to add 17 glamping sites next year that will feature a variety of unique accommodations from furnished safari tents to covered wagons and tipis.
Furthermore, a property in Fremont, Indiana is adding laser tag as well as new swimming pool cabanas. The laser tag course will be open for both day and night play with games lasting 30 minutes. The pool cabanas will be offered as an optional "add-on" to guest stays. Each cabana will feature a mini-fridge, a smart TV, a ceiling fan, comfortable patio furniture, and a private space in which to lounge next to the pool.
In Glen Ellis, New Hampshire, a park is adding a 50,000-square-foot water zone that will include two swimming pools, two warming pools, a hydro storm dump bucket, and numerous interactive water play features. The water zone will also feature two 10-foot tall, 18-foot-long waterslides and two 20-foot-tall slides that are 108 and 116 feet in length. The water zone is expected to open sometime this summer. The park is also adding bocce ball.
Meanwhile, the Jellystone Park in Mexico, New York is adding a new Airstream snack bar and ice cream stand, while the one in Milton, New Hampshire is opening a new outdoor swimming pool.
Gaga ball, a community garden, and a dog park will be added to the park in Pierceton, Indiana while campers in Plymouth, Indiana can experience a gem mining sluice.
A location in Quarryville, Pennsylvania is installing new flooring for its splash pad, new structures for its laser tag course, new obstacles for its miniature golf course, and new concrete cornhole boards. The park is also installing new horseshoe pits.
Furthermore, in Tabor City, North Carolina, this park is adding a Gaga ball pit, an ExoPod outdoor fitness station, a silent disco, in which participants dance to music only they can hear; a shade structure for the swimming pool, and a new camp store. This park also added a new Yogi Bear-themed concession stand, the delivery of which was recently featured on an episode of A&E's "Shipping Wars."
This Waller, Texas park is making improvements to its water zone, including adding a new multipurpose play structure and new cabanas that seat up to eight guests and include refrigerators, TVs, and fans. New "Red Carpet" RV sites and cabin renovations are also planned.
To conclude the list, this park in Williamsport, Maryland has added a virtual reality room and offers several games, including a "Ghost Mansion" game in which the players, outfitted with goggles and headsets, fight with magic weapons to free the mansion of its ghosts.
About Camp Jellystone
With more than 75 locations across the United States and Canada, Yogi Bear's Jellystone Park Camp-Resorts feature fun attractions such as pools and water slides, non-stop family activities, up-close fun with Yogi Bear characters, and glamping-style accommodations. For more information about Yogi Bear's Jellystone Park Camp-Resorts, please visit www.jellystonepark.com. For information on franchising opportunities, please visit www.jellystonefranchise.com. Camp Jellystone is part of Sun Outdoors' family of brands.
About Sun Outdoors
Sun Outdoors is a leader in outdoor hospitality and is committed to its mission of offering guests exceptional and transformative outdoor experiences. With over 150 locations across the U.S. and Ontario, Canada, Sun Outdoors offers guests several ways to stay: from RV sites to vacation rentals, from tent camping to glamping, whether they stay for a weekend, season, or longer. Visit www.sunoutdoors.com to learn more.
Featured image from Jellystone Park Caledonia.