Even while Aleeyah Sanders, the co-founder of BLK Dream Camp, considers the 20-acre glampground "very small," she hopes to make a big difference by bringing more people outdoors to go camping and glamping.
According to the 2022 North American Camping Report of Kampgrounds of America (KOA), 54% of new campers in 2021 were from Non-White groups.
Despite the fact that new campers are on the rise, there is still a portion of those who want to experience the outdoors but are not quite sure where to go.
BLK Dream Camp aims to cater to all kinds of campers and show that the great outdoors is for everyone.
"We established the name to be very direct and inclusive of the Black Indigenous People of Color (BIPOC), as I am, you know, a black indigenous person of color myself," Sanders told Modern Campground in a Zoom interview.
"We want to make it very inviting for us to come out and explore this dynamic nature and world around us for many different reasons. It's very healthy to get outside and explore nature," Sanders added.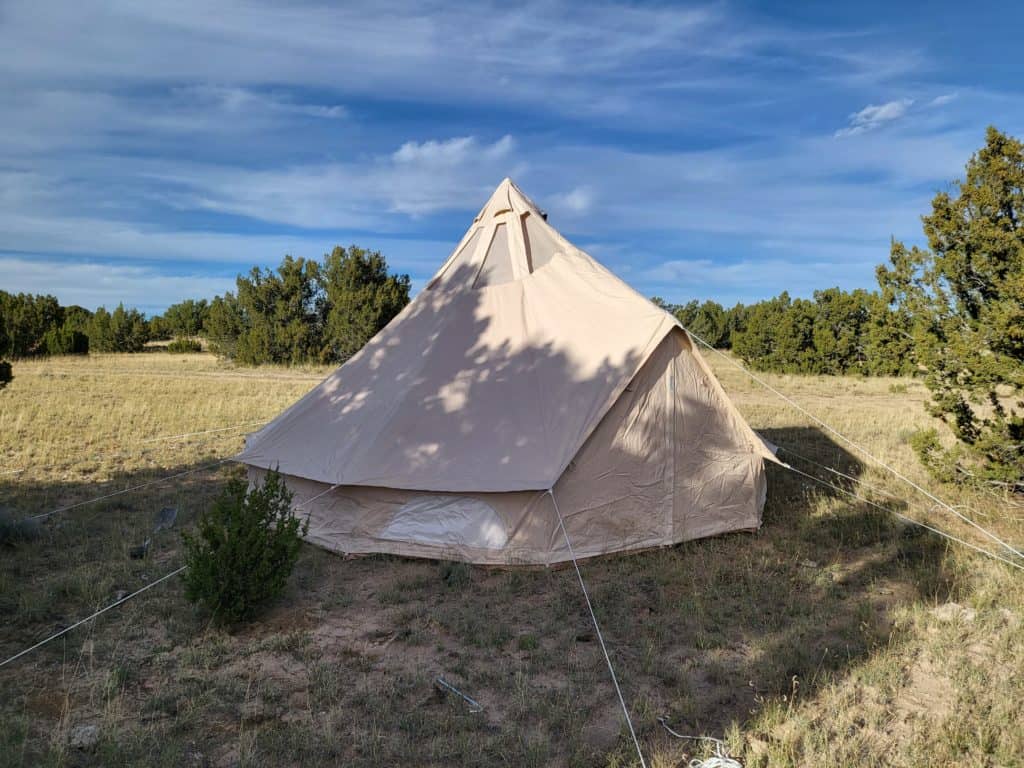 At the moment, the quaint campground offers two glamping bell tents both listed on Airbnb. There are also standard camping tents to rent. Guests can enjoy two firepits and an outdoor kitchen area during their stay.
An addition to accommodation options soon is an A-frame cabin, said Sanders. Upon completion, the structure will have a 4-feet deck on all sides. In an Instagram post, the team said it expects to finish building the structure next month.
"Naturesque" was how Sanders described the property during Modern Campground's conversation with her. The destination is nestled on untouched land in Arizona where each stay revolves around the campers and nature.
Yet, the businesswoman hopes to add more amenities for glampers soon such as WiFi and an on-site spa.
More than a glampground, however, BLK Dream Camp is a community, she said.
Having opened its doors to dreamers in July this year, the off-grid destination also offers programs related to food production and gardening, yoga, youth education programs, spiritual retreats, off-grid living, and more.
"[W]e want people to come here and dream and really be like an incubator of helping each other out on whatever we're trying to get off the ground," said Sanders.
Arts and entertainment are also cultivated at BLK Dream Camp through concerts, festivals, film production, and art galleries.
Guests they accommodate are usually younger campers who are in college or have just graduated college, but glampers in their 40s and those with children have also stayed on the glamping site.
"But we do want to branch out and accommodate all types of people, like, from families and older people who want to enjoy the outdoors," Sanders shared.
A young investor, Sanders began getting into the real estate business when she was just 21. After six years, she purchased the 20-acre property in Apache County, Arizona with hopes of accommodating more campers and helping turn dreams into reality as the business grows.
"I know other stigmas are that it can be scary to go out to a place that you don't know, and it's also scary given certain histories of the outdoors, but this is like a safe, inclusive place and anybody is welcome," Sanders said.
"…and we just want to be that safe haven and really [give access to] recreation for the people. Just be that place," she added.