In an exclusive interview with Modern Campground, GoCamp's CEO, Camila Ramirez, introduced the company's revamped technology platform that promises to reshape the campervan rental marketplace.
The upgraded platform offers several major enhancements, including advanced search and filtering options for renters. Potential renters can now filter their searches by vehicle type, experience type (e.g., pet-friendly, family-friendly), and geographic location.
"Our previous website served its purpose, but it fell short in empowering users to discover the perfect van," said Ramirez, comparing some breakthrough features and benefits.
"Our new system gives users more control over the search experience, allowing them to easily find and select the vehicle that best suits their needs and travel style."
The platform also emphasizes proximity, making it easier for renters to find campervans in their area, fostering accessibility and convenience. Furthermore, the renter dashboard, pricing transparency, enhanced renter screening, and overall, an improved digital experience are what make this platform revolutionary.
Meanwhile, for campervan owners, GoCamp has plans to roll out a comprehensive owner dashboard and platform in Q4 of 2023. This dashboard will grant owners greater control over their vehicles, reservations, and inquiries, further elevating their experience as part of the GoCamp community.
Digital check-out and check-in forms for key exchange, access to comprehensive booking details, and real-time alerts and email updates about their rentals will further enhance the owner experience, ensuring a seamless and transparent rental process.
"On the owner's side, we're about to introduce a comprehensive owner dashboard. This tool will allow van owners to easily manage their vehicle, inquiries, and reservations, giving them more control of their van and their rental business."
When asked how GoCamp's curated approach set it apart from other rental platforms, Ramirez said, "Our new technology simplifies the rental experience and offers users greater control, which we believe will make renting and listing a van on GoCamp more enjoyable."
"But we're just getting started. The future holds countless possibilities for how our technology will evolve, and we're ready to provide even more value to our customers in the years to come."
While the interview revealed that GoCamp has already soft-launched its new technology platform, a full public announcement is expected later in October. This makes it an opportune time for travelers to experience the benefits of this innovative campervan rental marketplace.
Data Protection and Trust
While ensuring trust and safety is a top priority for online platforms, GoCamp, a prominent player in the RV rental industry, understands the critical nature of safeguarding user data, including sensitive payment information and driver's license details.
From a technical standpoint, GoCamp has taken significant steps to implement industry best practices for data protection. Their approach includes robust encryption measures to secure all stored data.
Meanwhile, as part of their strategic decision, GoCamp has forged partnerships with industry-leading experts and applications such as Stripe and DigiSure to manage related services while ensuring the highest level of security.
GoCamp's commitment to data security extends to both sides of its marketplace, solidifying its position as a reliable and secure choice for both owners and renters in the vehicle rental space.
About GoCamp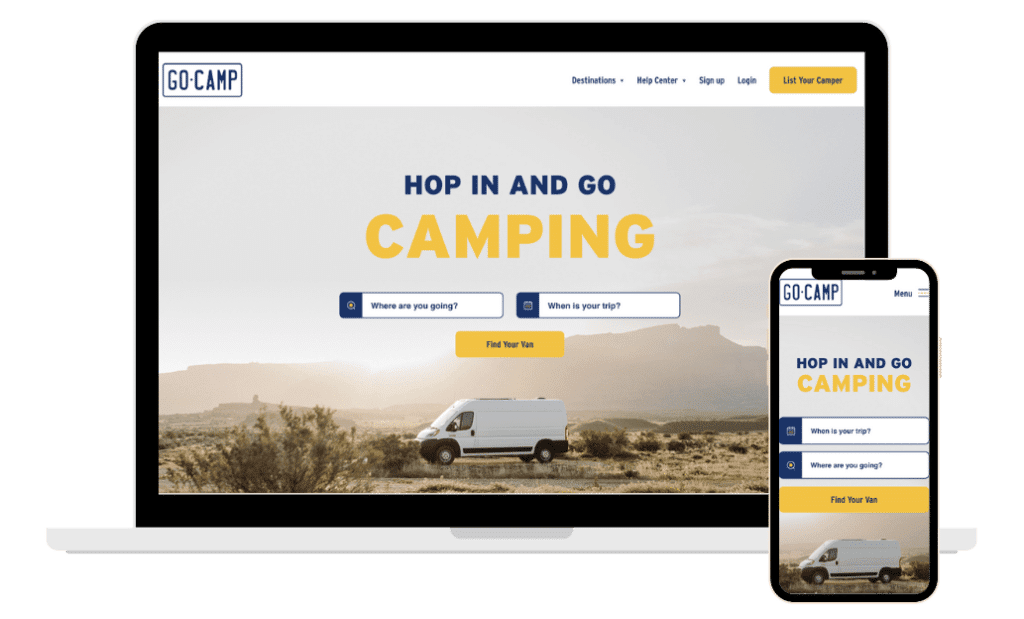 GoCamp, originally founded as a grassroots, boutique campervan rental company in 2017, has since evolved into a cutting-edge tech-enabled peer-to-peer campervan and recreational vehicle (RV) rental marketplace.
At its core, GoCamp is a platform that connects campervan owners with renters who are eager to explore the joys of van life or experience a road trip adventure across the United States.
One of GoCamp's distinguishing features is its commitment to curating a high-quality selection of campervans and RVs. This meticulous curation ensures that renters can trust the vehicles and owners on GoCamp's platform, ultimately enhancing their rental experience.
Featured image by GoCamp.