To elevate the travel experience, NC500 Pods, a glamping site located along the iconic Scottish North Coast 500 route, introduces an innovative accommodation concept: the Boujee Pods, emphasizing the "glam" in glamping.
The Boujee Pods, which are newly installed in NC500 Pods Achmelvich, is an exciting new offering aimed primarily at couples looking for a luxurious and unique camping experience. Unlike its traditional family-oriented pods, this new addition is designed to offer a romantic and lavish retreat.
"We obviously have the other pods which are more family-orientated, but then this one (Boujee Pods) aims more at couples," Tallia Flaher, a social media manager for NC500 Pods, told Modern Campground.
"If couples are coming, it's something with that more extra bit of luxury and something that they wouldn't have probably elsewhere around the route," she added. "It gives people more insight, more inspiration to come and visit our site."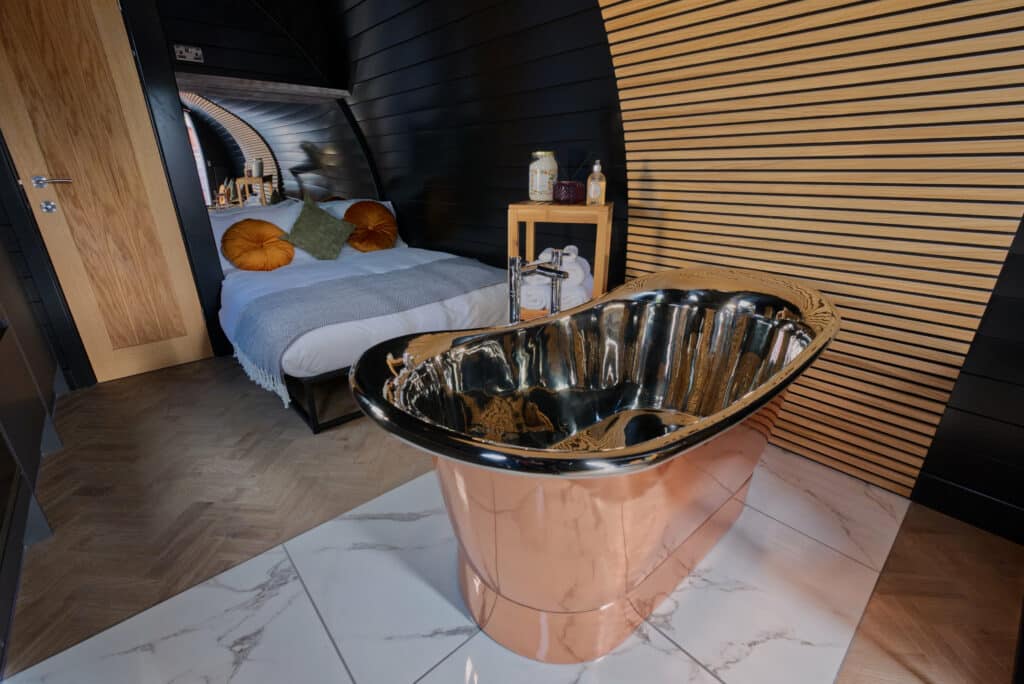 When asked if the Boujee Pods are only for couples, Flaher said the new addition has something for everyone; though initially, the glamping pods were only aimed at couples due to specific features, including the freestanding bath.
"But it works perfectly as well for friends that want a weekend away," she elaborated. "So the main aspect is obviously the freestanding bath, but it also has a separate ensuite bathroom. So if people don't wish to use the bath, say example it was two friends, then they do have the privacy to still have the shower."
How Boujee Pods Came to Life
During a recent trip to Bali, the founder of NC500 Pods, Calum MacLeod, and his partner and social media manager, Tallia Flaher, further enriched their vision of outdoor baths. This experience fueled the idea of Boujee Pods, an accommodation where guests can enjoy the luxury of a freestanding bath in a glamping site. 
"We recently went to Bali at the end of last year, and everything in Bali was kind of like very revolved around outdoor baths and things like that," she described. "And we took the ideas and came up with the freestanding bath in the glamping pod."To bring the idea to life, they collaborated with a design team at Glampitect. The result is Boujee Pods, a haven of luxury, which boasts a freestanding bath, an ensuite shower, a comfortable double bed, a fully equipped kitchen, and even smart lighting controlled by Alexa.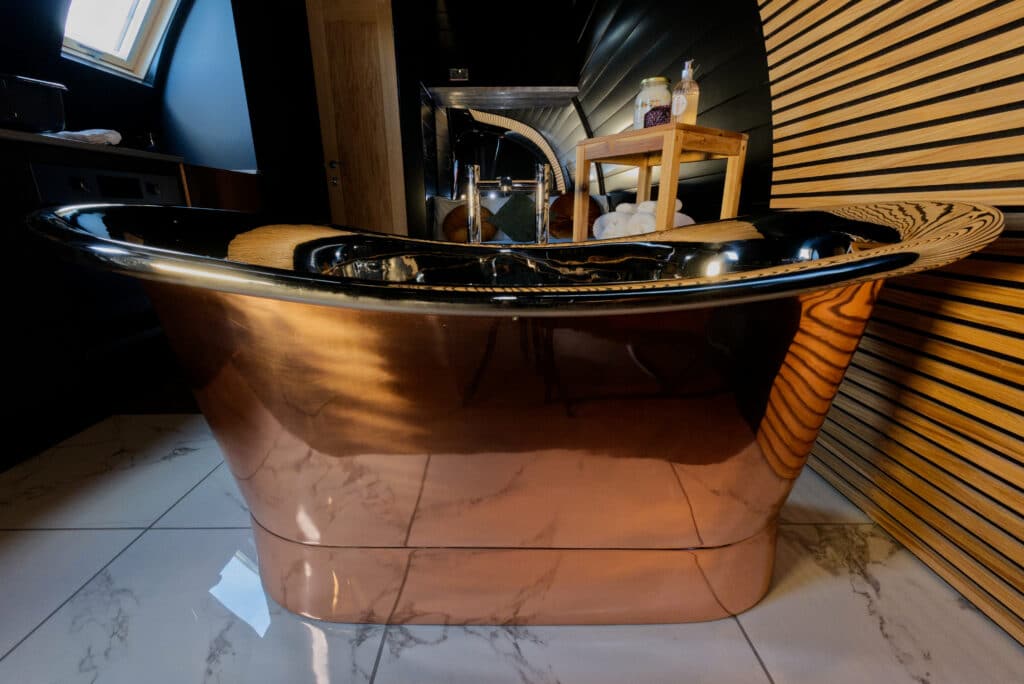 "The designers at Glampitect just kind of brought the whole idea to life and Pod Factory then made that for us that we work very closely with as well," she further described the thought process behind the idea. "They've done an amazing job at putting in everything that we wanted."
When asked about the eco-friendliness of these newly added accommodations, Flaher said Boujee Pods are not only about luxury but also eco-consciousness. Although details weren't discussed, she said NC500 Pods is committed to maintaining eco-friendly practices where possible.
Boujee Pods' Rate and Pre-Launch Buzz
The Boujee Pods' pre-launch buzz is palpable, igniting anticipation among guests and travelers. With an impressive 3,000 likes on a single social media reel, the response has been nothing short of overwhelming, with some audience commenting "I love this, the most beautiful area and absolutely stunning pod."
"The Boujee Pod has garnered significant attention even before its official launch. With over 3,000 likes on one reel alone, the response has been overwhelming," Flaher exclaimed. She also told Modern Campground that the first guests were set to experience the Boujee Pod on August 25, marking an exciting moment for NC500 Pods.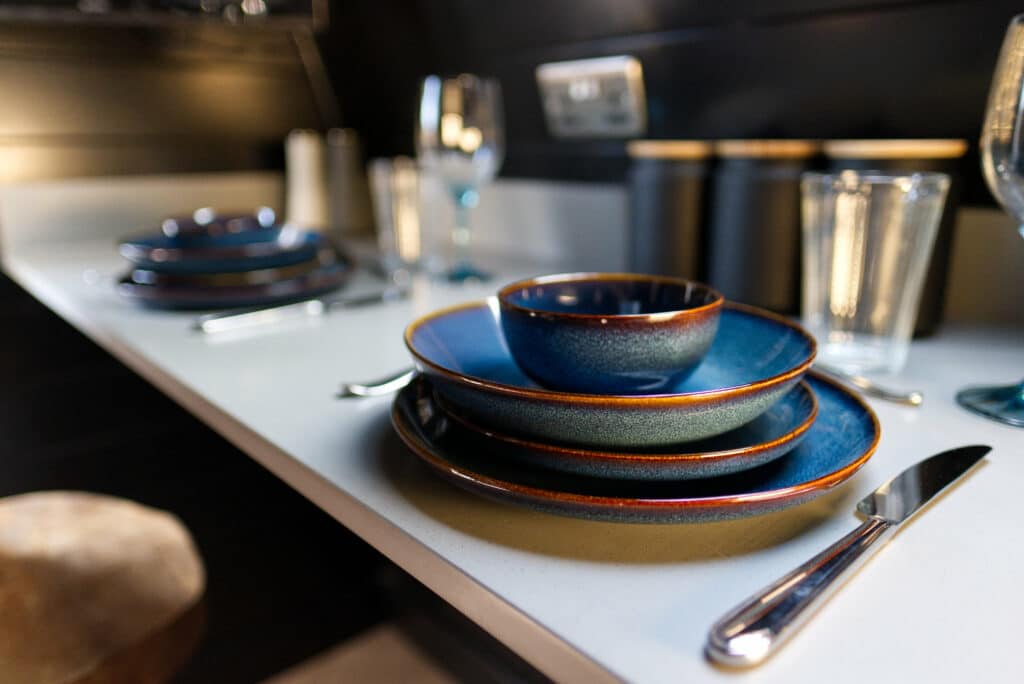 The pricing for these exclusive accommodations is designed to offer flexibility while catering to the diverse preferences of travelers. The cost varies according to the season, ensuring that guests can find an option that suits their budget. On average, the Boujee Pods are priced approximately £50 higher per night compared to its standard units.
With that additional cost, travelers are not only provided with a premium experience but also maintain affordability for those looking to enjoy the unique features of the Boujee Pods during their stay. Whether it's a romantic getaway or a special occasion, these stylish pods offer an unforgettable glamping experience,
As NC500 Pods continues to innovate and offer unique experiences like the Boujee Pod, it's clear that glamping along the NC500 route is evolving into something truly extraordinary. With their commitment to luxury, comfort, and eco-friendliness, NC500 Pods is poised to make a lasting mark on the world of glamping in Scotland.
Featured image NC500 Pods.