Purem International GmbH (Germany) and AAPICO Hitech Public Company Limited (AAPICO) (Thailand) signed an agreement earlier this week to establish a joint venture company.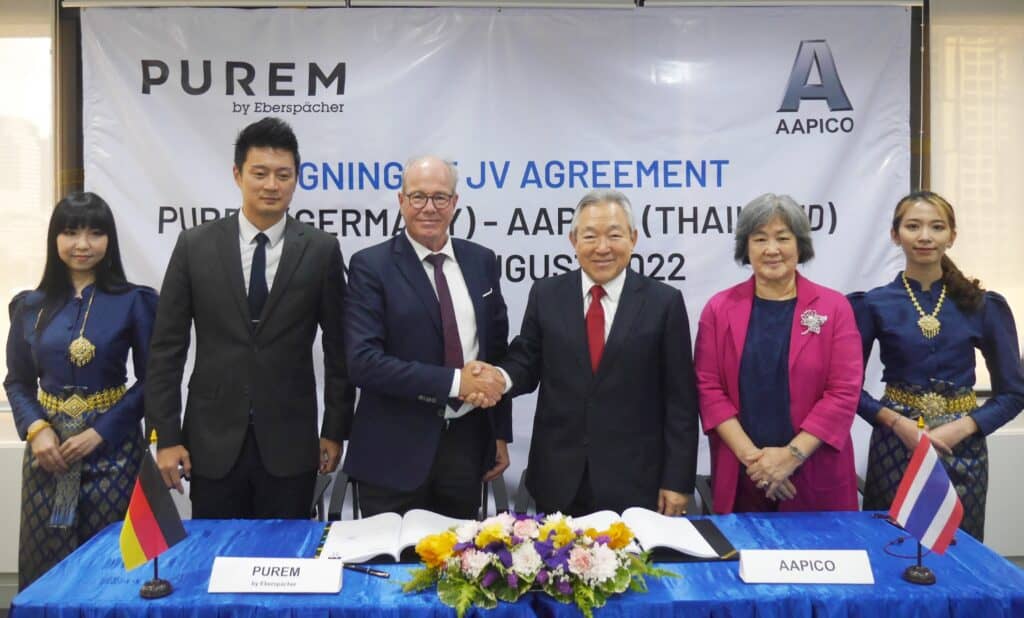 According to a press release, the new JV company Purem Aapico Co., Ltd. will develop and supply exhaust emission control systems and components for commercial vehicles and passenger cars in Thailand and the ASEAN market to meet the highest emission standards.
The collaboration aims to grow the local market and become a major emission system provider for the region.
The products will be offered to Asian and international automobile manufacturers targeting local markets in Thailand and ASEAN markets.
As Purem by Eberspaecher brings its global industrialization, development, engineering, and product management expertise into the new company, Aapico adds the local market know-how in production, human resources, IT, and customer service. A joint local team will take over the management of the new joint venture.
Purem by Eberspaecher Co-CEO Volker Cwielong emphasized, "Purem by Eberspaecher is intensifying its activities for clean mobility and growing in the Asian markets. We are convinced that with Aapico, we have found the best joint venture partner that brings local know-how as well as profound more than 30 years experience in the automotive sector to grow together."
AAPICO's president and CEO Yeap Swee Chuan added that joining with Purem by Eberspaecher, a German company, is a dream come true to add a new critical product to be made in Thailand for the local car industry.
About Purem by Eberspaecher
Purem by Eberspaecher is a subsidiary of the Esslingen-based Eberspaecher Group. To achieve clean and quiet mobility, around 7,000 employees develop and produce exhaust and acoustic systems for passenger cars, CVs, and off-road vehicles. The technologies significantly contribute to meeting the strictest emission standards and noise guidelines.
Its customer base includes the world's leading vehicle manufacturers. In 2021, the area within the group of companies generated revenue of around 5.3 billion euros. Net revenue adjusted for transitory items amounted to 1.6 billion euros.
About AAPICO Hitech PLC
AAPICO Hitech Public Company Limited was established in 1996 and was listed on the Stock Exchange of Thailand in 2002.
The Company is comprised of the business pillars: the OEM Auto Parts Manufacturing Business, the Car Dealership Business, and the IoT Connectivity & Mobility Business.
As of today, the Group comprises 47 subsidiaries and associate companies, of which 33 companies are operating in Thailand, and 14 companies are located overseas.
About Eberspaecher
With approximately 10,600 employees at 80 locations worldwide, the Eberspaecher Group is one of the automotive industry's leading system developers and suppliers.
The family business, headquartered in Esslingen am Neckar, stands for innovative solutions in exhaust technology, automotive electronics, and thermal management for a broad range of vehicle types.
In 2021, the Group generated revenue of around 6.0 billion euros. Net revenue adjusted for transitory items amounted to 2.3 billion euros.
Featured image from Eberspaecher.