From canvas tents to bubble domes, glamping has come a long way when it comes to unique accommodation structures. In Canada, the industry is not lagging behind when it comes to alternative accommodation options. Take, for example, the sleeping barrels manufactured by Canadian Sleeping Barrels.
While these hollow cylindrical containers are commonly used to store liquids such as liquor, those built by Canadian Sleeping Barrels, a division of 1229156 B.C. Ltd., can be glampers' home for the night, thanks to the spacious red cedar sleeping barrels the company creates.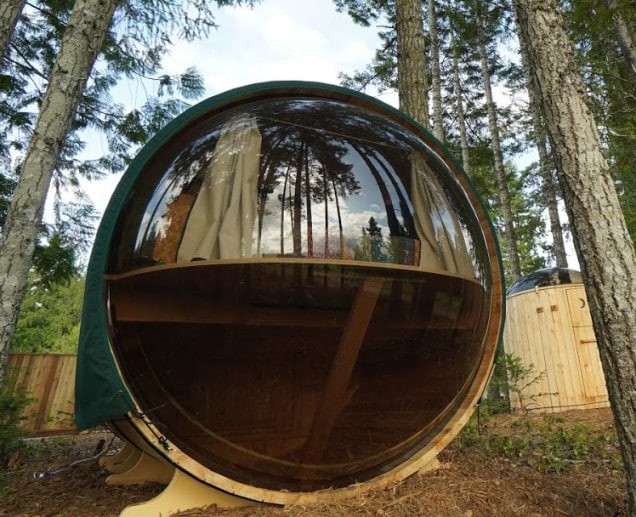 Cozy, spacious, and beautiful, the accommodations are portable units that co-exist with nature. This means that the barrels do not take away the beauty of the environment in which they are situated, but instead find a balance between luxury and uncomplicated stays.
If that does not echo glamping, then we don't know what does.
Hand-crafted on Vancouver Island, the barrels are made from BC western red cedar, which ensures that the structures remain sturdy for as long as glampers glamp.
When built, each cylindrical work of art can be customized to come with western red cedar staves, a curved bubble window so guests have a complete vision of the natural surroundings, a king-size bed (or bunk beds), 2-inch-thick solid cedar flooring, and a lockable keyless entry door.
That's not all, though! One sleeping barrel also includes a pull-out table, side seating with optional storage under, and a front porch with seating for two.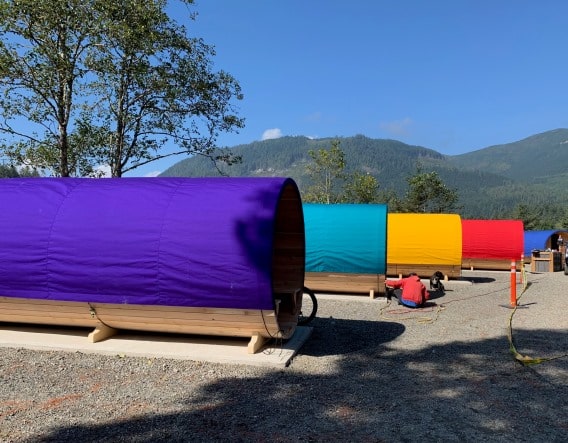 Since we mentioned sturdy, Canadian Sleeping Barrels also made sure that clients can welcome guests rain or shine with a polycarbonate cover that protects each structure from the rain as well as what (or who) each barrel houses inside.
Sleeping barrels are definitely a step up from the usual glamping accommodations. For small parks, think: compact eco-retreats, perfect for intimate escapes or family adventures.
These versatile barrels can be arranged near each other to create communal spaces, or placed individually for those seeking a more secluded experience. They can even be customized to match the aesthetic of the park or blend in seamlessly with the surrounding environment, ensuring a cohesive and memorable experience for guests.
Meanwhile, bigger parks can develop a pirate-themed area that highlights the sleeping barrels as must-try glamping accommodations.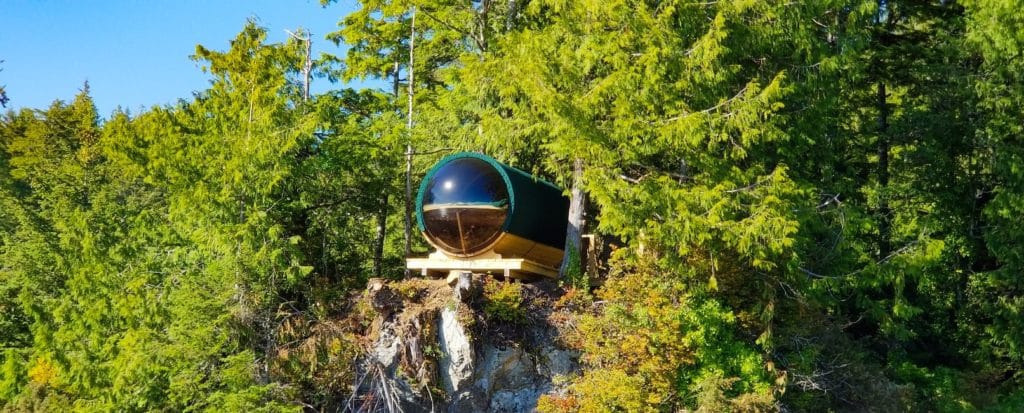 Whatever the application, the sleeping barrels serve as evidence that the industry continues to innovate and elevate in every shape and form.
To learn more about the sleeping barrels, visit Canadian Sleeping Barrels' website.
Featured image courtesy of Canadian Sleeping Barrels.