Nestled on the banks of Charleys Creek, the Charleys Creek Campgrounds, formerly known as Clover Hill Accommodation & Camping, offers a tranquil retreat for nature enthusiasts.
Located within walking distance to the bustling town center of Chinchilla, Queensland, this campground seamlessly blends the serenity of bushland settings with the convenience of urban proximity.
The campground boasts a variety of facilities catering to different camping preferences. According to their website, they have a nature-based unpowered site or a powered site with access to potable water.
They have all campers and caravanners covered. For those seeking a more comfortable stay, Pete's Hut, a self-contained cottage, provides a cozy alternative.
Beyond just a place to pitch a tent, Charleys Creek Campgrounds is an experience. The campground offers canoeing adventures on Charleys Creek, farm tours for a closer look at rural life, and a special Friday night smoked Wagyu camp dinner, allowing guests to savor the flavors of locally raised Wagyu beef.
The proximity to local attractions adds to the allure of Charleys Creek Campgrounds. A short stroll leads you to the Chinchilla Botanic Parkland, a haven for local flora and fauna, and the Charleys Creek Walk, a picturesque trail along the creek, offering a glimpse of Chinchilla's natural beauty.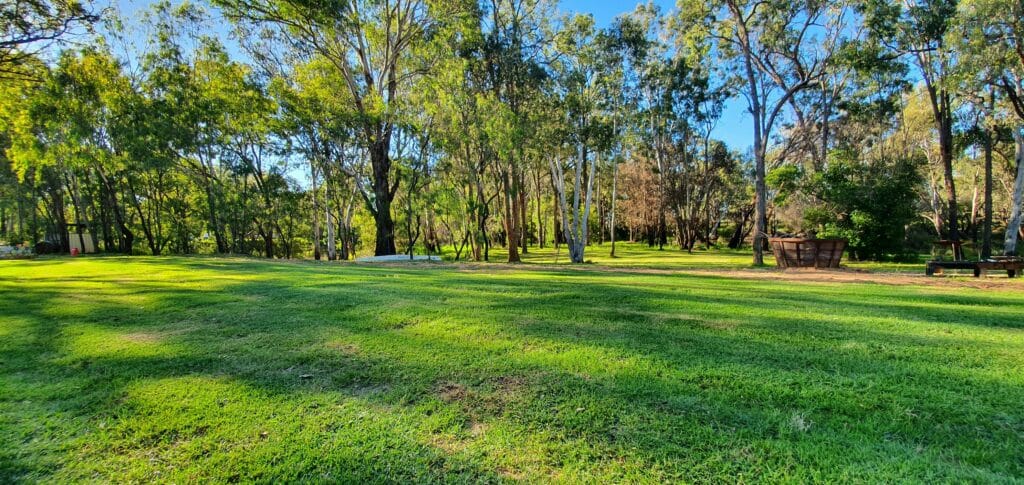 The heart and soul of Charleys Creek Campgrounds are its hosts, Steven and Ursula Keating. Their journey from Far North Queensland to Chinchilla reflects a story of resilience and innovation. Facing a drought that threatened their livestock, the Keatings diversified into tourism, transforming Clover Hill into a peaceful camping site.
Visitors to Charleys Creek Campgrounds often leave with cherished memories. The warm hospitality of the Keating family, coupled with the serene environment, has earned the campground a high rating of 4.5 out of 5 on TripAdvisor, ranking it #2 of 6 specialty lodging options in Chinchilla.
The history of Clover Hill, now Charleys Creek Campgrounds, is intertwined with the community of Chinchilla. Previously owned by Val and Iven Hewett, Clover Hill had been a venue for various local events.
The transition to Charleys Creek Campgrounds under the Keating family has preserved the legacy of community engagement while adding a touch of rural charm.
The Keating family's venture doesn't stop at camping. They also run a business named Australian Agricultural and Environmental Solutions (AA&ES), focusing on weed management services. Their diverse business ventures reflect a blend of agricultural expertise and a passion for community service.
For guests seeking to take a piece of Charleys Creek Campgrounds home with them, the campground offers an option to order Merch & Meat, although details are scant on the website. It's a unique offering that hints at the campground's continuous effort to enhance the guest experience.
Contacting Charleys Creek Campgrounds for a booking or inquiry is straightforward with their provided contact information, through their email at info@cloverhillcamping.com.au or phone, +61437149610 and +61457007050.
Featured image from Charleys Creek Campgrounds.